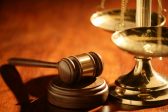 A 49-year-old Judge from Carletonville near Johannesburg was arrested for alleged corruption, the Priority Research Directorate, better known as Hawks, said on Friday.
Speaker of Hawks Brigadier Hangwani Mulaudzi said: "Apparently, the judge asked for the bribe of two suspects arrested last week for alleged theft.
"The judge allegedly approached the colleague of the suspect and demanded that the two women suspect pay a certain amount and be released at the next court meeting."
Mulaudzi said that the Hawks team was being assessed by the alleged intentional judge and that an operation that led to his arrest was carried out on Thursday night.
The magistrates are expected to appear on Monday at the Carletonville Judicial Council, accusing for corruption and extortion.
For more news in your own way, download the Citizen for iOS and Android.