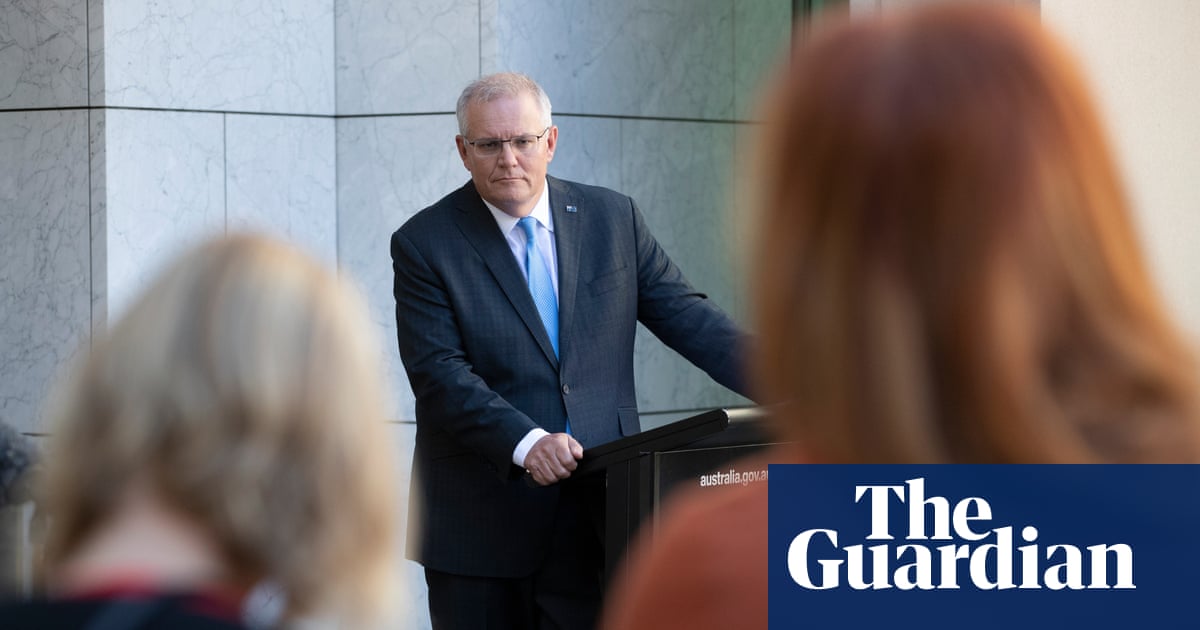 Scott Morrison's stance with women voters was a hit as the political crisis sparked by the improper handling of Brittany Higgins 'rape charge became a water cooler issue for the electorate, with the prime minister's approval rating falling 10 points in two weeks and disapproval 10%.
A recent Guardian Essential poll confirms that Morrison's approval rating has fallen from 62% to 57% in the past two weeks, while the prime minister has sought to curb the aftermath of the #MeToo moment of the federal parliament – the slippage of Australian women.
Although Morrison's approval of female voters has now fallen by 16 points since the Higgins story broke in February, the prime minister's attitude toward male voters has remained unchanged, while only one minor dissatisfaction has been recorded within the margin of error, plus or minus three points.
With Morrison reorganizing his cabinet on Monday to bolster the women's "perspective" in government councils, while arguing that embarrassed goalkeeper Andrew Laming should not leave politics immediately, but embark on empathy training – a new 1,100-poll survey shows majority voters support a series of actions to address gender inequality.
A majority (69%) want the government to organize a national summit of all state and federal leaders to set goals and policies to reduce violence and sexual assault, and a similar percentage (68%) want the government to implement Respect @ Recommendations Working paper completed by the Australian commissioner for sex discrimination Kate Jenkins more than 12 months ago.
There is also support for the establishment of a special court for sexual violence (62%) to address the difficulties faced by women in ensuring successful prosecution for rape, and 60% of respondents would support a general approach to free childcare and early learning for families with small children. children.
The survey shows that women are more supportive of these measures than male respondents in the survey. Over 70% of women want a summit, compared to 65% of men, while 73% of women want protection from harassment in the workplace compared to 62% of men.
Gender clarity increases with specialized court (supported by 70% of respondents and 53% of male respondents), and narrows with universal care for children (63% of women and 57% of men).
As part of signaling Australian women to listen to their concerns, Morrison noted that the Liberal Party could consider adopting quotas to increase the number of female representatives in Canberra.
The quota concept shares a sample, with 48% of respondents supporting the idea and 36% opposing it. When this question was last asked in 2019, 46% of the sample supported quotas and 40% opposed them.
While momentum is being built for a change that would allow women at the center of politics to achieve critical mass, Coalition voters are divided over quotas, with 48% of Liberal and national party voters in the sample supporting them and 43% opposing them, with 9% insecure. The concept has more support among Labor voters with 54% supporting and 31% against.
Voters were asked why they think there are fewer women than men in the Australian Parliament. Most people blamed political parties for the phenomenon.
Nearly two-thirds of the sample believe that parties are not doing enough to promote gender equality in their organizations, and agreement with this statement rose from 57% in 2019. This position is taken in all voting groups.
Slightly more than half of the sample (56%) believe that the policy selection process is biased towards men, and respondents are somewhat more likely to take this position than men.
A significant minority (43%) believe that women choose not to enter politics (with men more likely to do so than women (52% to 34%). Again, a minority (40%) agrees with the statement: "voters prefer they choose men over women. "Men are more likely to agree with this statement than women (43% to 36%).
Only a small proportion of respondents (20%) agree with the statement: "women are less likely than men to have the experience and skills to become a good politician."
Voters think the issues raised in the last month in federal politics reflect a broader trend in society. A majority (60%) say recent discoveries about culture in the House of Representatives are symptomatic of discrimination against women in society, while 40% see stories as a reflection of toxic politics associated with politics.
Labor and Greens voters were more likely to think that workplace culture was shared by society (both 70%), while coalition voters were more likely to believe that problems were isolated from politics (52%).
Source link