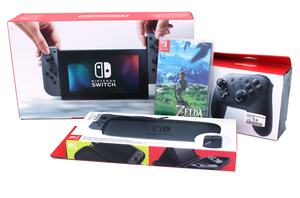 During the Easter holidays, Nintendo announced a new update for its hybrid console, moving the Nintendo Switch firmware from version 11.0.1 to version 12.0.0. Despite the supposedly big jump, the changes are extremely small.
Recently, Nintendo has repeatedly made major changes to the Nintendo Switch firmware when there have been big jumps in version. For example, a cloud storage feature has been introduced to store games, or the paid Nintendo Switch Online Internet service has been integrated deeper into the system, as last happened with version 11.0, which was released last December.
This is not the case with the new version 12.0, which the Japanese gaming company made available to its hybrid console on Monday, which is now more than four years old, because the new firmware contains only bug fixes – a jump to version 11.1 would actually be more reasonable. The official change log only talks about correcting an error in the backup function of the saved data.
Storing the results of compatible titles in the cloud should be more reliable from now on. In rare cases, the system can always cancel the automatic backup in case of a communication error. Affected players should manually restart the process after updating to version 12.0. Nintendo is not talking about further changes.
Following the latest rumors that Nintendo could soon release a Pro version of its Switch console with a faster Tegra chip, OLED display and DLSS technology, Dataminers should now look for new clues in the software.
As of April 1, there are numerous multiplayer titles in the eShop up to 75% cheaper. These include big names like Super Mario Party, Splatoon 2, Overwatch: Legendary Edition, Diablo III: Eternal Collection or Super Mario Bros. In Deluxe and Yoshi's Crafted World. The discount campaign runs until April 11 inclusive.
Prices and availability
Nintendo Switch black / gray (2019)
Is not available
Is not available

From 349.00 EUR
Source link