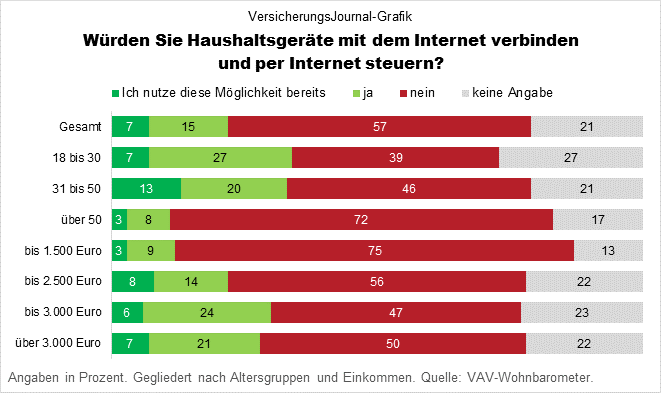 31.1.2019 – The concept of "smart home", digitized and networked households, which only encourages a minority of Austrians, shows a new VAV survey about housing. However, one third could, in exchange for less premiums, benefit from electronic control of household appliances or installations. VAV announced this year a "smart home" variant of household insurance. From the point of view of CEO Sven Rabe, digital technologies open up new opportunities, primarily for early detection and avoidance, but also for liabilities.
All in all, Austrians consider that the risk of becoming victims of moderate disasters is high. Only three percent of them are considered very high, another 13 percent high.
This is one of the results of the first "home barometer" VAV Versicherungs-AG, presented by CEO of Sven Rabe on Wednesday in Vienna. In December 2018 Gallup Institute interviewed 1,000 people across Austria to study.
In the regional sense, the share of those who consider the risk of burglary high or very high in Vienna to 21, or 8 percent.
According to VAV, low income household income up to 1,500 € (19% "high" or "very high") and older people (17% "high" or "very high") feel above average.

The number of falls in recent years has decreased
For Rabe, there seems to be a link to police security advertising statistics. Lastly, the number of dwelling reduction advertisements has declined steadily over the last few years, from 17,110 in 2014 to 11,802 in 2014.
This trend continued in the first half of 2018: "Housing and housing decline further fell from 6,680 to 5,808," the Federal Office of Criminal Police reported last summer on the basis of preliminary data – a drop of 13 percent.
Four-fifths are covered by household insurance
Household insurance has the highest number of households in the drawer, ie 82 percent of the respondents.
However, in the low income group, this share is slightly smaller (64 percent). There are also differences between owners and tenants: 89 percent of former and 73 percent of households are secured in the latter.
Rabe also reminded of private liability insurance with regard to the unsecured fifth, which "no one should be reluctant to give up".

Most are not convinced of a "smart" budget
One focus of the study was on a "smart home", ie digitalization and networking of households. Will the respondents make use of the ability to connect household appliances to the Internet and control them over the Internet?
Seven percent already use this opportunity, and 15 percent is ready. However, Austria is mostly skeptical: 57 percent prefer "offline budget". Online affinest are age groups up to 50 years: one-third can be familiarized with the household or already practiced.

Otherwise, the vast majority of respondents do not use a language assistant (85 percent), even 18 to 30, 77 percent abstain from it.
At least in the short run, it does not seem to change much: just seven percent (15 percent from 18 to 30) is thinking about buying a language assistant; 90 percent (82 percent between the ages of 18 and 30) does not have such plans.
Online work, especially in demand for heating and light
Which devices do the respondents already control over the Internet or if they could, if possible, control it over the Internet? Among the most important applications are heating (77 percent), lighting (70 percent) and blinds.
For related security risks – keywords hacker attacks – but often lacking awareness of the problem. After all, according to VAV, 51 percent say they want to control the alarm system over the Internet.

Instead of leverage
Cybernetic risk should not be underestimated to the extent that unauthorized access from the outside and burglars literally open the door: "Search" in the house instead of reaching the lever.
The insurance industry has already dealt with the first cases of this type, with no visible signs of burglary – a problem not only with regard to traditional insurance terms, which are not ready for the "smart home" phenomenon.
On the other hand, digitalization of households opens up opportunities for insurance, says Rabe. It is considering the possibility of faster detection of water damage and reacting.
Electronic Control to Reduce Premium?
Would the respondents electronically monitor their home or home appliances if they were granted a discount on insurance?
31 percent are open for such a bid, which is twice as much (59 percent). In two age groups up to 50 years, readiness is greater: here, every four out of ten respondents respond to the exchange of "electronic discount control".

For Rabe, this research result is "in the range of expectations". He believes that approval of such a model over time will increase – emphasizing that it is not about gathering more data for insurers to create profiles, but early detection and prevention.
"Smart Home" variant for household insurance
For this year, VAV has decided to create a "smart home" version of its home insurance, with which they want to respond to the digitization of the budget.
CEO VAV
Sven Rabe (Picture: VAV)
Rabe sees the lever especially in Obliegenheiten. They could be "much more flexible" under the terms of electronic control and easier to meet the insured person. As an example, he called the rule of 72 hours.
Just shift commitments?
But do not just change other obligations in this way?
For example, will the insurer in the future be able to prove that he has always attached all the security updates for his smartphone and household control application and that he has always secured his home network to the extent that it needs against hacking attacks?
How will the new VAV product solve it? Insurance conditions have not yet been completed, says Rabe.
But: Yes, new commitments will exist in the background of digital networking. He still thinks he is "right to take this step." Because, Rabe says, it means the "realization of life" of people.
Additional information
Further research results enabled VAV on a separate search web site.
Source link