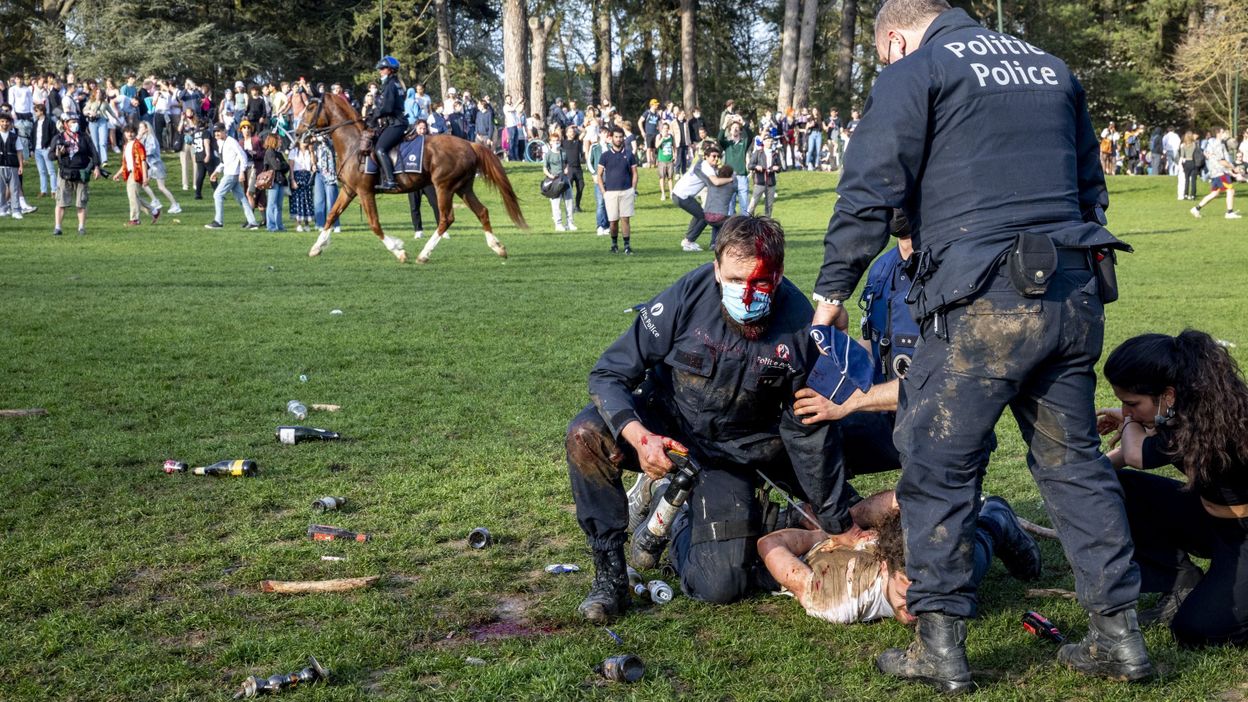 Physical clashes between police and youth in Bois de la Cambre. Verbal conflicts between politicians and Internet users on social networks. The game used terminology that qualified incidents that took place on Thursday, in a Brussels park.
The police were present en masse, supported by pumps. The result: dozens injured, including police officers, and at least twenty arrests. But are they "incidents"caused by"merrymakers", from"violent gathering", with a simple"Boom"(unauthorized) that escalated. Or the authorities were dealing with"riots", caused by"scum"?
"Scum", was a word used in parallel, in mid-March, MR President Georges-Louis Bouchez following the conflict in Liège to qualify the breakers. There is no looseness towards them. "These thugs are scum who must be punished. The looseness has failed and must stop", he wrote then on Twitter.
March 15th police officers attacked, businesses destroyed after "Life of Blacks" demonstration. A rally that degenerates in Liège and police officers attacked the Bois de la Cambre: this is not the same thing, believes a liberal who this time calls for an understanding of the phenomenon, more than a sanction without distinction. "We are all tired of the situation"Mons wrote on Twitter on Thursday."We want to regain our freedoms. I am very sensitive to that. But freedom is also a sense of responsibility. Conflicts with police officers who are also at the end of the line do nothing."
Undertaken by Internet users, who suspect the party president is involved in the election, Georges-Louis Bouchez says he distinguishesthem situations "not at all identical: on the one hand the thugs who came to destroy. On the other hand, young people who meet in secret are offended, but with no intention of fighting. One may question the importance of sending police in these circumstances."Understand: without police intervention, a fake BOOM would not have degenerated.
From "scum"i D '"riots"has already been questioned in other districts of Brussels. In April 2020, in a completely enclosed space, young people gather to condemn Adila's death, after a chase with police. We are located in Anderlecht, on the other side of the canal, a city far from less sensitive areas in the south. But as in the Bois de la Cambre, the situation escalated and the police had to intervene.
"Mess in Anderlecht sthey are all the more unacceptable because they intervene in this context of a great crisis. Full support for police officers, already requested anyway. We can only hope for an exemplary judicial response", then begs the MR president.
Less categorical, local MR leader Gaëtan Van Goidsenhoven prefers to focus on causes that day : "Mass unemployment, concentration of social difficulties, academic failure, community closure and drug trafficking".
When it is north of Brussels, they are rioters. When it's the South, it's the protesters who want to party
In MR, other voices were stunned by differences in the political and media treatment of the neighborhood and the young population, more from North Africa and sub-Saharan Africa in Anderlecht, Molenbeek and Laeken than in Uccle, Boitsfort or Auderghem. Olivier Eggermont, president of the Young MR of the City of Brussels and mobility advisor to the MR group in Brussels, criticizes this vision on Twitter. He would love to "know why the northern part of Brussels are "rioters attacking the police" and when the southern part of Bxl are those "protesters who want to party". "
In the PS, we quickly return from the words of the first liberal. Three parliamentarians from Brussels, Leila Agic, Jamal Ikazban and Ridouane Chahid, all three Molenbeekois or ex Molenbeekois, point out the difference in timing, between the two episodes of urban violence, either by Georges-Louis Bouchez or the media, taking over the first La Libre title on Thursday afternoon.
For Leila Agic, "we still dare to tell you that there is no need to analyze facts about society with glasses cut. He was in the Bois de la Cambre yesterday proof that depending on who you are you are never treated the same."
Blanckenberge, last summer
In August 2020, the dictionary page that the political staff landed on was not the same. At the beginning of the month, in the middle of the heat, a storm took over the Belgian coast. It's deconfining, but the coronavirus is still there. Barrier measures are still needed in Belgium. Traveling abroad is not recommended. Almost the only solution: the sea. In Blankenberge, an argument between two groups of tourists degenerates into monstrous battles between the youth and the police.
Unions SLFP and SNPS police immediately condemn presence "Brussels scum" which is wild on the Coast and elsewhere. Vincent Houssin, vice president of the SLPF, even goes so far as to advocate ethnic profiling in coastal stations: "Some call it ethnic profiling. But in reality we identify those who create problems or people known to the police and those who come in large groups. As a coincidence, they are residents of Brussels."Trainings, sneakers, caps and paints, too dull, now devoid of sand and embankments, make unions understandable.
Anderlecht, Blankenberge and a few weeks ago, a demonstration of the "Black Living Thing" in the Avenue Louise neighborhood. June 7, 2020, still in the midst of a health crisis, a demonstration that gathered 10,000 people against police violence and racism slips and ends with scenes of burglary and robbery. the role of the mayor of Brussels stands out Philippe Close (PS). Nearly 40 police officers were injured. Their police unions are calling for "Zero tolerance", without any discussion.
This Friday, the day after the Bois de la Cambre incident, SLFP police said "indignant"and"rebellion" even if, taken over by our colleagues from RTL, Vincent Gilles, its president specifies: "We have the right to find that Covid's measures are stupid, illegal and tedious after a year, but we have no right to strike at the police who only remind, generally as diplomatically as possible, of these rules which are difficult for the entire Belgian population to live in. "
Differentiated approach, less committed positioning. Which would be if these different sequences were just a reflection of a deeper problem in society, and especially among young people, whether during the Covid period or not. Following the Liège incidents, Bernard De Vos, the delegate general for children's rights, emphasized that they were not "a representative of young people, who nevertheless intend to express fatigue, even more than that, anger over police violence, which has existed long before the pandemic, but which has taken on certain proportions during the extremely difficult period we are going through."
For a sociologist from the University of Liège, Marco Martinello, still at the events in Liège, it would be "a little too simple to simply see them as unwarranted violence by oppressors of Afro-descendants, robbers, organized gangs without faith and law. I think you have to go further and try to understand and explain, which doesn't mean you have to justify and justify yourself, of course."
Two central positions joining the position of Prime Minister Alexandre De Cro (Open VLD), between a strong condemnation of violence, an understanding of population fatigue and a call for accountability for each. "The facts of the Bois de la Cambre are unacceptable", he wrote this on Twitter this Friday."Support for injured police officers. I understand virus fatigue, but the rules were created for a reason. They apply to everyone. Hospitals are filling up. Unity today is the key to our freedom tomorrow."