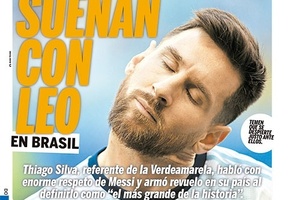 Thiago Silva's statement that Lionel Messi's biggest in football history is on the front of the leading sports car in Argentina, according to a daily newspaper Olé (30). "San o Leu" is the title.
"Thiago Silva, referring to" yellow-green ", spoke with great respect for Messiah and stirred up his country, defining it as the greatest in history," wrote Olé.
Thiago said Messi was the biggest in history at his press conference last night in Rooster, where the Brazilian team is preparing for Copa America's semifinals, just against Argentina at 9.30 pm on Tuesday in Mineirão. Then he explained that he had such an opinion because he did not see Pele, Zica or Maradona in action.
"I have not seen Pele, Zica, Maradon … Messi is different from all I've seen, I've seen Ronaldo, Adriano, Seedorf, but he does not have the same Messi, so we have to exalt Cristiana Ronaldo: Because of personal disputes and equality, deserves respect like Messi . "
Source link