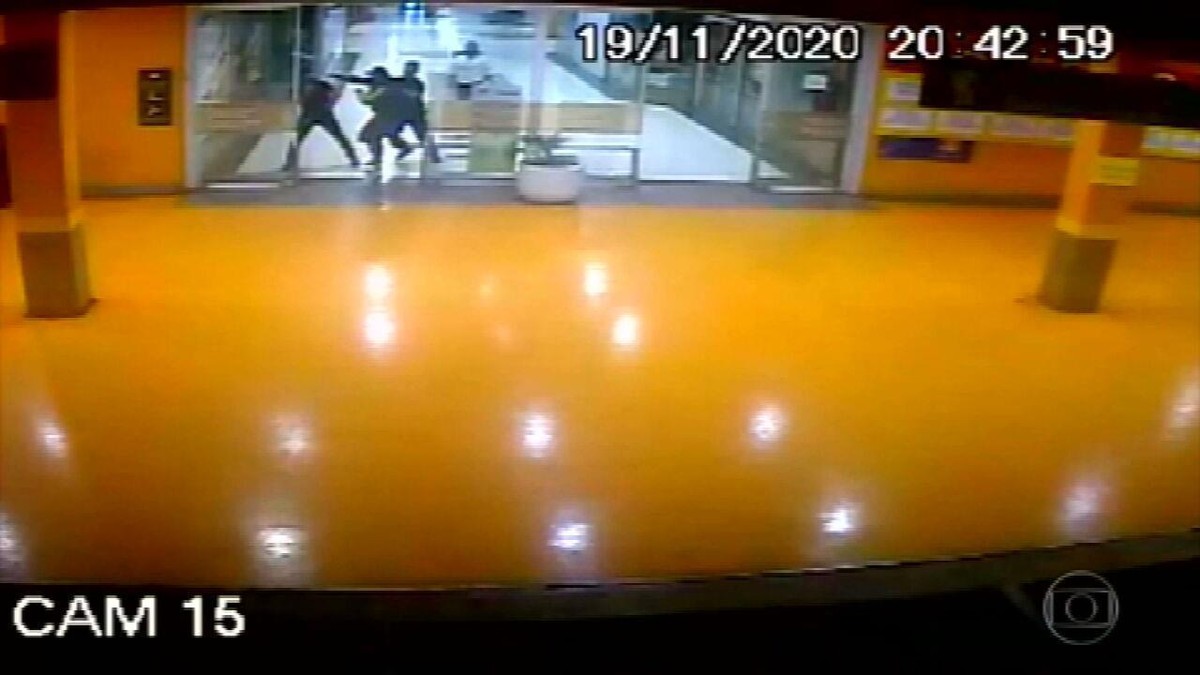 Rio Grande do Sul civilian police are working on several fronts trying to clarify all the circumstances that led to the brutal murder of João Alberto Silveira Freitas by two security guards on Thursday night (19), at the Carrefour unit in Porto Alegre.
In a new video, obtained by "Fantástico" this Saturday (21), it is possible to see the events leading up to the beating of João Albert, where he is followed by two security guards and beaten by one of the employees before being brutally beaten to death.
"Any kind of disagreement, whatever it may be, would never be justified in order to commit such violence that took place during this action, these security guards, in this supermarket," says Chief Roberta Bertoldo.
Also, according to delegates, police have been working since Thursday with the goal of "specifying the behavior of all people, so that everyone is held accountable because they are involved in this criminal action."
The investigation hears information pointed out by people associated with the victim, as well as those involved in the accused, according to Roberta.
"We then looked for pictures from the security cameras to better clarify where the real truth of these facts is. But what is important at the moment is to assess the behavior of these two people who acted in an extremely worse way compared to restraining this client," the delegate said.
Two attackers – military policeman Giovane Gaspar da Silva (24) and security guard Magno Braz Borges (30) – were arrested in the act and placed in pre-trial detention on Friday afternoon.
"Objectively, we arrested two people," says the delegate, who adds: "We are now working to identify other people who may have contributed to this outcome in terms of their omissions and also actions taken, whether major or minor. Everyone will assess and based on this tragic outcome. answer for your behavior ".
Police analyze the images to try to identify other people at the scene, clarify what really motivated the disagreement, and know if help was missed in the case.
Reactions and manifestations
João Albert's father, João Batista Rodrigues Freitas, told G1 on Friday (20): "Even if it was a blow, I don't think that's a reason to take a man's life." He called the murder of his son a "cowardly attack" and an "act of racism".
The assassination of João Albert led to demonstrations across Brazil against the killings and against racism in the country. Authorities, academics, social actors and individuals have made several statements dismissing the murder.
President Jair Bolsonaro said racial tensions had been imported and "foreign" to the country's history. Vice President Hamilton Mourão regretted his death, but said there was no racism in Brazil.
'Fun, partner': souvenirs and a plea for justice
João Alberto was buried this morning (21) in Porto Alegre. Friends and family paid their last respects to the victim.
Very shaken, João Albert's wife Milena Borges Alves sought justice. "I have nothing to say. I just want justice, I want them to pay."
One of his daughters, Taís Amaral Freitas, thanked the family for the support they received. "We even feel comfortable about it, but even so, it doesn't bring life back. After looking at those pictures, there's not much to talk about."
A close friend of the welder, Noé Fernando Pithan also paid his last respects.
"Playful, fun, even a partner, even I have a club shirt he gave me, and he loved wearing a hat, a club shirt. There's no way to accept something like that, there's no way, no one will explain it to you," opening.
Arrest in rank and internal investigation
Two attackers – military policeman Giovane Gaspar da Silva (24) and security guard Magno Braz Borges (30) – were arrested in the act and placed in pre-trial detention on Friday afternoon.
The first analyzes of the General Institute of Forensics of RS (IGP-RS) indicated the possibility of suffocation as the cause of Beth's death.
Lawyer William Vacari Freitas, who is defending Magna, told G1: "We will wait for the result of forensics and other investigations."
Attorney David Leal, who took over Giovane's defense, says his client reported that João Alberto was "upset" and "ran into a lady" at the supermarket. They must be charged with triple qualified murder.
The global president of the Carrefour Group, Alexandre Bompard, said the death of João Albert Silveira Freitas was a "terrible act" and that he was repelling intolerance.
Bompard also reportedly asked the group's teams in Brazil to co-operate with the judiciary and authorities to "reveal the facts of this horrific act". Stating that measures had been taken against the contracted security company, the CEO pointed out that "those measures are insufficient". On Friday, Carrefour of Brazil already reported that it would terminate the contract with the company responsible for the security guards who committed the aggression.
In a note, the company said it was the saddest day in its history, that it would donate the results sold that day to entities fighting racism. Carrefour terminated the contract with the acquired company and the company laid off employees.
See more videos on the João Beto case
DEATH OF JOÃO ALBERT IN THE PORTO ALEGRE SUPERMARKET
Source link