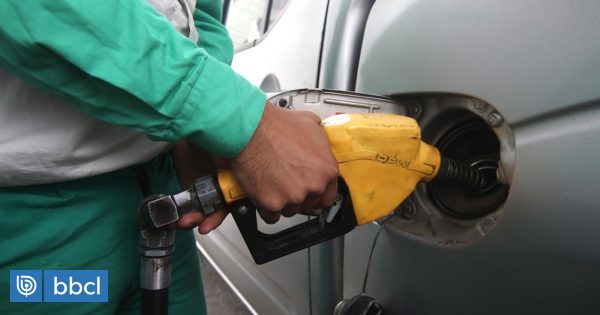 National Oil Company (ENAP)) reported on Wednesday about the prices that will register fuels from this Thursday through February 6th.
According to the state-owned company, a liter of gasoline 93 octane will fall to $ 5.8, reaching 708.3 pesos as a reference, marking its fifteen consecutive losses.
The same change is registered 97 octane, which at fourteen weeks in the fourteenth week reached 729.1 pesos per liter. diesel it will also fall 5.8 dollars, which means 529.9 pounds per liter.
kerosenehowever, it will record an increase of $ 3.7, reaching 496.4 pounds per liter.
For its part, liquefied gas (LPG) will record a raise of $ 6, the remaining 213.3 pesos.
ENAP explained that "after a few days in which oil prices were constantly being driven, volatility returned to the market." The fear of possible over-supply of products, the slowdown in Chinese economy and the recent projections of the International Monetary Fund (IMF) were key factors in the current context. "
"The closure of the United States and China, Donald Trump and Xi Jinping, has also helped reduce the fears of a possible overcrowded supply of crude oil. The market has internalized the possibility for the United States to reach a trade agreement with China in the next few days.
Deepening the reasons behind the report, it is detailed that "the agency specifically foresaw that the world economy will grow by 3.5%, 0.2% less than scheduled in October 2018. This economic downturn would largely be due to the introduction of import duties from China by the United States in 2018, which has led both countries to participate in a commercial war that has significantly shaken the markets. "
"Changes in ecological regulations in different countries have also affected these figures," they concluded.