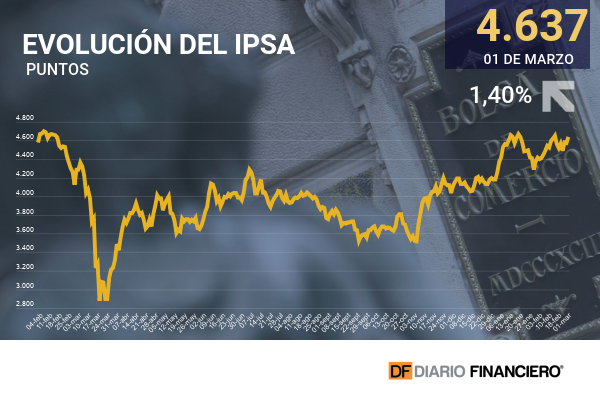 The Santiago stock market closed with a progress of 1.40%, bringing IPSA to 4,637 points.
The stock market had one of its best sessions after the performance on Monday Ten-year US Treasury bonds fell 1.449%, after reaching a one-year high of 1.614% last week.
Also, The passage of Joe Biden's $ 1.9 trillion tax package in the House of Representatives on Saturday sparked optimism among investors eager for a quick economic recovery in the U.S. Now the bill, which also includes $ 1,400 direct checks per household, will go to the Senate to vote.
That way Wall Street closed the first day of March with all its indexes in green. The Dow Jones industry average rose 1.95% to 31,535 points, the S&P 500 advanced 2.38% to 3,901 points, and the Nasdaq rose 3.01% to 13,588 points.
"Sentiment favors risk, and more investors are showing interest in cyclical stocks, while a positive vaccination campaign and better macro numbers point to a better growth environment," Keith Buchanan, Globalt's portfolio manager, told Reuters in Atlanta.
In the meantime, goods mark smaller victims, with a barrel of Brent crude to $ 63.43 after falling 1.54% and WTI to $ 60.41 with a drop of 1.77%.
The situation in Chile
The Santiago Stock Exchange closed this Monday with a progress of 1.40% placed IPSA at 4,637 points, out of hand BCI, which increased by 3.18%, SQM-B, which increased by 3.09% and CMPC, which climbed by 3.08%.
On the contrary, the biggest falls of the day were Cencoshopp, with a drop of 1.29%, Cencosud with a decrease of 1.23% and Engie Energía Chile, which lost 1.05%.
The drop in stakes in Horst Paulmann companies followed Friday's announcement that his daughter Heike Paulmann would temporarily take over the presidency while the group's founder is on leave.
While, copper continues its bullish streak after a 0.28% increase on the London Metal Exchange goods at a cost of $ 4.17 per pound, leading to the closing of the dollar in Chile at $ 722.30, down $ 3.5 from the end of the day on Friday.
International panorama
Europe closed on the first day of March with all its indexes rising amid falling US treasuries and better economic expectations due to the approval of fiscal stimulus packages.
Thus, the Ibex 35 in Madrid rose 1.86% to 8,378 points, the CAC 40 in Paris 1.57% to 5,792 points, and the DAX in Frankfurt 1.64% to 14,012 points.
Similarly, FTSE 100 had a growth of 1.62%, mainly influenced by mining and insurance companies, which brought the index to 6,588 points. Accordingly, investors are paying attention to the announcements of the Minister of Finance on Wednesday Rishi Sunak regarding the recovery of the British economy.
According to preliminary information, the minister will announce an initial investment of 12 billion pounds for the new infrastructure bank with the aim of financing some specific projects after Brexit.
Asia, meanwhile, saw significant growth in most of its indices after tech companies Nasdaq recovered from the fall last week.
In Japan The Nikkei 220 rose 2.41% to 29,663 points, while the Topix index rose 2.04% to 1,894 points, its biggest increase since August.
"The Nikkei will sooner or later return to the 30,000 level, depending on what the U.S. bond yield is," said Masahiro Ichikawa, chief market strategist at Sumitomo Mitsui DS Asset Management.
Also, Hang Seng reached 29,452 points with an increase of 1.63%, after the Hang Seng Indexes announced it would make changes to Hong Kong's main stock index to cover 100 companies, which will better reflect the range of companies listed in the country.