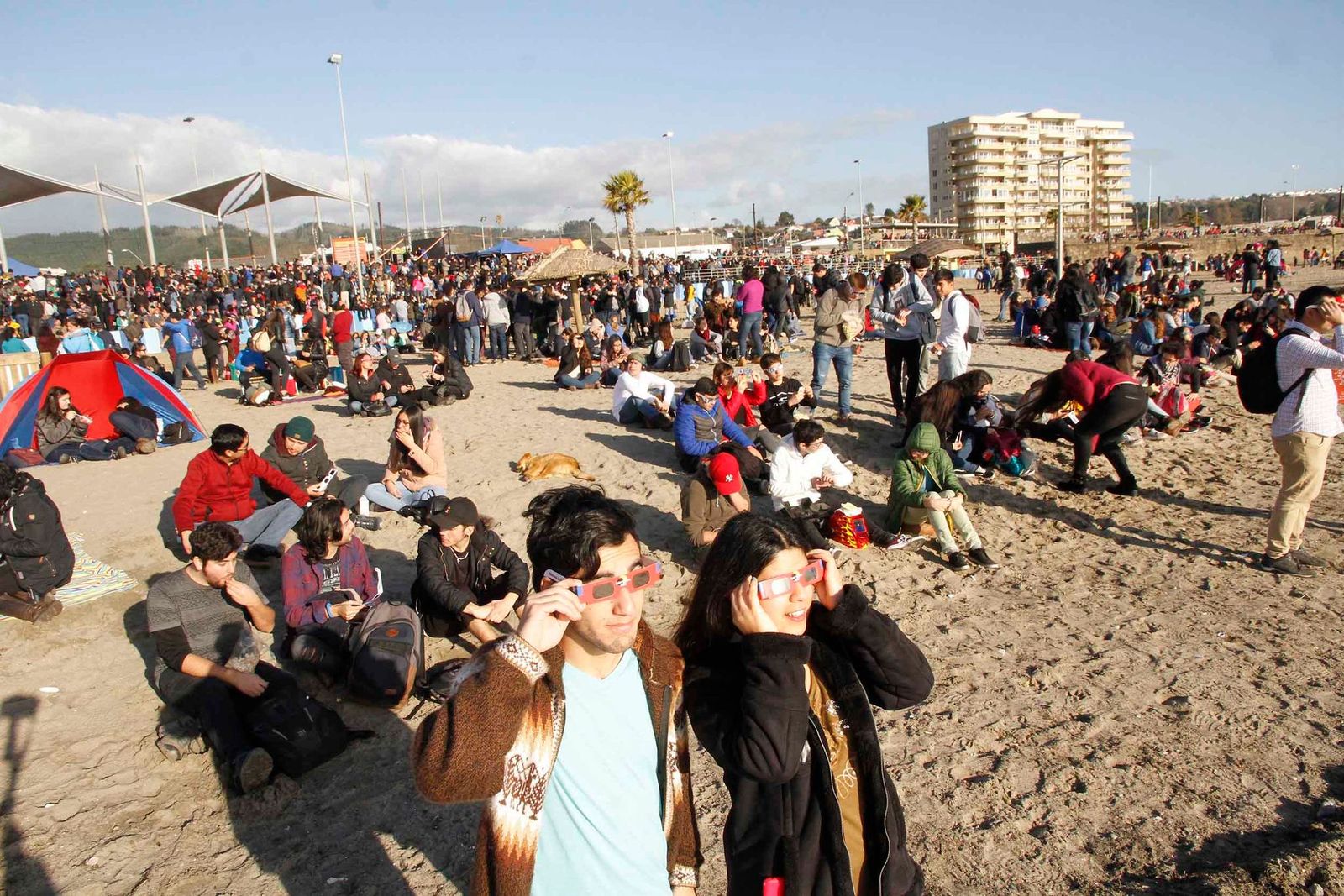 Just stay three weeks why Chile become a protagonist a solar eclipse and a large part of the population has an interest in seeking as privileged a place as possible or the best way to witness how the Moon covers the Sun., which will be visible in almost the entire national territory and, hopefully, not only by watching it on television, but streaming or someone tells you.
Of course, wherever this is noticed, one should always be careful or the experience could become an unforgettable memory that would be desirable to erase. Therefore it is eye care was one of the issues they dealt with and highlighted in "Plan your eclipse", an initiative led by members of the Association Department of Astronomy, University of Concepción (UdeC), which during this 2020 worked in a virtual format until promote that the population has optimal observation of the events to take place on 14 December.
And the basis of the best observation is in do it in an informed and safe way. Important safeguards are different, and their dissemination, with ideas that contribute to safety when viewed, is arranged as content on the site and shared on the project's web platforms: www.planificatueclipse.cl and profile @planificatueclipse, both on Instagram and Facebook.
Protection or damage
Observing a solar eclipse with eye protection is a fundamental measure for each of the people who will watch live and direct how Salt obscures, emphasizes Dr. María José Oportus, ophthalmologist. "The human retina, as a converting tissue of light energy, is particularly exposed to toxicity caused by exposure to light. Looking directly into a solar eclipse, without proper protection, can lead to deep and irreversible damage to the retina, " warns Assistant Professor and Head of the Specialization Program in Ophthalmology at the Medical Faculty of UdeC. The causative condition is known as solar retinopathy.
That is not a consequence solar eclipses, is the risk that is taken every time you look directly into the Sun and with the naked eye, even if it is a few seconds; But usually on normal days we don't see our big star like that, there is interest in it before these astronomical events. The expert states that "On a sunny day, one quickly turns one's gaze away due to interference (looking directly at the Sun)"; but "In a solar eclipse, the moon's shadow 'deceives' our eyes and makes it uncomfortable to look at," To add.
Therefore, due to ignorance, many might believe that it is okay to observe without protection, especially if it is considered so there are no pain receptors in the retina and you may not feel the visual effects at first. Something that by far means that there is no harm, because they do not manifest immediately, he emphasizes Port.
Symptoms and effects
An ophthalmologist warns you look directly at the Sun and without protection It can cause various symptoms that can last between 6 and 12 hours:
– Changes in vision, including blurred or discolored areas, distortion of edges or lines.
-Reduced visual acuity and especially loss of central vision.
-Front headache.
-Eye irritation, tingling, tearing, difficulty opening the eyes and conjunctival hyperaemia (manifested as redness) may occur.
-The effects can be temporary and permanent 3 to 6 months to be permanent and irreversible.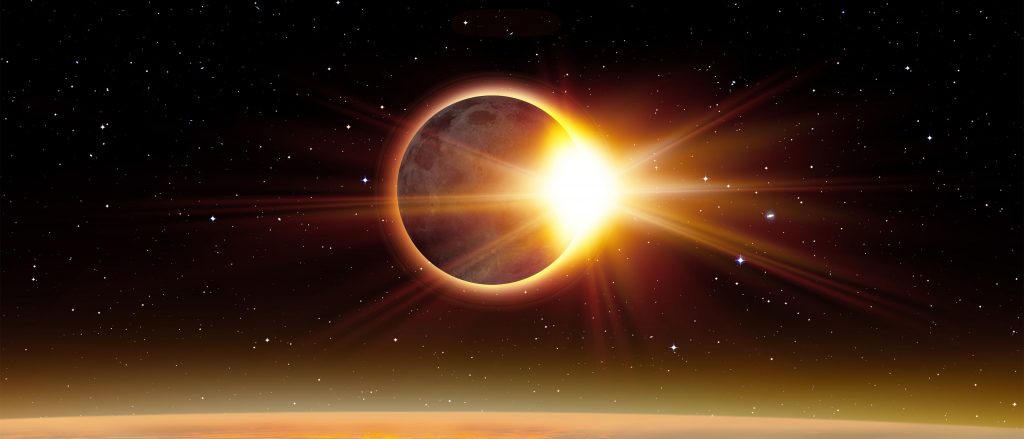 Direct or indirect ?: Different ways to safely enjoy an eclipse
The safe observation from solar eclipses it can do so directly or indirectly, he explains Leidy Peña, UdeC Master of Astronomy student and in charge of the area of ​​expansion "Plan your eclipse ". Knowing the different ways to enjoy the phenomenon and take care of your visual health will help prepare better observation according to the capabilities and interests of each person or family.
Ways of observation
For see the eclipse directly certainly mention the first Certified "sunglasses", what filter almost all solar radiation, both in the visible spectrum and in ultraviolet and infrared radiation. These have ISO 12312-2 certified, which must appear in the article, and if it will be downloaded, make sure it contains it. Add that "Lenses must not be scratched, stained or bent, damaged or old. If someone has had it since 2019 (there was a solar eclipse in July), it can be used if it's in perfect condition, if it was three years ago, no ".
The second possibility is wear goggles, helmets or fiber welding masks, It is sold in hardware stores and ideally from number 14. This item should be placed in front of the eyes or optical lenses if used; If you are buying fibers, it is a good idea to create glasses from materials like cardboard.
Whether they are certified lenses or "goggles", Peña explain that they must be ground-facing positions, since doing so to him Salt generates moments of unprotected direct observation. He adds that it is Direct observation should last a maximum of 20 to 30 seconds, and then it is necessary to take visual breaks to rest for a few minutes. For this reason, he argues that it is not necessary for family groups to have lenses for each member, with one sufficient for everyone to observe and take recommended breaks.
To watch using telescopes and binoculars or taking photos and recording videos with cameras of any kind, also cell phones or pills, must always have certified filters, even if Leidy Peña Note that digital devices and cameras may be equipped with the same certified lenses, for example. Looking from these objects without protection can be just as harmful as looking with unprotected eyes. Also the camera lens may be damaged device.
Also recommended indirect observation, mostly in children, the elderly or those who have had eye intervention (I can't observe a solar eclipse directly). Because these are dark cameras or projectors with holes, what that says can be produced with a box and let you take a look the shadow of an eclipse from within, and in planificatueclipse.cl learn how to do them; Another easy way is to make a small hole in the middle of the sheet of paper and place it towards the ground, where you can see overshadow.
A short and unique opportunity
The a solar eclipse will be seen in much of Chile, but Only on the island of Mocha in the Biobío region and the areas of the La Araucanía and Los Ríos regions will it reach 100% around 1 p.m. Y "The only people who could see without protection are those who will be in the whole area and those two minutes how long the whole will last," holds Leidy Peña. That brief moment defines it as a unique opportunity to see the sun's crown.
However, it stands out "When the diamond ring starts to appear, and that's when the Moon starts to move and on one side starts to give a little glow from the Sun, it's time to protect yourself again," taking all the aforementioned protective measures.
How to never see a solar eclipse: Watching a reflection of water or a mirror and using X-rays or tinted glass is something that should never be done, as it can be just as harmful as looking at the Sun directly with unprotected eyes.
Be careful where it is placed around: Telescopes or binoculars for "public use" (many people) would be ideal not to use. With mass manipulation of articles as a risk, and Covid-19 This could be acquired by the eyes (and they are put on these elements).
Don't forget about the health crisis: Maybe there is a possibility of going to places with a better view. But there will still be pandemics and crowds must be avoided. The planificatueclipse.cl map can help you choose a place in each city and it can be your own home.