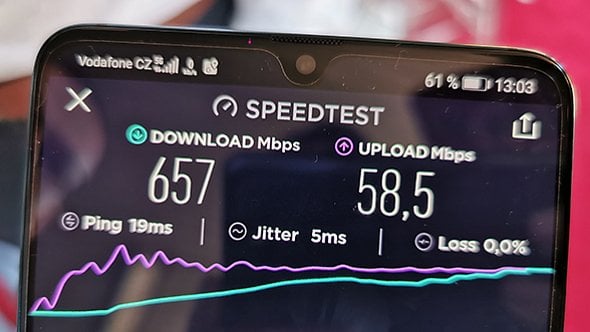 O2 and CETIN, as the test city, have chosen Kolín, where they have also shown the first 5G tests, Vodafone once again traditionally displays the news in Karlovy Vary and came with the first 5G installation at the film festival.
Specifically, the Red Operator has already used the much-beloved 3.7 GHz (O2 tested at 3.5GHz), to which a fixed wireless internet, with a block of 80MHz, is slowly starting to work. Vodafone used one block of 40 MHz and the other borrowed it for money from PODA.
The base station from which 5G was broadcast was located on the building opposite Thermal Hotel. Then, testing equipment was attached to it. The base station used Massive MIMO 64×64 with 256QAM modulation and it was non-independent (NSA) installation. BTS is not optically connected and uses a radio connection and has a capacity of 10 Gbps.
Vodafone has chosen to transfer live holograms to showcase the capabilities of this installation. Chief Operator Petr Dvořák from Warsaw, he spoke with the technical boss Milan ZíkaIt was captured in Prague by a camera system and subsequently displayed in Thermal with a powerful laser projector.
And the shooting was in 4K coding and decoding, and radio with 30 FPS. During the transfer, this installation used about 200 Mbps. The network response itself was within 20 milliseconds, but the transmission delay was about a second, due to the processing of multimedia material. Install and transfer was provided by the Czech company, Screenrental.
Vodafone then had three smart phones connected to the 5G network. Namely, Huawei Mate 20 X 5G, Samsung Galaxy S10 5G and Xiaomi Mi Mix 3 5G. The Huawei Best Workstation Machine, where it was possible to measure values ​​from 500 to 650 Mbps for download. In some cases, the value was over 900 Mbps. Transfers were then moved to 60 Mbps. The response was mostly around 19 and 20 milliseconds.
There was also an internal 5G modem from Huawei, which normally measured about 770 Mbps for download and 50 Mbps for upload. These speeds are achieved without any additional devices on the network.
O2 tested its 5G exclusively on Ericsson's technology and did not interfere with the manufacturing network. Vodafone used the existing infrastructure. on core Ericsson also hired a part of the network, and then Huawei used the radio part. However, the final vendor selection has not yet been completed. The situation in the entire Vodafone group and how it will contradict the geopolitical situation will also talk to it.
Vodafone wants to upgrade its radio program to Karlovy Vary in autumn and will combine 4G and 5G network speeds. "We should get about 1.3 Gbps," Vodafone technicians say. About how the operator looks at 5G in our conversation with Milan Žico.
Source link