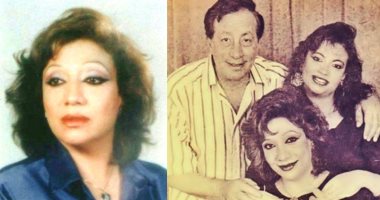 Writer Kawthar Haykal, widow of the late Abu Bakr Izzat and mother-in-law of writer Khaled Montaser, who recently posted on his personal Facebook page, saying: "Stay for God .. Goodbye beloved great writer Kawthar Heikal, my second mother, my beloved mother and my wife Samah, to a meeting Oh Insha The most sincere and purest of those I know.
Significantly, Kawthar Heikal is the wife of the late artist Abu Bakr Ezzat, and she is an Egyptian author and writer who began her artistic life by preparing one of her stories (Great Love) as a television evening named (Who Will We Live) and her production varied in the first phase of her career between documentaries and work as an assistant director in drama and directing. Programs in which I participated in directing the evening (Zanin) with the late director Hussein Kamal.
As for the most famous programs she presented, she was a program (Human Positions), and Haykal also presented successful works to the cinema, including (My Blood, My Tears and My Smiles), (Virgin and White Hair), and (Two Lovers) ), and she was also known for the romantic dialogues in those films. On the small screen, among her most famous works are the series (Bird in a Cage), (The Story of Every Husband), (Crossroads), (Meeting), (The Second Father) and finally (On Calming Fire), which is a work in which are numerous stars, including Ilham Shaheen and the late artist Abu Bakr Ezzat and Tawfiq Abdel Hamid.
Despite this, she has won several awards for her work, including the Best Dialogue for Film Award (My Love Always) by the Association of Film Writers and Critics, the Best Dialogue for Film (Virgin and White Poetry) of the Seventh Cairo International Film Festival and the Alexandria International Film Award. Film Festival (Lovers), as well as Winner of the State Award for Stimulus and the Order of Science and Art of the first degree, and her works are characterized by realistic romanticism far from imagination – as she said – and did not recognize so-called women's cinema, and in one of her dialogues : "The difference between sex and gender does not represent the color of art.
Source link