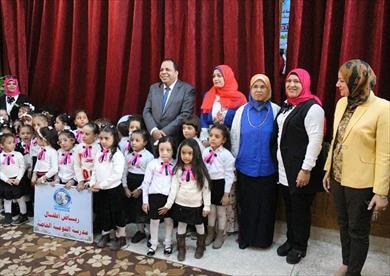 Maher Abdel Sabour:


Posted in:
Tuesday, November 13, 2018 – 18:47
| Updated:
Tuesday, November 13, 2018 – 18:47

The Faculty of Educational Transmission at the University of Minia has organized today the International Day of Children under the auspices of Dr. Mustafa Abdel Nabi, President of the University, Dr. Mohamed Galal Hassan, Vice-President for Community Service and Environmental Protection, and Dr. Eid Abdel Wahed, Dean of the Faculty of education and training. Private, and the Association of Jesuits and Freres.
Dr. Suhair Kamel, Vice President of Education and Training for Social Services and Environmental Development, Dr. Salwa Abdel Salam, Vice President for Education and Student Affairs, Dr. Nasser Fouad, Vice President for Postgraduate Studies and Research, Dr. Nabil Sayed Hassan and numerous faculty members and students.
The festival also featured performances of children and children with special needs in the Al-Jazweet Association and Al-Fareer, featuring dramas and songs that reflect loyalty and belonging to the homeland, and encourage children to develop their creative abilities, especially for pre-school children which are easy to develop at this stage.
Dr. Eid added that this celebration coincides with the celebration of the International Day of Children on November 20th every year to promote international networking and awareness among children around the world by organizing several activities and activities for presenting and celebrating this day.