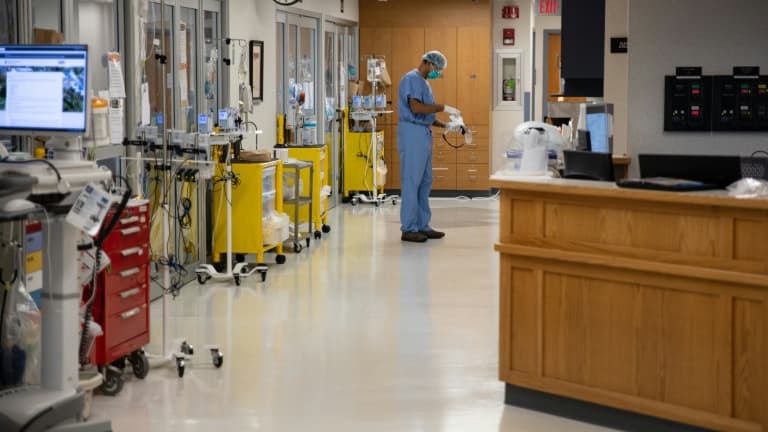 According to a Odox survey, 64% of French people think they will spend their holiday at home at the end of the year
"Most French people have decided to adapt," Céline Bracq, director general of the Odox Institute, explains this Friday on BFMTV.
Russia has begun vaccinating its army
Russia has begun vaccinating its military against the new coronavirus, Russian Defense Minister Sergei Shoigu announced on Friday.
In total, more than 400,000 soldiers must be vaccinated as part of this vaccination campaign, which was launched in accordance with an order by President Vladimir Putin, Sergei Choïgou was quoted as saying in a statement by the Russian military.
To date, more than 2,500 soldiers have been vaccinated, and their number is expected to reach 80,000 by the end of the year, according to the same source.
In a dive with nurses from Lyon: all BFM Lyon reports at Édouard-Herriot Hospital
BFM Lyon offers you a series of five reports, in a dive with caregivers from Lyon mobilized against Covid-19, which you can find HERE.
Mortality peak in France on November 7, lower than in spring
The peak of mortality was reached in France on November 7 with 2,281 deaths that day, a number lower than the previous peak seen in April during the first wave of the coronavirus epidemic, according to data released Friday.
Between 1 September and 16 November (latest data available), mortality in France remains high at 141,717 deaths from all causes, or 14% more than in the same period in 2019 and 16% more than in 2018.
"The acceleration of daily deaths since mid-October is very clear," INSEE points out in this weekly publication. This acceleration then continued during the first half of November, but at a slower pace.
Finland refuses to close its ski resorts
The idea proposed by Chancellor Angela Merkel to close ski resorts in Europe this year to avoid a new recovery in Covid-19 pollution would be "fatal" for certain sectors of the Finnish economy, the Finnish ministry protested on Friday. Economy.
"Here in Finland, most people who visit our ski resorts often are locals. It would be very bizarre to close these resorts when the situation in our country regarding the virus is not nearly as bad as in other European countries," ministry spokesman Mika Lintila told the agency. France-Presse (AFP).
Wales will tighten Christmas restrictions
The Welsh Prime Minister announced on Friday the tightening of restrictions in pubs and restaurants in order to limit the spread of the new coronavirus before Christmas, where all British residents will be allowed to meet with their families.
Each constituent state of the United Kingdom decides on its strategy against the new coronavirus, with Northern Ireland starting a new two-week lock on Friday, while England returns to a three-tier alert system next week.
Details of the restriction, which will take effect within a week, will be known next Monday, Welsh Prime Minister Mark Drakeford told a news conference.
"Why do we believe in that!": 120 music festivals sign the platform for the summer of 2021
For the spring-summer 2021, 120 music festivals are already being organized, ready to adapt to the health context so as not to experience the white 2020 season in France.
The Eurockéennes initiative is an initiative, along with Vieilles Charrues, Europavox and Musilac, of platforms posted on social media on Friday where they say they are "determined to revive (their) events in 2021".
5,000 cases a day and 3,000 people in intensive care by December 15, is that realistic?
When the closure was announced, Emmanuel Macron set a new goal for the French: to reach 5,000 contaminations a day by December 15 and between 2,500 to 3,000 people in intensive care.
How is the case curve currently evolving? How many people are in intensive care? Find our infographic in this article to understand if the thresholds set by the head of state are realistic.
"We're Buried": Ski Resort Fury After Government Announcements
Ski resort representatives were "shocked" by recent announcements by the government that it had announced that "all ski lifts and utilities will be closed to the public" during the next Christmas holidays.
"The Ministry of Health has decided that we are not good for the French," Alexandre Maulin, president of ski areas in France, told BFM Business this Friday morning. But "we don't let go, we want to be admitted and explain to us why." Because with this decision we are "buried".
La Poste is preparing for unprecedented quantities of packages for Christmas
"All packages must be under the tree." That's the complaint of the director of the La Poste package platform in Toulouse, where employees are already processing "250,000 packages a day". "It's scheduled for Dec. 15," Sylvain Bincteux explained. "We're three weeks early. It's historic, but we're ready."
La Poste is currently distributing 50% of the volume of additional packages since deconfining and 100 million packages could have passed through Post Office services in November / December, explained Xavier Mallet, CEO of Colissimo, in late October, with a maximum of 4 million a day before Christmas, between 10 and December 20th.
To deal with the influx of packages, La Poste announced "mobilized more than 100,000 postmen, couriers and account managers at post offices", to which is added "more than 9,000 seasonal jobs".
Vaccines: Agnès Pannier-Runacher assures us that we will "be ready in late December, early January"
The government is waiting for "approvals" and "vaccine doses" to launch a vaccination campaign against Covid-19. BFMTV-RMC guest Agnès Pannier-Runacher, who is specifically responsible for supplying France, assured that "we will be ready in late December, early January".
Three times more social plans than 2019
Despite helping companies, social plans are multiplying. Since the beginning of March, 657 plans have been launched regarding more than 67,000 job cuts, according to the latest data released by the Ministry of Labor. That is almost three times more than in the same period last year …
The French are preparing for Christmas like no other
Under what conditions will the celebrations take place? Although the executive has announced easing of restrictions for the end of the year, more than six out of ten French people (63%) say they will celebrate Christmas in a completely different way than other years, according to a Odox poll for Le Figaro and France Info.
66% of respondents say they plan to meet with fewer people than the previous Christmas, but many will not respect social distancing or wearing a mask for the occasion, according to this survey.
Germany exceeds one million infected
Germany has crossed the threshold of one million people on a positive test for Covid-19 since the start of the pandemic this Friday, the Robert Koch Institute for Health Guard announced.
Considered one of the good European students in epidemic management, but hit hard by the second wave, Germany counted 1,006,394 officially declared sick (+ 22,806 in 24 hours) and 15,586 deaths (+ 426) this Friday, according to the institute.
The country will extend its restrictions on fighting Covid-19 until early January, including the closure of bars and restaurants and restrictions on participants in private meetings, Angela Merkel announced on Wednesday night.
"Irrelevant" companies are preparing to reopen
Hello everyone and welcome to this new live dedicated to the coronavirus epidemic. The second closure will slowly but surely ease it: so-called "irrelevant" businesses are preparing to reopen this Saturday, after weeks of closure.
Another change: the trip will now be allowed within a radius of 20 km and three hours. On the other hand, bars, restaurants and sports halls will keep their doors closed, at least until January 20th. To see more clearly, we summarize in our infographic lines what is changing this Saturday.
Source link