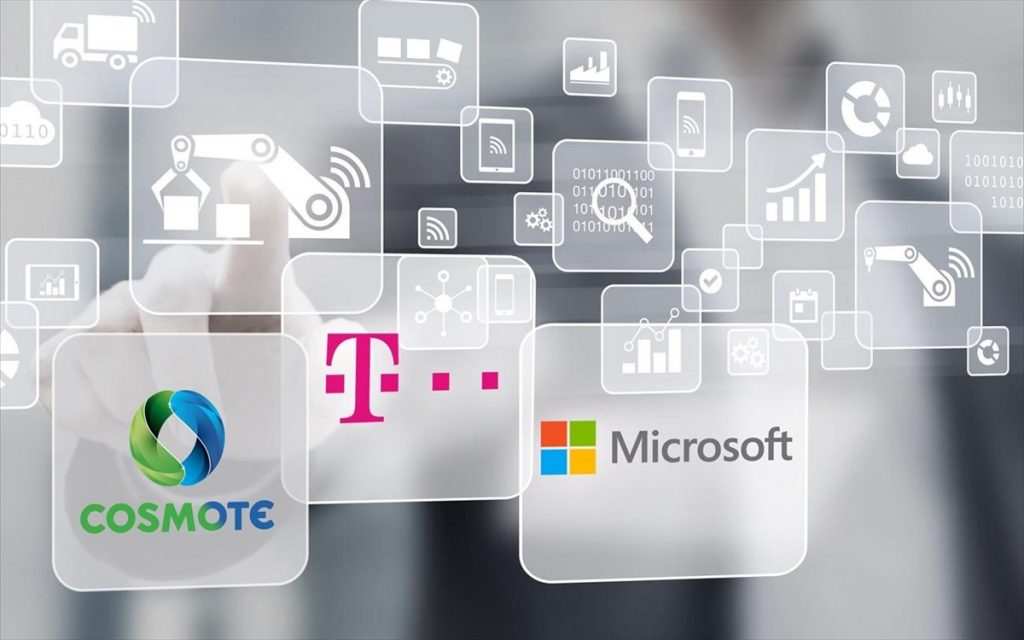 COSMOTE: COSMOTE wants to remain dominant in the Greek mobile and internet market by concluding agreements – "keys" that make it unbeatable on the ground. See xristika.gr for details on expanding COSMOTE's collaboration with Microsoft.
Having reached the point of distributing free internet in certain areas of Greece, COSMOTE has taken the next big step. COSMOTE and Microsoft are expanding their partnership, offering even more sophisticated and high-quality cloud solutions for large and small businesses. The cloud solution portfolio has been enriched with standard Azure and Modern Workplace solutions, as well as a new Premium Support service. The goal of the cooperation between the two companies is to contribute to faster digital transformation and improve the productivity of each company.
COSMOTE and Microsoft have been collaborating since 2019, providing cloud solutions for large and small companies, as part of Deutsche Telekom Group's strategic partnership with Microsoft Corp., in Central and Eastern Europe. As announced by the leaders of Deutsche Telekom and Microsoft Corp., Tim Höttges and Satya Nadella, respectively, the expansion of cooperation between the two companies will help companies of all sizes to accelerate their digital transformation.
The rich portfolio of cloud solutions offered by COSMOTE in collaboration with Microsoft includes the following:
-Customer readiness assessment services for the transition to the cloud: Companies have the ability to use specialized tools to assess the readiness of their applications and information infrastructure related to the cloud.
-Verified methodology for smooth transition of SAP solutions to Microsoft Azure.
Azure latest services: Companies can evaluate, manage and transfer all applications to the cloud, using infrastructure solutions (infrastructure-as-aa-service), but also platform services (platform-as-a-service).
-Modern solutions in the workplace (with Windows 10 and Microsoft 365), so that each company makes more efficient contact with its customers, while ensuring the protection of sensitive data, optimizing its operation and increasing productivity. The solutions make it easy to work remotely through a secure environment.
In addition, COSMOTE provides a new premium support service. With Premium support, Microsoft Certified COSMOTE Technician configures corporate email remotely, quickly and securely in the new Microsoft 365, so all applications can be used instantly.
It is noted that companies have the ability to use Microsoft solutions along with the integrated security services offered by COSMOTE.
As Albertos Bourlas, Microsoft's Sales Director for Greece, Cyprus and Malta, said: "We strongly believe in our strategic collaboration with the OTE Group and are constantly strengthening it, focusing on the Cloud, which is the driving force of digital transformation. of all sizes. This is a collaboration that opens a new chapter in the technology market in Greece, in an era of challenges and increased needs for remote operation and data security. As a strategic partner, we continue to strongly support our partners 'and customers' vision for growth, flexibility, efficiency and productivity in the digital environment. "
Mr. Grigoris Christopoulos, Chief Commercial Officer of the OTE Group's business segment, said: "Expanding cooperation between COSMOTE and Microsoft, the two largest technology companies in Greece, in providing integrated Cloud solutions, combined with Deutsche Telekom Group's high knowledge, will help accelerate digital transformation Greek companies. At COSMOTE, we provide the right digital tools and services to meet the needs of each company, and we are the chosen partner for professionals who want to excel in the digital age. "Through strategic partnerships, like this one with Microsoft, we remain true to our vision to create a better world for all with technology as an ally."
COSMOTE got it all! In a nervous shock VODAFONE and WIND
The "fastest mobile network in Greece" award, for the eighth year in a row, once again won the COSMOTE mobile network at the Speedtest AwardsTM in Ookla, the world's first company to measure broadband and mobile internet.
Once again, COSMOTE achieved a Speed ​​ScoreTM of 51.39, (second: 28.49 and 3: 25.62), while download speeds measured were 64% higher than the speed of another service provider and 83% greater than the third.
We are proud that in 2020, the COSMOTE network emerged from Ookle® as "the fastest mobile network in Greece". We don't stop here. Since we were the first to bring 5G to the Greek market, we will continue to develop the largest mobile network in the country so that our subscribers can enjoy superior connectivity and the mobile internet experience in the new digital age. Congratulations to our people, who have kept the COSMOTE network at the top with their work all these years, remaining true to our vision of a better world for all using technology, "said OTE Group Network and Operations Executive Director, Mr. George Tsonis.
The "Fastest Mobile Network of Greece 2020" award was based on approximately 460,000 measurements made by mobile network users themselves in the second half of 2020. Tests were conducted via the Speedtest app in real conditions, nationwide, on all mobile provider networks via iOS and Android devices . With more than 13,500 servers worldwide, Ookla® users run millions of tests every day, a total of more than 33 billion since 2006.
COSMOTE: Constant network upgrade and even higher speeds for 5G
COSMOTE, wanting to provide its subscribers with superior connectivity and a mobile Internet experience, is constantly developing the largest mobile network in the country. In the last 3 years, it has increased the capacity of the mobile network by 77%, which is a fact that has enabled a fourfold increase in mobile data traffic, without affecting the experience enjoyed by users.
It should be reminded that COSMOTE was the first company to bring a 5G network, initially activating it in Athens, Thessaloniki and other cities of the country, whose speed exceeds 1Gbps in certain areas.
In fact, according to the company, COSMOTE 5G will be expanded to even more areas of Greek territory, and by the end of the year, the coverage of the population is expected to exceed 50%.
The full development of COSMOTE 5G network capabilities will be carried out by integrating the new frequency band that COSMOTE acquired a few days ago, through an auction conducted by the National Telecommunications and Post Commission (EETT).
5G, one of the fastest and most reliable technologies we have known to date, will be a lever for the growth of the global economy, with applications in various sectors such as industry, health, telecommunications, transport, "smart" cities, education, entertainment, etc.
Read all the news on topics.gr
Source link