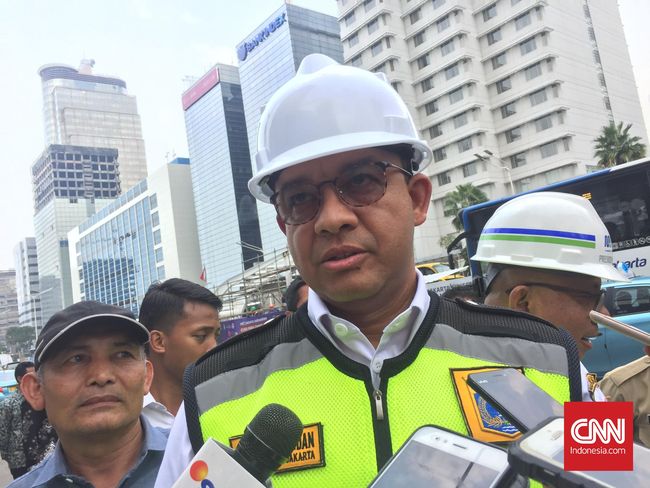 Jakarta, CNN Indonesia – governor of DKI Jakarta Anies Baswedan said that the low absorption of the Regional Budget DKI 2018 was the result of the difference between what was done and how much it was paid.
Anies argues in terms of making, progress has reached 72 percent. While on the side of payment only 55 percent.
"So there is a big difference between what has been done with what is paid," Anies said in the City Hall in Jakarta (12/11).
According to Anies, low payout by DKI provincial authorities is because the bidders or the projects are not billed.
Former Minister of Education and Culture said that tenderers usually gather all at once, not through stages.
So, continue with Anies, his party will carry out an assessment of the billing.
"Well, that must be our internal correction that the process of collecting must be simple, so they will often be charged (provincial government)," he said.
Anies estimates that if the carriers of a routine bidding contest, there will be no difference between the data on budget absorption and project progress.
"The absorption and project number are not far apart, now the difference is far," Anies said.
Anies said that one of the least absorbing agencies was the Office of Education, where the project reached 75 percent, but payment was only 25 percent.
Still, Anies said it was optimistic that the absorption of the state budget of the DKI Province this year could be the same as the last 2017, which is 83 percent.
"But we are optimistic God willing, with 72 percent ending, God willing, our goal for us to achieve as last year can be achieved," he said.
Previously, it was released from the official web site of the dashboard-bpkd.jakarta.go.id, 2018. DKI APBD absorbed on November 8 reached only 54.83 percent. In other words, only 41.1 trillion IDRs were made with a budget of 75 trillion IDRs.
(dis / AMD)