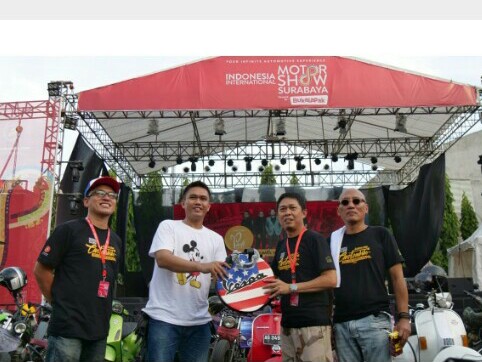 mobilinanews (Surabaya) – This weekend IIMS Surabaya 2018powered by Bouquets are visited by car lovers and young families.
Not only are they looking for the latest products and the latest technology, but are also seeking secondary needs, such as accessories.
Since IIMS Surabaya 2018 is also a new forum and activity for the creative economy industry, especially in the car sector that attracts visitors.
Attractive promotions do not just give brand just cars and motorbikes, from the range of accessories and no less giving attractive promotions.
Among other things, HD Auto Film provides a 55% maintenance discount with a 7 year warranty.
Besides, Minicon iselectronic electric car illumination, providing premium products that can stabilize the car's voltage and a 10-year warranty.
It is interesting today, Rally RC in cooperation with RC Rally Sahabat Kogu, invited visitors to IIMS Surabaya 2018 to feel the excitement of RC.
In addition, visitors can also find outSafety Smart riding provided by McEasy Smart Tracker.
No less exciting, present in Session sharing, Dwi Prasetyo of Customland who shared the custom culture was the fruit of the industrial revolution, modernism and postmodernism, and Eco Rich Richie began by designing and changing the motorcycle caffe racer belongs to Gibran Rakabuming Raka, the eldest son of President Joko Widoda.
As part of the Hero Day, Im Garage delighted with IIMS Surabaya 2018, with the programCoffee and Drinks.
cyclists startrally enjoying the coffee together in Excel HR Muhammad rally and to complete at IIMS Surabaya 2018, at Grand City Surabaya.
Arrival cyclists at IIMS Surabaya 2018, entertained performances from joint bands and DJ Febian. Together with the fun at the IIMS Stadium, the feast began Vape competition for lovers of steam.
This competition is estimated by the thickness of smoke produced by steam.
At night launching from McEasySmart Tracker which represents technology smart tracker for engines that deliver superior performance can protect the motor from theft and have GPS devices.
OtoVlog competition It also resumes from day one, and the winner will be chosen on the last day.
Not only does it show the remarkability of its products, brand–brand Participants of IIMS Surabaya 2018 also providedfun in each of their areas.
As of today, the DFSK was entertaining visitors along with the performance of one of the bands in Surabaya.
Do not miss Datsun, Suzuki, Toyota, Tata Motors and MTF also entertain visitors and share some direct gift, until the end of the exhibition the exhibition closes.
"What makes IIMS Surabaya 2018 different from other automotive exhibitions, with top-notch product exhibitions brand, visitors and car lovers can also enjoy and getexperience directly with various programs and entertainment programs from the first to the last day, "said Tofani Blue, Head of branch office PT Dyandra Promosindo.
At the end of the event, Sunday, IIMS Surabaya 2018 will be open from 10:00 to 22:00 WIB, with the ticket price for Rp 25,000 for regular tickets and Rp 70,000 for ticketsfamily package.
With various programs that will revive IIMS Surabaya 2018, such as traffic heroes (Automatic gathering), Rally RC, Vape competition, the announcement of the winnerOtoVlog competition and Indonesian Custombike Expo & Championship(ICEC) as well as Award for the night for participants of IIMS Surabaya 2018. (BS)