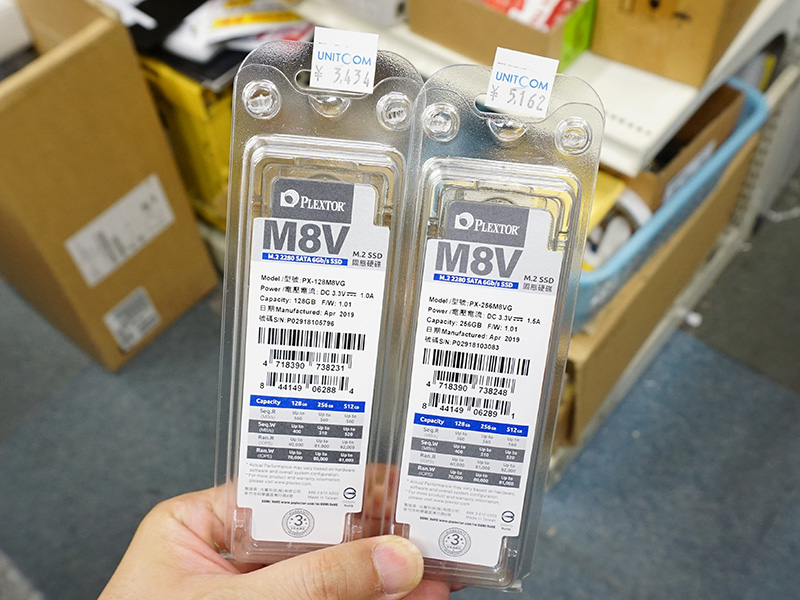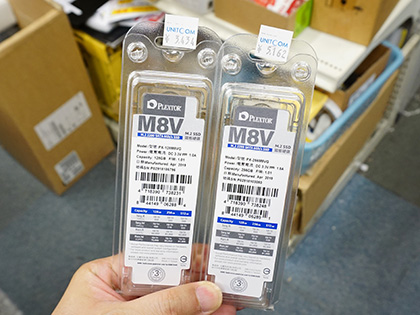 A new product appeared in the Plextor M.2 SATA SSD, the series "M8VG" was released.
Two models of 128GB "PX-128M8VG" and 256GB "PX-256M8VG" are on stock. The order prices (hereinafter referred to as the tax note) amounted to 3,434 yen and 5,162 yen per line.
The sales shop is PC workshop Akihabara BUYMORE shop.
SATA SSD equipped with Toshiba's 64-layer 3D TLC NAND and DDR3 memory cache
The M8VG is a 6 Gbps SATA SSD equipped with Toshiba's 64-layer 3D TLC NAND and Silicon Motion "SM2258" controller. Body Type Factor is Type 2280.
Similar to the "M8 VC" series released in April 2019, it also has DDR3 cache, and also has pre-delivery controls such as 48-hour access, 4000 idle tests and 250 power cycle tests. We conduct a thorough quality control through the implementation of 100
The cache capacity of each model is 256MB for 128GB model and 512MB for 256GB model. Durability is 70TBW for the first and 140TBW for the latter.
Nominal maximum performance values ​​(sequential reading, random reading in this order) are 560 MB / s for 128GB model, 400 MB / s, 60,000 IOPS, 70,000 IOPS, 560 MB / s for 256 GB model, 510 MB / s, 81,000 IOPS , 80,000 IOPS.
Body size is 80 × width 22 × height 2.3 mm. The warranty period is 3 years for each model.
[撮影協力:パソコン工房 秋葉原BUYMORE店]