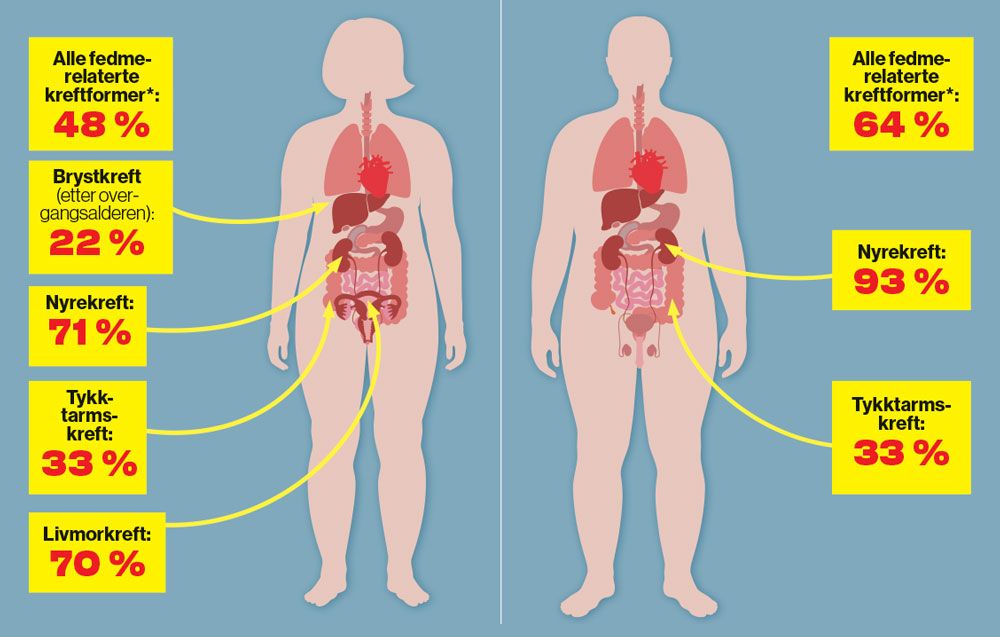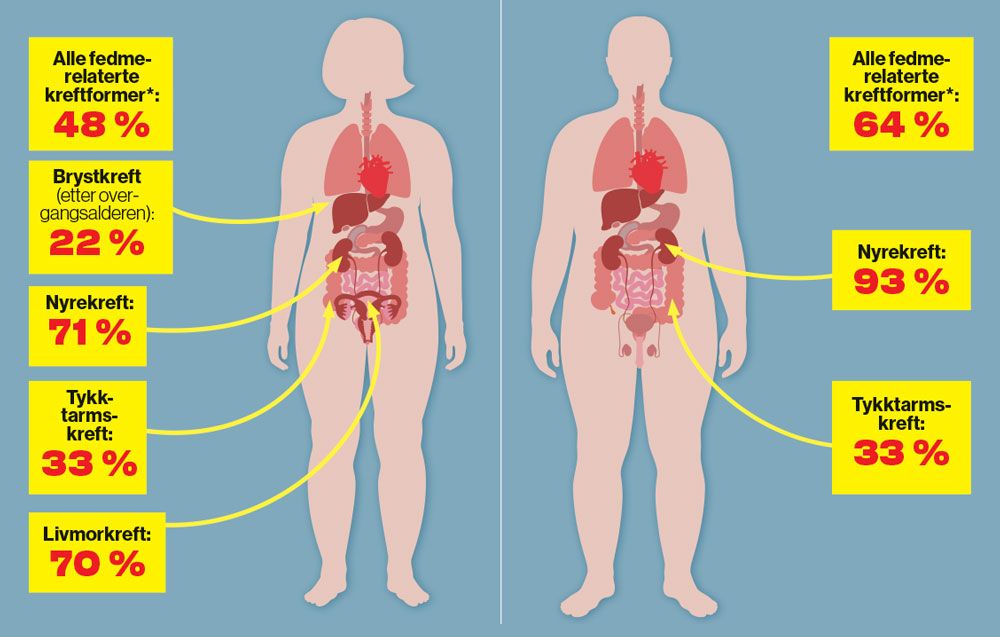 A new European survey, involving 68,000 Norwegians, shows that being over 40 increases the risk of some cancers. In uterine cancer, the risk is increased by 70 percent.
Overall, the risk of obesity-related cancer increases by 15 percent if you become overweight before age 40, research shows.
Some cancers are at particularly high risk. At the top of the list are uterine cancer for women (70 percent), followed by kidney cancer for men (58 percent) and colon cancer for men (29 percent).
"Research shows that weight gain in adulthood is associated with an increased risk of several cancers," Tone Bjørge, professor at the Institute for Global Health and Social Medicine at the University of Bergen, told VG.
She and several researchers from the University of Bergen participated in a major European study – the so-called Me-Can study.
read also
New treatment gives hope to patients with incurable ovarian cancer: – The biggest thing since immunotherapy
A great research project
The researchers extracted data from national health surveys in Norway, Sweden and Austria. The survey included 221,274 people. In order to be included in the study, participants had to undergo two or more health surveys, which included weight and height measurements, from 1972 to 2014.
For study participants, an average of 10 years elapsed between each health examination. Respondents in the study were followed for an average of 18 years.
The study is a so-called cohort study. That is, a study where you monitor a group of people over time and see who develops the disease. The main purpose of such research is to identify the causes of the disease (see fact box).
– This is a large cohort study in which we used health surveys in Sweden, Norway and Austria and linked them to national cancer registries. All participants had a personal identification number that allowed us to track them over time, Bjørge explains.
– The main message is to avoid weight gain
The difference between obesity and obesity is defined by body mass index (BMI). BMI is a measure of weight versus height. Those with a BMI between 25-29 are considered overweight. Those with a BMI above 30 fall into the "obesity" category.
The study found:
During the study period, 27,881 people were diagnosed with cancer.

9761 (35 percent) were associated with obesity.

Subjects in the study who were obese at the first and second health exam (BMI above 30) had the highest risk of obesity-related cancer, compared with those who had normal BMI at the first two measurements. The risk increased by 64 percent for men and 48 percent for women.

In particular, the risk was high in people who were over 40.
– How long a person is overweight, when a person becomes overweight, and how much a person is overweight has proven to be of great importance, Bjørge says.
– The main message is to avoid weight gain, as it reduces the risk of cancer.
– An important public health message
Bjørge explains that the link between obesity and cancer has been extensively investigated. The fact that obesity increases the risk of several cancers is known, but for any new research in the field, knowledge is brought to a higher level.
– We did not invent the powder, and our research is in line with previous research in this field. But research has an important public health message: Avoid big weight gain as an adult, Bjørge says.
The research report, read by VG, stated that researchers did not have available data on ethnicity and place of birth. Everyone involved in the study weighed and weighed at least twice every three years before they were diagnosed with cancer.
read also
Christine Koht: – All I dream of is having an ordinary day
Professor: Solid study
Anette Hjartåker is Professor of Nutritional Epidemiology at the University of Oslo. She worked extensively on cohort studies, got a job with the Cancer Registry, and read the study.
– That seems very solid, a thorough job has been done here. The researchers involved a large number of people – providing a good database. They also received measured height and weight data, which is a sign of quality, she tells VG.
She is aware that cohort studies have some weaknesses, including that not all factors are controlled. Some things can be adapted, but not all, which the researchers also discuss in detail in the article.
– You can't follow so many people through so many years of randomized, controlled experiment. Cohort studies are often used when looking at a large database over a long period of time, Hjartåker says.
Commercial Collaboration: Discount Codes
Source link