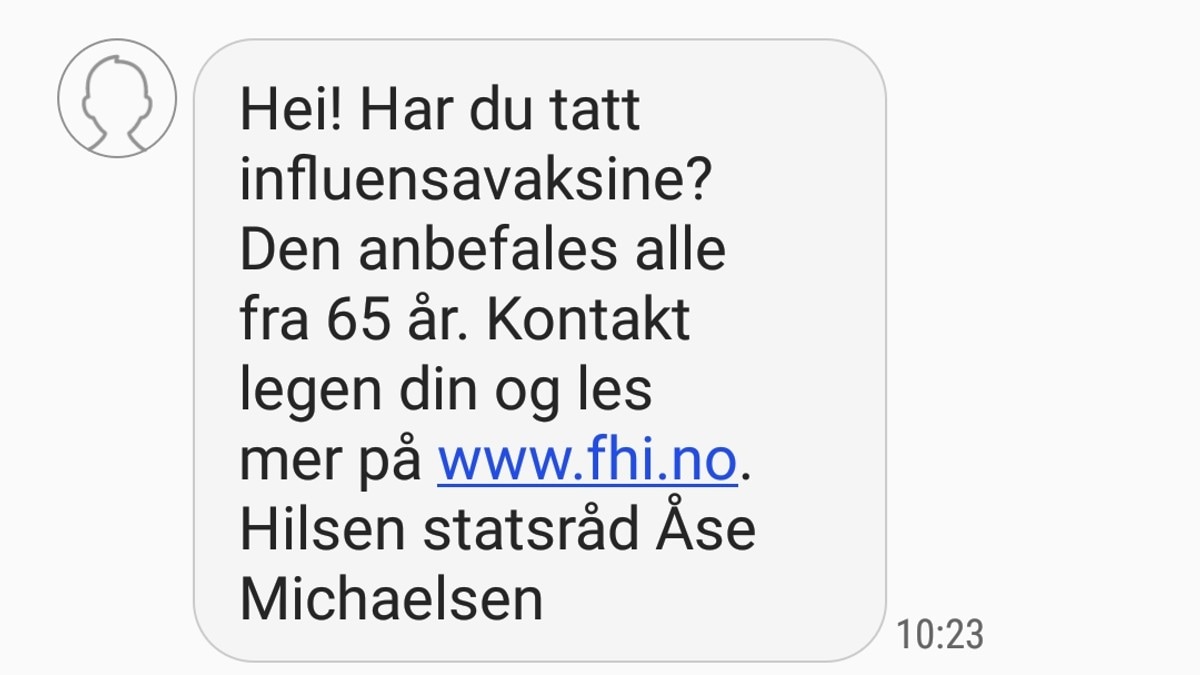 "Hey! Did you take a flu vaccine? It is recommended for anyone over 65 years of age. Contact your doctor and read more at www.fhi.no. Hello State Council Åse Michaelsen ».
This SMS is sent this week to everyone between 65 and 80 years. However, people who did not open for digital communication with the authorities will not get it.
– People over 65 have a higher risk of serious flu. So we put together a brief reminder sent to more than 500,000 people aged 65 to 80, "says Kjersti Rydland, Senior Advisor at the Norwegian Institute of Public Health (FHI) Flu Group in NRK.
– What do you know about the effects of such challenges?
"In international studies, we see that this is a measure that has a very good effect. We do not have any data from Norway about it, but that's certainly something they are doing in other countries.
She also believes that it will be more personal attractiveness when the message comes from the minister for the elderly than if she came from the department.
– There may be a lot to win
More than 900,000 Norwegians have over 65 years of age. According to the FHI, far less than half of them are being vaccinated against the flu.
"Last year, there were about 34% of the vaccine, 65-80 years old. We'd rather have coverage of over 75 percent," says Rydland.
At the same time, more and more vaccinations are seen year after year.

To an individual
"With this text message of the Minister of Public Health, we hope that more senior citizens will take the vaccine to protect themselves from serious illness," says Karoline Bragstad, director of the Public Health Institute, on her website.
Further, an individual should be vaccinated or not.
"For many healthy elderly people, it may not be necessary to take a vaccine, but flu can weaken health and depend on health care for a long time after the infection itself has passed. Therefore, much can be gained from taking the vaccine on time before the start of the season, says Bragstad.
Rydland adds that you are doing well if you want to be vaccinated this year.
"Now there is very little flu, so you have to spend a few weeks before you run. We do not expect more flu until December.