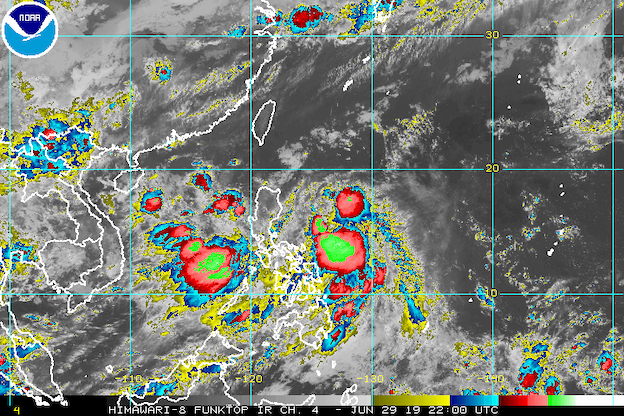 In addition to the Egyptian tropical depression, on Sunday, June 30, there is a shallow area of ​​low pressure that reinforces the southwestern monsoon.
What time is your area? Report the situation through Rappler Agos or tweet us @rapplerdotcom.

MANILA, Philippines – Tropical Depression Egay retained its strength before dawn on Sunday, June 30, while forecasters noted the shallow area of ​​low pressure (SLPA) within the Philippine area of ​​responsibility (PAR).
Both weather systems will improve the southwestern monsoon or viseći habagat, which continues to influence Luzon and Visay.
On Sunday at the press conference at approximately 5:30 PM, the Philippine Administration for Atmospheric, Geophysical and Astronomical Services (PAGASA) said the tropical depression Egay was 810 kilometers east of Daet, Camarines Norte or 940 kilometers east of Infante, Quezon.
From the initial slow pace, Egay has slightly accelerated, now moving northwest to 15 kilometers per hour (km / h).
Egay still has the maximum winds of 55 km / h and a slope of up to 65 km / h. It is expected to retain the classification of tropical depression within the PAR.
There are no areas under tropical cyclone warning signals. According to PAGASI, Egay is unlikely to bring land. (READ OUT: FAST FACTS: tropical cyclones, precipitation recommendations)
Based on the latest forecasting path, Egay will leave the PAR on Tuesday evening, July 2nd, or early on Wednesday, July 3rd.

Meanwhile, SLPA is located 590 kilometers west of Laoag City, Ilocos Norte.
PAGASA Time Quentin Gener Quitlong said SIt is not expected that LPA will become a tropical depression. As already mentioned, it will also boost the southwestern monsoon.
The following areas on Sunday were hit by the southwestern monsoon:
Monsun rain
Metro Manila
Ilocos region
MIMAROPA
Zambales
Bataan
Light rain
PAGASA has advised residents of these areas to be careful about possible floods and landslides.
Egay is the Philippines's 5th Tropical Cyclone for 2019, after Amanga in January, Betty in February, Chedeng in March, and Dodong also in June – all tropical depression. (READ: List: PAGASA names for tropical cyclones 2019.)
The Philippines receive an average of 20 tropical cyclones annually, but by 2019 El Niño years, only 14 to 18 tropical cyclones are expected.
Below is an estimate of the number of tropical cyclones from July to December:
July – 2 or 3
August – 2 to 4
September – 2 to 4
October – 2 or 3
November – 1 or 2
December – 0 or 1
PAGASA announced the start of the rainy season on June 14 last year. – Rappler.com