GE Hitachi Nuclear Energy has announced the signing of an agreement with the Synthos Group, which is controlled by Poland's richest Michał Sołowow. The document refers to the construction of a 300 MW water boiling reactor over the next 10 years. Solovov would be the first private entrepreneur to become involved in the implementation of small-scale modular reactor technology.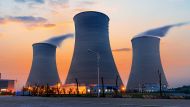 Naimski: We consider the coast to be a nuclear power plant
We consider the coast to be one of the locations of the Polish nuclear power plant – said a government official for radio on Radio Warsaw ….
see more
According to the portal forsal.pl, referring to the interlocutor who knows the details of the agreement, "Michael Sołowow's investment in nuclear energy is a deep decarbonisation of the Polish industry, which is an inevitable condition for competitiveness in global markets."
In this context, access to the latest zero emission technologies, such as small modular reactors (SMRs), is necessary in this context.
The agreement was announced at a Brussels summit with representatives of the US Department of Energy and the European Commission dedicated to SMR technology. Solovow, at the invitation of the Americans, represented European entrepreneurs interested in nuclear technology at the meeting.
He spoke directly with US Secretary of Energy Rick Perry about the issue, as the White House must agree to cooperate with US-Japan nuclear energy group GE Hitachi. The US administration has tightened its policy on access to the latest nuclear technologies several months ago.
According to the interlocutors of forsal.pl, the construction of small reactors does not prevent the development of nuclear power based on large blocks. Under the Ministry of Energy's plans, a 6 to 9 GW power plant or nuclear power plant should be built by 2040.

source:
forsal.pl
# zero emission technology