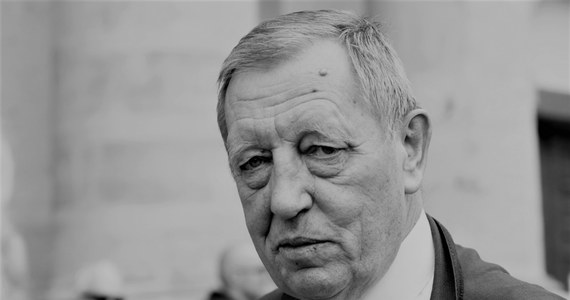 Professor Jan Szyszko was very involved. He devoted himself to his work and to what he believed in. Not only did he fight for his environmental arguments, he defended core values ​​related to religion and tradition, he also fought an ideological offensive against the family – and in that sense I called his departure accidental – says PiS President Jarosław Kaczyński.
Jan Szyszko
/Andrzej Iwańczuk /reporter
On Wednesday, at a PiS convention, Jarosław Kaczyński said that "Jan Szyszko left prematurely and in special circumstances." "The majesty of death does not allow me to talk about it today, but it will have to be said, because it was no coincidence today, right now," he said in Kielce.
In a later interview with the PAP, the PiS leader stated: "If I said that Professor Jan Szyszko did not accidentally die, I meant above all his great commitment. He was no longer young, he was 75, although it seemed that is in very good shape, well, "Kaczyński argued.
"Despite this, he fought very, very hard in the election campaign, he fought in his constituency. He fought not only for his rights when it comes to environmental protection. Today we see that in many things he was right, not against But he also fought in defense of the most basic values ​​we defend, which relate to religion and family, "he added.
According to Kaczyński, Szyszko was "fully involved and very burdened with it." "Of course I'm not a doctor. I don't know how it affected his untimely death, but I suppose he did. He was, of course, the object of the attack, but in that respect he had a really great experience – he was attacked whenever he was somehow exposed here I don't think it has anything to do with his death, "he added.
He also noted that Jan Szyszko was "an extraordinary man, true to an idea that seemed like a lost idea for many years."
President Kaczyński also emphasized that he was acquainted with prof. Szyszko for almost 30 years. "He was an activist who was with us in these better times, as well as in these completely bad and fatal times, when we were out of parliament and everyone predicted political death and treated us as an element of past tension," he noted.
He asserted that the deceased minister was "despite his outstanding scientific achievements in his field, a man treated poorly, also at his university". "This testified to his attachment to certain values, a very strong attachment," the PiS president emphasized.
Jan Szyszko died Wednesday at the age of 75. In the PiS Government, Szyszko served as Head of the Ministry of the Environment from November 16, 2015 to January 9, 2018. He has officially managed the Ministry three times and was a record holder in this regard. For the first time in Jerzy Buzek's government (late 1997 to mid-October 1999); for the second time in the offices of Kazimierz Marcinkiewicz and Jaroslav Kaczyński (2005-2007).