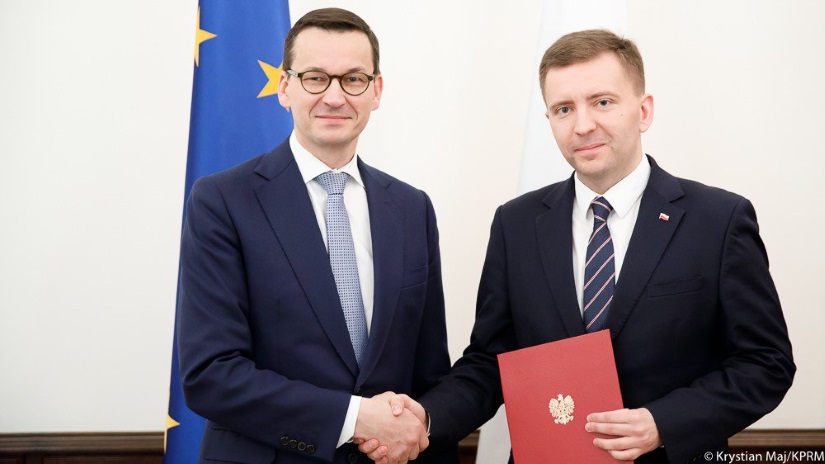 Łukasz Schreiber was appointed State Secretary at the Prime Minister's Office.
Prime Minister Mateusz Morawiecki appointed Mr. Łukas Schreiber, a member of Sejma 8, as state secretary at the Prime Minister's Office
– informed the prime minister's office.
Join the Premier Team is a great honor for me. In front of me a series of new challenges and tasks
– Łukasz Schreiber said portal wPolityce.pl.
Thank you for trusting me in the premier and president
he added.
He thanked his colleagues at the PiS parliamentary club for the cooperation so far. He adds that he will now perform new duties.
Time for new challenges. I will do my best to bear the responsibility I have entrusted to and do not disappoint my trust
– said Schreiber in an interview with portal wPolityce.pl.
Łukasz Schreiber graduated from the Faculty of Law at the University of Nicolaus Copernicus in Toruń and at the Faculty of Administrative and Social Sciences at Casimir Veliki University in Bydgoszcz. In the past he was a local administration officer and acted as an advisor to the City of Bydgoszcz.
Since 2015, Łukasz Schreiber is a representative of the Polish Parliament. Prior to the appointment of the State Secretary in the Office of the Prime Minister, he served in Sejm as Vice President of the Committee for Physical Culture, Sport and Tourism, Member of the Public Finance Committee and President of the Standing Subcommittee for Monitoring the Tax System. He was also a member of the Committee for Constitutional Responsibility and the Special Committee for Consideration of Electoral Law.
EMS / premier.gov.pl