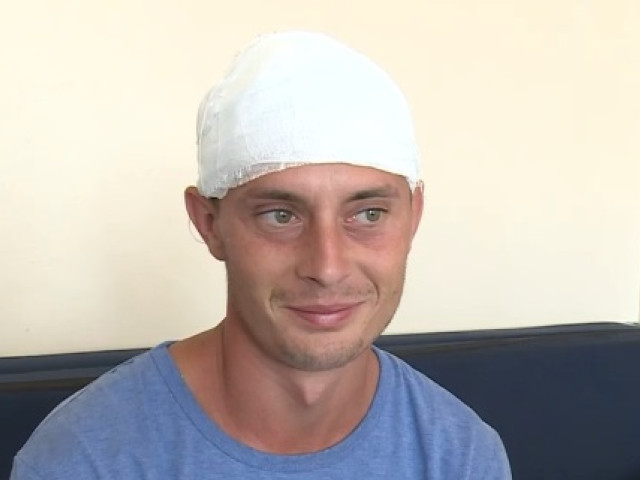 A mountain youth, hit by a bullet near a training ground where 100 gendarmes were trained, wants compensation for his injuries. After she gets up, she wants to sue the gendarmerie for what happened. The young man miraculously escaped life after being shot in the head more than two kilometers away from the training ground. The military prosecutor's office in Timisoara has launched an investigation and all the fires there have been stopped.
Constantin Vochițoiu, an injured young man: I suddenly woke up on my back. I didn't know, I didn't understand anything. When I first arrived at the hospital in Târgu-Cărbunești, I was told I had a bullet in my head.
Constantin was two kilometers halfway from the Targu-Cărbunești range when he was hit by a bullet. He was knocked off his feet, knocked down just before the eyes of two friends in the churchyard of Măceșu village. Even if he is lucky to have escaped alive, the 22-year-old wants to sue the Upper Gendarmerie and seek redress.
Constantin Vochițoiu: Let's get out of the hospital and move on.
reporter: Will you claim damages?
Constantin Vochițoiu: Yes. Why not? I could be dead.
Constantin was taken to Târgu-Cărbunești hospital but, overwhelmed by the situation, doctors from here requested a transfer to Craiovo, where he also underwent surgery.
Mădălina Ispas, director of Craiova Hospital: His bullet was removed from his skull and the patient is stable at this time. The patient has gone through a critical phase.
Prosecutors now want to know if all safety rules have been met. Local authorities say all residents of the area were notified of the shooting.
Alin Ivan, spokesman for IJJ Gorj: At the Rogojeni polygon in Târgu-Cărbunești, the planned firing sessions scheduled for this period were carried out with a gun and machine gun.
Dănuț Birău, Mayor of Târgu-Cărbunești: This information was created. It is performed by display. In some places, there is a rendering process that provides access to and in the immediate vicinity of the polygon. I think the church is also a signpost.
People living near polygons are now scared. The woman said three years ago she was shot in the yard: "In the pig, here in the back, in the ham, I found the bullet. Everybody, when they opened it: Look at the bullet, where's the bullet? The husband went to the police: not from us, he said, but from the military unit".
The Ministry of National Defense stopped all planned shootings at the Gorj range.
Source link