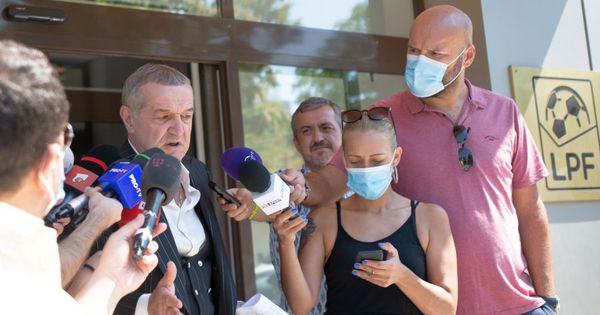 Stay on GSP.ro for the first pictures and details from the club president's meeting.
In the absence of consensus between the FRF and the LPF on the implementation of the VAR system, the Professional Football League convened a meeting with all club presidents. At the headquarters of the LPF, solutions will be sought so that League 1 has video arbitration as soon as possible.
VAR in League 1. What is the position of the clubs
Some of the clubs in League 1 at all costs want to unblock the discussions between the LPF and the FRF and are willing to contribute financially by raising the 550,000 euros needed to train referees.
FCSB, Sepsi and FC Botoșani are clubs proposing that L1 teams share the cost of training referees. "I'm also giving 150,000 euros, not just 16,000, to apply VAR once. What's the problem? I'm giving as much as they want and I'll call them 'Let's go,'" said Gigi Becali, FCSB financier.
Valeriu Iftime, owner of FC Botoșani, is on the same wavelength as the landowner from Pipera: "The mandate I have given to my president is that we want VAR and to contribute financially."
VIDEO Bogdan Mara: "I don't think clubs in other countries pay VAR"
However, not all clubs support this idea. Poli Iași, Hermannstadt and Astra do not want to contribute financially to the setting up of the VAR. Bogdan Mara, Giurgiu's sporting director, was vocal in this regard, after Astra's qualifiers in the Romanian Cup semi-finals: "We need VAR, I think we need to adapt to current football. It's not that we don't have good judges, but it's wrong, you want it, you don't want it. Romanian football is bad, it will not be easy, I think other resources must be found than those who run football. I don't think clubs pay VAR in other countries. "
Read more VAR news:
Incredibly! An unarmed man by the police on the street, in Onești, live on TV
Freedom
Source link