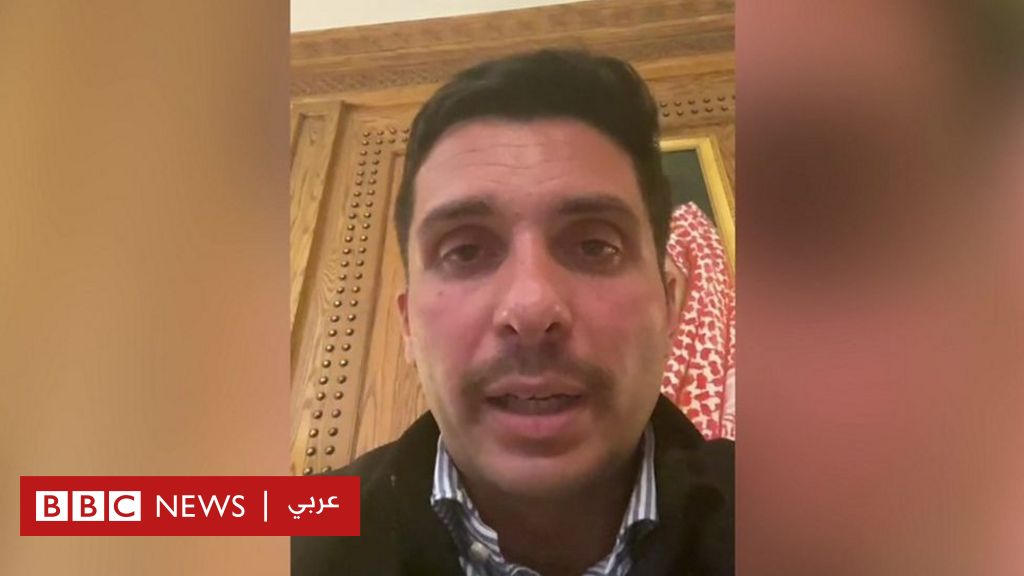 British newspapers discussed the "arrest of former Jordanian heir to the throne Hamzah bin Al Hussein". And its expected consequences And the choice of "Chinese celebrities between their country and the West."
The Guardian published a report by Martin Shulov, a correspondent for Middle East affairs, and Michael Safi, entitled "The former Jordanian heir to the throne is under house arrest on his charge of attempted coup."
The report deals with a video clip that appeared on Saturday of the former Jordanian heir to the throne, Prince Hamzah bin Al-Hussein, in which he said that he was kept in his palace in the Jordanian capital Amman and that he was prevented from contacting anyone.
The report refers to a widespread arrest campaign that, according to newspaper sources, focused on influential and prominent figures close to the Emir, who was removed from office 16 years ago.
The report says the BBC's leaked video was obtained from his personal lawyer, in which he criticized widespread corruption in the country in previous years, adding that Jordanian military command denied media reports of the prince's arrest, while prominent Middle East intelligence sources indicated that believes Prince Hamzah is under house arrest.
The report says the area around the Emir's palace witnessed tight security checkpoints with many security checkpoints, and ports between it and surrounding highways were closed, and that Hassan bin Zaid, a former Jordanian envoy to the Kingdom of Saudi Arabia, was among the detained aides.
The report complains about a series of tweets by Turki Al-Sheikh, an adviser close to the Saudi heir to the throne, which includes pictures of Jordan's King Abdullah bin Al Hussein and Saudi Crown Prince Mohammed bin Salman, and states below that "No commentary speaks for itself." while indicating that the arrests of prominent officials in this way are considered an order. Rare in the history of the kingdom.
The report says King Abdullah has not faced organized opposition since taking power in the country nearly two decades ago, while playing on the balance between powerful tribes in the country, but since the Corona epidemic hit, the country has witnessed a series of fragile governments. Saudi Arabia's continued financial support for Jordan is a major stabilizing factor, but things have changed under the leadership of Saudi Crown Prince Mohammed bin Salman.
The Independent published an article by Middle East correspondent Bill Trew entitled "The Rage of Earthquake Jordan Amid Prince Hamzah's House Arrest."
Tru says Jordan has always been stable over the last decade, witnessing important oscillations and events in other countries in the region, to the extent that the Hashemite Kingdom was known for a state of boredom dominated by a scarcity of exciting events to witness. case over the past two days.
She added, "Jordan has been a bulwark of stability in a conflict-dominated region, and on most walls you always see pictures of beloved King Abdullah as the king skillfully skips the Arab Spring revolutions that erupted in 2011 pushing for extensive constitutional changes and legal reforms, promising to ensure tens of thousands of jobs in the sector. "The government has also changed the government."
She added that it is true: "Jordan has been facing a major crisis for some time as one of the driest places in the world as large areas of the Kingdom suffer from difficulties in water supply and access to their resources and its fragile economy has suffered more problems since the outbreak Corone ".
Tru points out that although official unemployment rates are still around 25 percent, the actual unemployment rate has exceeded 40 percent of the population, leading to rising unrest in the country as experts say there has been a security campaign over the past weeks and months against activists and opponents. especially young people. Various political and nodal spectra.
She says, "King Hussein, during his last days, chose his eldest son Abdullah as heir to the throne, followed by a son by his beloved wife Queen Noor, who is Prince Hamzah in second place as heir to the throne, and perhaps this prompted King Abdullah he should take permanent care, so in 2004 he deprived Prince Hamzah of his position and named him: "His son is the heir to the throne."
She added that Prince Hamzah nevertheless remained very popular in the country, especially among powerful tribes who held a series of meetings with him before Saturday's events, "expecting" his arrest to provoke the anger of his supporters, especially as he was among the detainees strong and popular personalities belonging to the elite class, whether belonging to the royal family or tribal leaders or wealthy businessmen. "
Tru concludes by saying that experts believe that what happened will "further ignite things and not curb a possible revolution in the country".
The Telegraph published a report by Sophia Yan, her Beijing correspondent, on Chinese artists and celebrities, entitled "Chinese celebrities are forced to choose between their country and the West for violating Uighur rights."
Sophia says it took more than a post on social media announcing the worrying "H&M" chain over allegations of forced labor by Uighur detainees, so the company is facing huge criticism in China.
Sophia carried a leaflet from a young Chinese Communist Party cadre saying, "Spreading rumors and cutting cotton from Xinjiang while you want to make money in the Chinese market? Optimistic thinking," adding that the post coincided with an announcement by a Swedish supermarket chain last year. to stop dealing with cotton grown in Xinjiang.
Sophia points out that this post turned, through posts, comments and likes, into a big campaign in China against the series, which was eventually led by the authorities, adding that famous actor Huang Xuan broke off his relationship with the series, saying he "strongly rejects it any attempt to undermine his country's reputation in the field of human rights in any way. "
The journalist says a number of celebrities have boycotted many prominent Western brands, such as Nike, Adidas, Calvin Klein and Puma, and stars such as Wang Ib and Uighur actress Delimurat have announced they will join the campaign.
Sophia explains that Chinese celebrities have long been far from the political arena, but the ruling Communist Party has begun to encourage nationalism to face pressure coming from the West, including sanctions it has imposed for human rights abuses in Xinjiang, and celebrities they must choose one of two sides.
"If they want to continue working as models, actors or influencers in the public sphere, they have only one option, and that is the support and support of Beijing," she says.
Source link