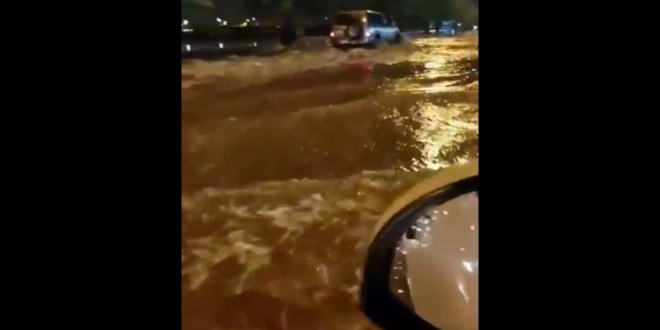 Citizen – Abdulrahman Al-Mehmadi – Medina
Al Madinah Al Munawwarah testified moderately to heavy rain on Friday in Madina, Yanbu, Ala, Badr, Khaybar, Alayes, and Wadi Al-Safa.
A civilian defense media spokesman in the city of Medina, Colonel Khalid Mubarak Al-Jahni: The citizen was given a red warning from the General Meteorological and Environmental Protection Agency for heavy rain on the city and its provinces, and the establishment of civil protection teams from the early and support areas and human and ship ships and technical equipment Facing the situation and mitigating its damage.
He added that all sectors working together with civil defense largely implemented a plan approved by Prince Madinah Prince Faisal bin Salman Al Saud, which follows the time since its foundation, and addressed all sides dealing with civil protection measures and performing their own Tasks and Responsibilities according to the Public Emergency Situation Plan before, during and after emergencies in the region and return speed.
He added that civilian cities implemented a plan of flood and rain through rapid movement and concentration in important points that are predominant in all the mechanisms and workforce needed to address the nature of the risk, the areas of support in external departments, which includes a number of interested parties for the implementation of the plans and the measures of civil protection in the event of rain and flood, Co-ordination between the involved departments has also contributed to the content of the situation.
He pointed out that in the light of the timing of coordination between the Command and Center for Civilian Defense Guidance in the region and the General Presidency of Meteorology and Environmental Protection, he increased to transmit time warnings.
He explained that as a result of the rain in Medina and its provinces were received control centers and leadership in provinces 76 where there was timely communication and 25 communications in the town of Medina electro petition, and stopped lifts and held timely completed and 10 communications in the province of Al- Ayes for detention.
Civilians also launched 41 press releases in Yanbu Governorate, 40 people rescued, and civilian defense forces are still participating in security operations at Wadi Sam. Eight missing persons, of which 5 were found by security flight, were found. Missing about three.
There were no victims or property caused by a meteorological situation in the Medina area.