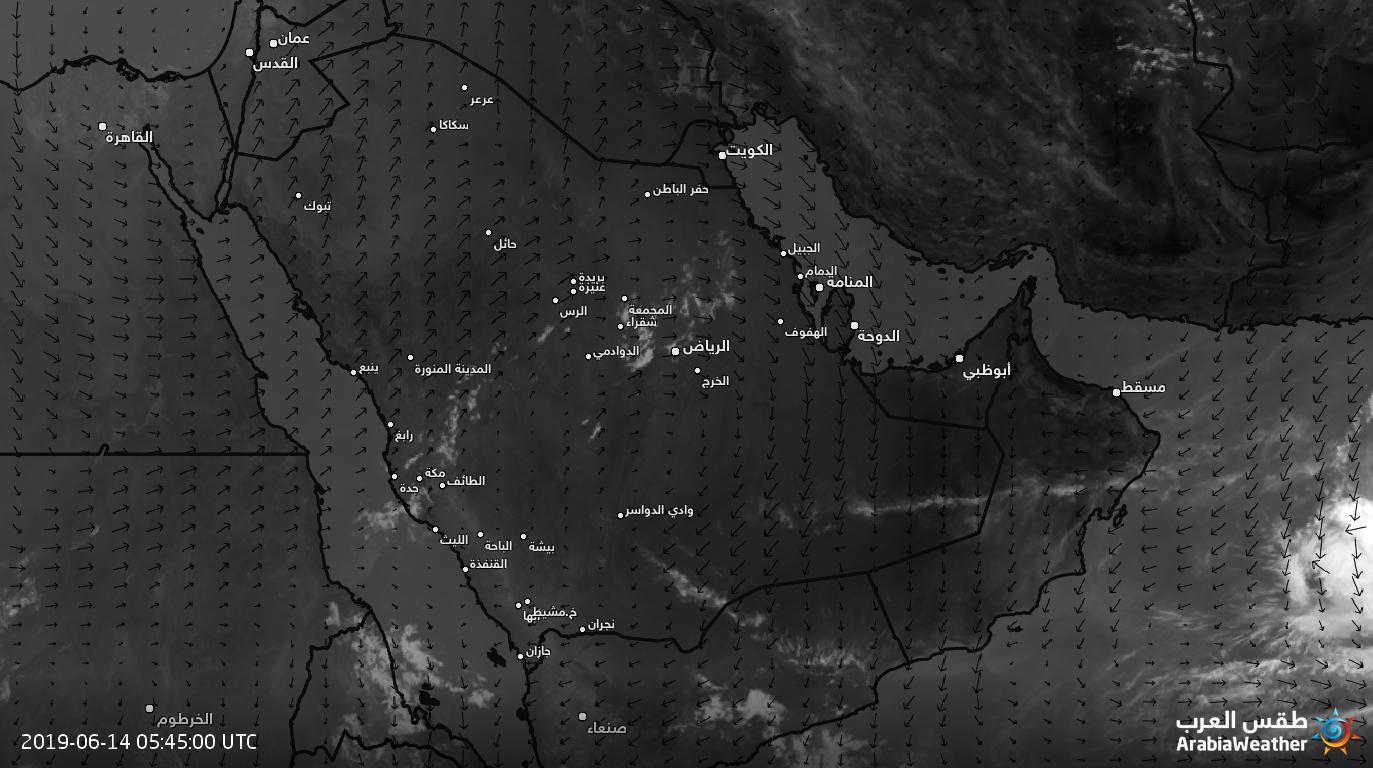 Weather in Arabic – Weather and expected temperatures in Arabic capitals and cities on Friday 14-6-2019:
Weather in Levante and Egypt:
The moderate air mass effect continues .. Temperature below their rates Continued precipitation in the mountains of Lebanon and Syria
A mild summer atmosphere over all the mountainous and western regions of Levanta, and warmer within the Jordanian and Syrian Badia and the Jordan Valley.
Slight rise in temperature compared to yesterday, but still below the rate at this time of year.
The atmosphere is relatively cold with nightmares with high humidity ratios.
On Saturday, sporadic rains of rain were expected in western Syria and Lebanon.
Weather in Gulf States:
Continuous winds of storm in the Arabian Gulf, fog in the UAE at dawn. Continued clouds in Yemen and southwestern Saudi Arabia
Heavy heat on all the Gulf States and large parts of the Arab Peninsula, where it touches the 50 degree barrier in the interior of Kuwait, eastern Saudi Arabia and southern Iraq.
Day clouds of lightning in Yemen and southwestern Saudi Arabia, accompanied by a stormy windstorm on a local level.
Hot weather in Qatar with moderate northwest winds continues to run fast.
Misty weather in UAE on Saturday.
"Faio" orbital activity is still classified as a second-class cyclone, according to Savier-Simpson's first-class hurricane rating on the fifth strongest. The latest accidents are aimed at keeping the direct impact of hurricane in the sea off the ground to the beginning and middle of next week as it quickly retreats into the tropical storm and then into tropical depression.
Weather in the Maghreb:
A warm atmosphere in eastern Algeria, Tunisia and Libya by the middle of next week
The intensity of the heat wave in Tunisia and Algeria has fallen, and temperatures have returned to their rates in all the Maghreb countries.
Chance of rain in the south of Tunisia and western Libya.
Seasonal fog time continues on the southern coast of the Kingdom of Morocco.
Time in the World:
The strong state of atmospheric instability in France, Switzerland, northern Italy, Austria and Germany is associated with strong rain and severe cold.
Strong rain in the interior of Turkey.
Strong rain on the west coast of India due to monsoon winds (seasonal winds blowing from the Arabian Sea to India).
Heavy Thunderstorms in the Great Lakes Area and the US Northeast Coast with Hurricane Expectations in Missouri and Illinois
The low-impact airspace with strong influence on Japan brings abundant rain and strong winds in most parts of the country.
Weather and expected temperatures in Arabic capitals and cities on Friday 14-6-2019: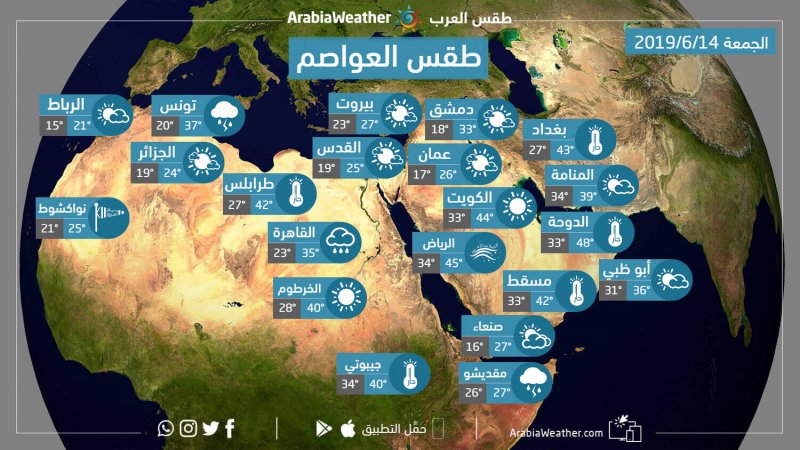 Today's Amman – Jordan:
Several clouds.
High Temperature in Oman: 26 °
Minimum temperature in Oman: 18 °
Today's Al-Quds Al-Sharif – Palestine:
Several clouds.
High temperatures in Al – Quds Al – Sharifu: 25 °
Minimum temperature in Jerusalem: 19 ° C
Today's Time in Riyadh – Saudi Arabia:
Tired earth.
Maximum temperature in Riyadh: 45 °
Minimum temperature in Riyadh: 34 °
Today's weather in Beirut – Lebanon:
Several clouds.
High temperature in Beirut: 27 °
The lowest temperatures in Beirut: 23 °
Weather in Damascus – Syria: t
Several clouds.
High temperatures in Damascus: 33 °
Minimum Temperature in Damascus: 18 °
Today's Time in Baghdad – Iraq:
Hot weather.
Great temperature in Baghdad: 43 °
Low temperatures in Baghdad: 27 °
Current time in Kuwait – Kuwait:
Clear weather.
Great temperature in Kuwait: 44 °
Minimum temperature in Kuwait: 33 °
Current Time in Manama – Bahrain:
Partly cloudy.
High temperatures in Manami: 39 °
Minimum temperature in Manama: 34 °
Today's weather in Abu Dhabi – UAE:
Partly cloudy.
High temperatures in Manami: 36 °
Minimum temperature in Manama: 31 °
Today's weather in Doha – Qatar:
Hot weather.
Great temperature in Doha: 48 °
Minimum temperature in Doha: 33 °
Current time in Muscat – Amman:
Hot weather.
High temperatures in Muscat: 42 °
Minimum temperature in Muscat: 33 °
Today's time in Sana & Yoga – Yemen: t
Weather is often cloudy.
Great temperature in Sani: 27 °
Minimum temperature in the Word: 16 °
Today's weather in Cairo – Egypt:
Rain showers.
Great temperature in Cairo: 35 °
Minimum temperature in Cairo: 23 °
Today's weather in Mogadishu – Somalia:
Poor blunders.
High temperatures in Mogadishu: 27 °
Minimum temperature in Mogadishu: 26 °
Today's Time in Djibouti – Djibouti:
Hot weather.
Temperature in Djibouti: 40 °
Temperature in Djibouti: 34 °
Today's weather in Khartoum – Sudan: t
Clear weather.
Maximum temperature in the intestine: 40 ° C
Minimum temperature in Khartoum: 28 ° C
Weather in Tripoli – Libya: t
Hot weather.
Great temperature in Tripoli: 42 °
Minimum temperature in Tripoli: 27 °
Today's weather in Tunisia – Tunisia:
Poor blunders.
High temperatures in the city of Tunis: 37 °
Minimum Temperature in Tunisia: 20 °
Current time in Algiers – Algeria:
Several clouds.
Great temperature in Algeria: 24 °
The lowest temperatures in Algiers: 19 °
Today's weather in Rabat – Morocco:
Partly cloudy.
High temperatures in Rabat city: 21 °
Minimum temperature in Rabat city: 15 °
Today's weather in Nouakchott – Mauritania:
Active winds.
High temperature in Nouakchottu: 25 °
Minimum Temperature in Nouakchott: 21 °
Learn about the weather on your site for a week using Weather Al Arab