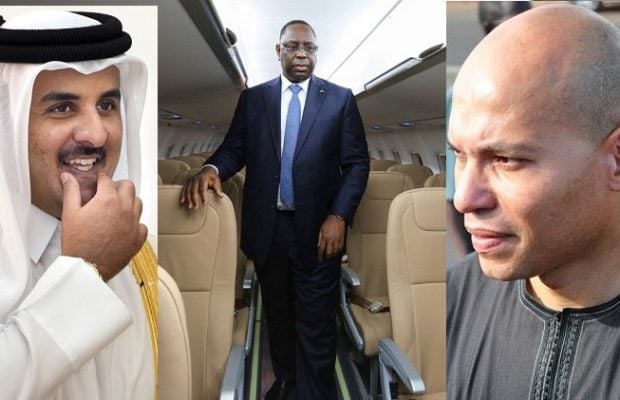 But bin Fetais al-Marri, a prosecutor in office since 2002, has just been very discreetly disembarked. It is the subject of numerous international complaints.
According to the French newspaper Le Point, which sells the wick, on Friday, July 6, President Emmanuel Macron received a long mission signed by Sheikh Ahmed bin Khalid bin Mohammed bin Ali bin Addullah bin Qassim bin Mohammed al-Thani. Simply put, he is a member of the ruling Qatari family, linked to the Al-Thani dynasty. He accuses the former state's attorney "and many of his accomplices" of embezzling the wealth of the state of Qatar "for his own gain". And that he "used France as a refuge to commit crimes with regard to international justice."
As a reminder, the cumbersome Ali bin Fetais al-Marri was a shadow mediator in the case of Karim Wade. It was with this mysterious character quoted in the "Doha Protocol" that Wade-fils left Senegal, in the greatest discretion, in June 2016.
In an article published on December 12, 2018, the very well-represented Mediapart asks, "Why does the Qatari Attorney General support Karim Wade?" The newspaper was convinced: "Close to the King of Morocco, who introduced him to Qatari dignitaries, Karim Wade addressed the State Attorney while he was still at the helm of ANOCI. At the time, rumors of covert funding for the Wade clan's election campaigns were full of diplomatic circles. Ambitious, Qatar is known for funding politicians abroad, especially in France.
So it wasn't really a surprise to see Dr. Fetais disembark on a private plane in Dakar in June 2016 to pick up Karim Wade (…). As a result of intensive diplomatic negotiations, the former minister will be warmly welcomed in Doha, from where he is preparing his return. "
"In a tense geopolitical context, Qatar's interference in Senegalese politics is going badly. Despite Qatar's generosity, President Macky Sall is said to be wary of this bulky friend and his strong support for Karim Wade. According to several observers, Qatar would actually try to appoint its protégé as the next president of Senegal, in order to influence politics in West Africa and oppose Saudi interests, "Mediapart concludes.
In August 2018, Ali Bin Fetais Almarri maneuvered to achieve a "warming" of relations between Qatar and the Gambia, following a government reshuffle that ensured a return to the jobs of former barons of the Jammeh regime who are well connected to Doha, such as Mama Bury Njie and Momodou Tangara. again the ministers of finance and foreign affairs.
"Immediately after the change of government, Qatar expressed interest in continuing cooperation and relations between our two countries. Not only did they send a delegation to express our solidarity with us, but they maintained and reopened our embassy in their country, "confirmed President Adam Barrow, who received the credentials of the new Qatari ambassador to The Gambia on the same day (August 6, 2018). , His Excellency Faisal Fahad Abdallah al-Mane'a.
Now the whole question is to know what the geopolitical implications will be of firing Ali bin Fetais al-Marri, the author of parallel diplomacy in West Africa, in the service of a wealthy gas emirate. To make the question clearer, will Qatar continue to show so much interest in Karim Wade's issue?
Thierno Diop, journalist