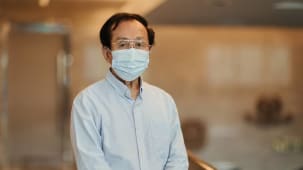 Mr. Low noticed that Gia Kiang ran in the direction of a nearby free HDB block before disappearing. He assumed Gia Kiang would try to hide on the upper floors of the block.
Mr. Low decided to search each floor. He couldn't tell his colleagues where he was because the detectives weren't wearing walkie-talkies.
As Mr. Low scanned the hallways and peered into the empty units, he felt confident. "Since Gia Kiang already knew who I was, he would get scared and probably drop his weapon and surrender," he thought to himself.
But that assessment was far from what happened next.
BRUSH WITH DEATH
When Mr. Low was on the 13th floor, Gia Kiang, now barefoot and disguised, attacked him from behind. Gia Kiang used his own revolver and punched Mr. Low several times in the head. He wrapped his arms around the officer's neck and questioned him.
"Then he angrily asked me why I came back to look for him," Mr. Low recalled. "He also asked me if I was afraid to die."
Mr. Low tried to calm Gia Kiang by talking to him, but that only made him even more cheeky. Gia Kiang ripped Mr. Low's revolver from the holster around his waist and aimed it at the officer's head.
"Today is my day or yours. Either you or me, "Mr. Low recalls, as Gia Kiang told him, ordering him to ensure a safe passage to the ground floor.
READ: Police shot at suspect during Balestier raid after attacking police officer and trying to grab a revolver
It dawned on Mr. Low that he was in "great danger" as he began to think of escaping. The officer suggested they use the elevator, thinking they would jump in when the door opened. Gia Kiang, perhaps worried about the counterattack, demanded that they use the stairs instead.
As the couple descended, Mr. Low decided he would have to give up his escape plan and try to regain control.
"I knew he would never give me a chance (to escape)," Mr. Low insisted. "He was thinking about work."
HE WANTS TO SURVIVE
Every time they turned the corner to the next staircase, Mr. Low thought of stealing a revolver. He tried several times, but Gia Kiang chased him away.
Mr. Low admitted that he feared Gia Kiang would shoot him if he kept trying, but he knew he didn't have much choice if he wanted to live.
"With every failure to take my revolver, I was determined to survive," he said. "I kept telling myself I couldn't give up. I had to take the next possible opportunity. "
When the couple was two stories off the ground, Mr. Low suddenly turned around again. He gripped the revolver tightly and pulled it so hard that he thought he might have broken some of Gie Kiang's fingers.
In the skirmish, the couple descended the stairs almost to the ground floor. Mr. Low's gun was returned. "I deeply felt that this was my last chance to keep myself alive," he added.