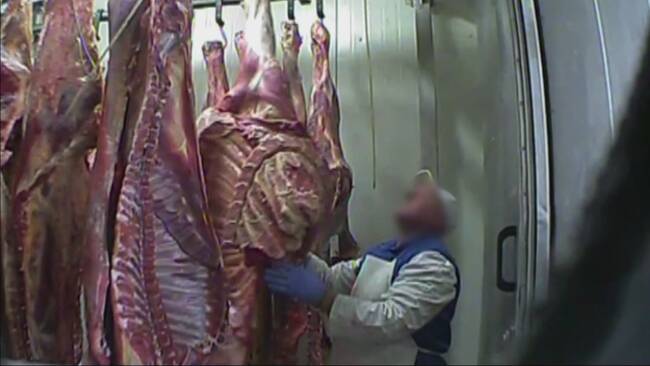 Polish TV channel TVN24 sank in a slaughterhouse in Poland bought and slaughtered sick cows.
Journalist from the channel research program Superwizjer he was employed in the slaughterhouse and could detect irregularities.
The sick cows are taken to slaughter
He saw cows who were so sick that they could not stand on the feet they had taken for slaughter in the plant.
On snapshots, it can be seen that they cut tumors and decoders to pressure, and that the meat was labeled as quality secured as human food.
Meat sold to Sweden
The National Food Administration confirms that 240 kilos of beef from the Polish slaughterhouse were sold to four importing companies in Sweden. SVT Nyheter contacted those responsible for the companies that did not want to comment until they examined whether they received meat from the slaughterhouse in question.
Thus, it is not yet possible to tell which buyers of Swedish companies may possibly sell beef.
Not regulated by law
If the meat of the Polish slaughterhouse is unsuitable for human consumption, you still do not know.
– Meat is not tested in accordance with EU rules and therefore can not be sold. The meat must be reviewed by a veterinarian before and after slaughter, and this has not happened in this case, says Farid Rezapoor, a lawyer at the National Food Administration, SVT Nyheter.
Meat was followed
Meat is monitored with the help of a warning system that exists in the EU for foods that can be presumed to pose a risk to human health. Control bodies such as the National Food Administration in Sweden have the right to enter slaughterhouses and seize computers and bookkeeping, such as invoices and invoices, to find buyers who have bought stolen meat.
The information is then forwarded to the inspection body of the EU Member States, which then searches for the company that bought the meat.
The slaughterhouse is closed
Polish authorities have now closed the slaughterhouse, and responsible veterinarians have been dismissed because they have not met EU food control regulations.
Source link