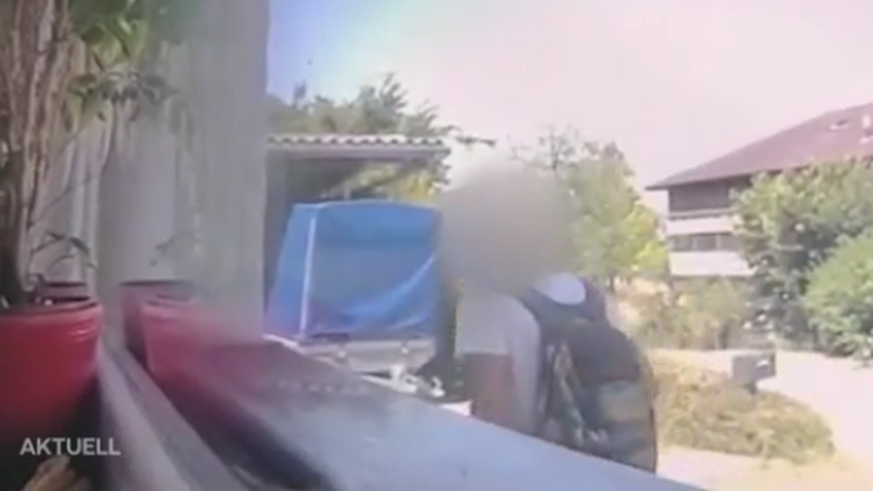 The head of the company gives a chance to a former inmate – and the first day was stolen
The former prisoner was given a chance at Aargauer. But on the first day of work he stole 7,000 francs from his new employer.
The Wynental Property Management Leader has given a new job to a former inmate. One day he did his job, but after the job, he blamed the confidence of his boss, reports regional TeleM1 broadcaster.
The security camera shows that the former prisoner goes to his boss's house … Picture: Tele M1 display
The security camera was shot in early July when a man entered the apartment of his new boss. There he packed 7,000 francs and a wristwatch worth 3,500 francs in the backpack.
Thanks to the footage showing that a man left the house and next to the building, the chief and prosecutor's office in Aargau could quickly identify the thief.
And he goes into the apartment. Picture: screenshot tele m1
According to media spokeswoman Elisabeth Strebel, the prosecution opened the proceedings. One also searched house and video. "A man admitted," says Strebel. Investigation continues.
The head of the company is very disappointed with TeleM1. He gave a man a chance despite the past. In the future, he does not want to offer more prisoners more jobs. (ldu) (aargauerzeitung.ch)
Former detainee deprives new boss – Tele M1
The former prisoner also got a new opportunity with a new job. But apparently he has not learned anything from his past. On the first day he stole 7,000 francs from his new employer and was caught. Video: © TeleM1
Stupid people are stupid
Wild cow Gang plunder store
Perhaps you are interested in this:
Subscribe to our newsletter
Source link