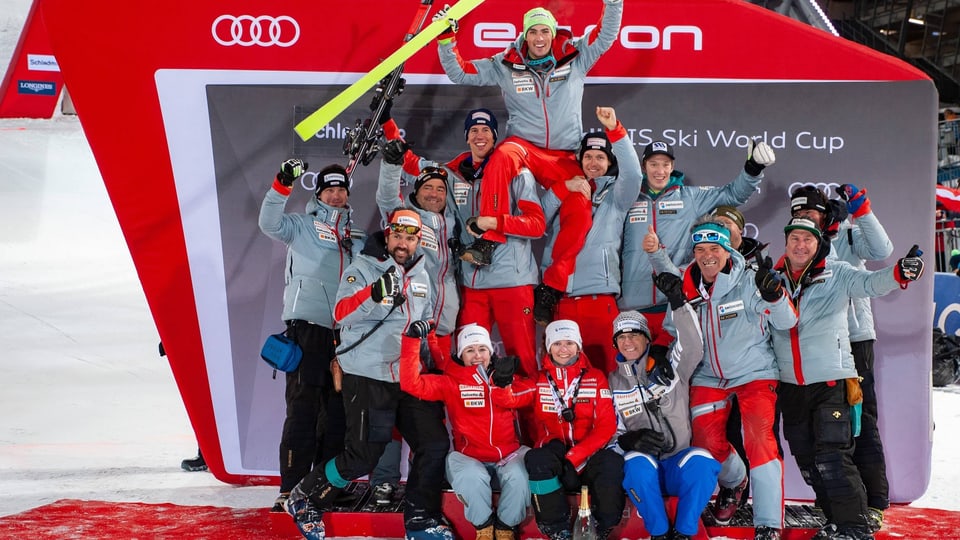 content
Swiss Ski offers a total of 22 athletes at the World Ski Championships in Are. No surprises.
Swiss-Ski made a choice for the Alpine World Ski Championships from 4 to 17 February in Are in Sweden. The following athletes are called on the title fight:
Aufgebot Swiss Ski
Men (14): Luca Aerni (25 / Grosshöchstetten), Gino Caviezel (26 / Lenzerheide), Mauro Caviezel (30 / Lenzerheide), Beat Feuz (31 / Schangnau), Niels Hintermann (23 / Hausen), Carlo Janka (32 / Obersaxen), Loïc Meillard (22 / Hérémence), Tanguy Nef (22 / Geneva), Marco Odermatt (21 / Hergiswil), Gilles Roulin (24 / Grüningen), Sandro Simonet (23 / Lenzerheide), Thomas Tumler (29 / Samnaun), Daniel Yule ) / Branche-d-Haut), Ramon Zenhäusern (26 / Visp)

Women (8): Aline Danioth (20 / Andermatt), Andrea Ellenberger
(25 / Hergiswil), Jasmine Flury (25 / Serneus), Joana Hählen (27 / Lenk), Lara
Gut-Behrami (27 / Comano), Wendy Holdener (25 / Unteriberg), Elena Stoffel
(22 / Unterbäch), Corinne Suter (24 / Schwyz).
The association does not exploit the fully available contingent. Twenty-four athletes could be registered, at most 14 per gender. Women's lower attendance is also associated with injuries.
Mélanie Meillard falls after replacing the knee after the cross-ligament sheds throughout the winter, Michelle Gisin has to fit because of the tension of the cross ligament and cartilage damage. Engelberger suffered a knee injury last Saturday without falling into the Super G at Garmisch-Partenkirchen.
Janka and Roulin were still needed
Not everyone reached the standard, placed in the World Championships in the first seven or two classes in the first fifteen. Among them is Carlo Janka. Half has met the downhill and super-G criteria. The same goes for Gilles Roulin. Downhill, guys from Graubünden and Zurich will have another chance to come to Garmisch-Partenkirchen on Saturday.
Luca Aerni, who won the 16th place in the slalom race in Levi, is sure to start despite the unfulfilled demands. As defender is set in combination. After Aerandas mostly disappointing performances, Tanguy Nef will finish the Swiss slalom quartet. The American-educated driver in Geneva caused a big change in his first World Cup season – for the first time he reached eleven in Levi, where he finished eleven.
Broadcast: Radio SRF 3, Evening Bulletin, 30.1.19, 18:00
Source link