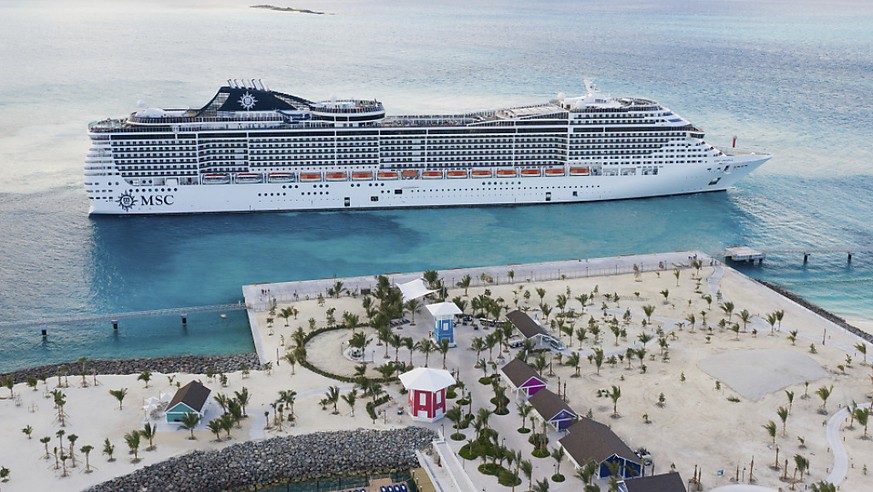 Despite the corona crisis, the Swiss cruise company MSC is sticking to its investments in its fleet. Image: FR171599 AP
Tourism industry in crisis – luxury ships advertise "without a crown"
Cruise companies are desperately competing for guests. They are now placing their offer as particularly safe given the pandemic.
Escape for two weeks from a pandemic and enjoy the sun and fun on a luxury boat? Similarly, cruise lines are currently promoting their offer. "Carefree on a cruise" is the motto in an ad for the Geneva-based cruise company MSC, which can be seen on YouTube, for example. The ship is like a "safe bubble," and the holidays are especially safe in the current circumstances.
Like the entire tourism industry, global cruising has failed due to the corona crisis. Exact data is not yet available, but the number of passengers in 2020 is likely to be far below those in 2019. And even now the stock prices of the largest shipping companies like Carnival (Aida) and Royal Caribbean are still jumping low last March.
So now guests should return quickly, at least to the Mediterranean area. After most cruise companies have had to shut down in the past few weeks, several ships will soon set sail again: MSC starts on Sunday, Italian shipping company Costa Cruises on January 31 (both with one ship each). German Aid cruises will follow them in early March.
Tourism providers are feeling increased interest
At the MSC "Grandiosa", which will slide along the Italian coast again from tomorrow, tests (including antigen tests) before and during the trip, trips to the coast with the concept of protection and other measures will provide guests with particularly good protection. Sebastian Selke, CEO of MSC Cruises for the Swiss local market, talks about "the safest vacation option". "No other holiday experience like a hotel, resort or theme park can have the same level of rigorous, detailed and comprehensive customer welfare measures."
Whether it's safer or not – many customers take it well. The response to current campaigns has been "very successful" at MSC, and the number of bookings for the summer and winter seasons has grown steadily. "We're seeing more new customers wanting to cruise," says Sebastian Selke.
Tourist service providers such as Kuoni and TUI confirm this in part: Cruisetour, a subsidiary of TUI Suisse, notes that some customers would actually opt for a cruise because of the pandemic and "compelling ship protection concepts". Contrary to expectations, the company feels "relatively solid demand," especially for summer and fall.
Kuoni Cruises also feels that interest in travel, and thus in cruises, has been increasing since the beginning of the year. Currently, the focus of "cruise clients" is still on informing and inspiring. Kuoni has not identified any new customers in this segment; currently booked only by regular customers. Hotelplan does not see an increased demand for cruises.
TUI sells safe travel without going ashore
The higher demand for the Cruisetour is probably due to the fact that TUI explicitly sells cruises. On the booking platform, the German tourist group advertises so-called blue voyages that by definition refrain from stopping and leaving the coast on the way and instead focus on what is offered on board. From an epidemiological point of view, this seems like a good solution: instead of infecting the virus on land and then spreading it from place to place, nature and cities are certainly admired from afar.
In practice, however, the TUI is moving away from that. In addition to Blue Travel, guests can also disembark on the coast and "discover nature and culture". Excursions are organized, however, contact points are monitored and highly visited places are avoided. Leaving the ship individually is not allowed. The offer is hardly different from the MSC offer, where there are also only sheltered excursions.
Passengers in the port often travel by plane
So, thanks to all these measures, are cruises safer than other voyages? "I wouldn't say that on its own," says Roman Pfister, CEO of Cruisetour. "However, with our customers, we already feel that the 'bubble' on the cruise provides a lot of safety." Markus Flick, a media spokesman for Kuoni Cruises, also rates the cruises as a "low-risk travel experience" thanks to comprehensive safeguards. It should be noted, however, that those traveling by boat often use an airplane or train to get to the port. In any case, the Federal Council continues to recommend that non-emergency travel abroad be avoided.
The current bad situation does not prevent MSC from investing in its own fleet – by 2023 it should be expanded from 17 to 23 ships.
THANK YOU ♥
Want to support Watson and journalism? find out more
(You will be redirected to make a payment)
15 scenes that show that the holidays are not just beautiful
"I have respect for that": That's why these passengers fly on vacation despite Corona
You may also be interested in:
Subscribe to our notifications
Source link