Samsung creates a new look for Galaxy A smart phones with rotating camera systems Rotating a triple camera and the Galaxy A80 with the camera can move up. And turn it into the front camera Make selfie photos Galaxy A80 have high clarity Because of the same camera lens as the rear camera
With a rotating camera system with a triple camera, the Samsung Galaxy A80 has a design without a cut-off frame and does not require drilling holes to set the self-portrait of the camera. It therefore displays a very vivid image with a size of up to 6.7 inches and using high-quality materials made of aluminum frames Durable Back Glass with Gorilla Glass 6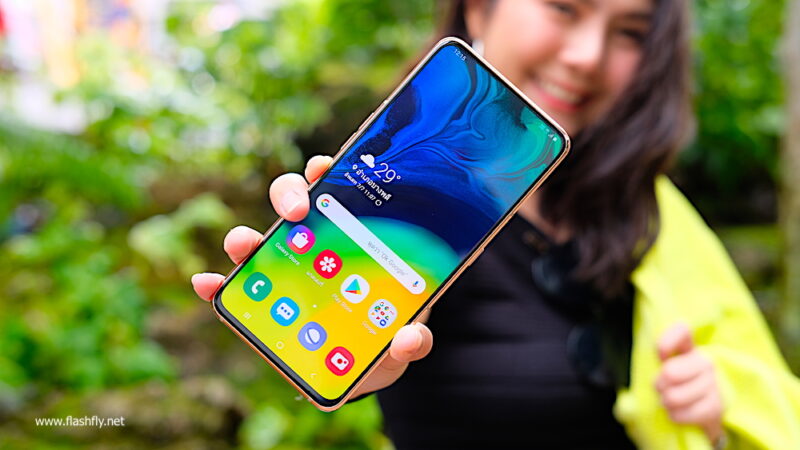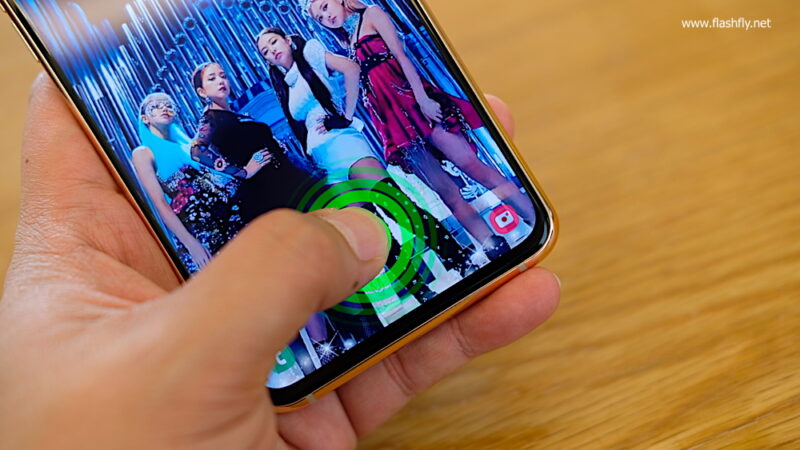 The Samsung Galaxy A80 is equipped with a 6.7-inch Super AMOLED display (1080 x 2400 pixels) and is equipped with a fingerprint scan sensor (slider fingerprint) with a thin edge of the screen surface.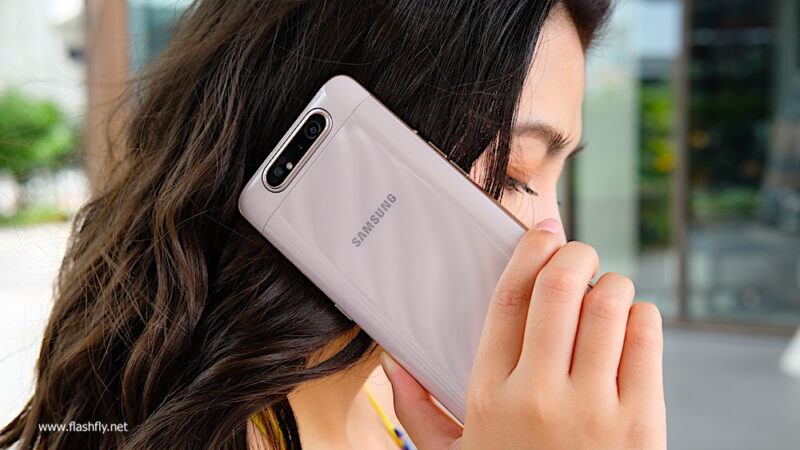 Interesting is the Samsung Galaxy A80, no loudspeakers, the handsets used for interviews in general. But the sound will be directed from the end of the cable through the screen. It also gives the same call experience. But this is not the same as the design of a new infinite screen that allows the upper edge of the screen to become considerably thinner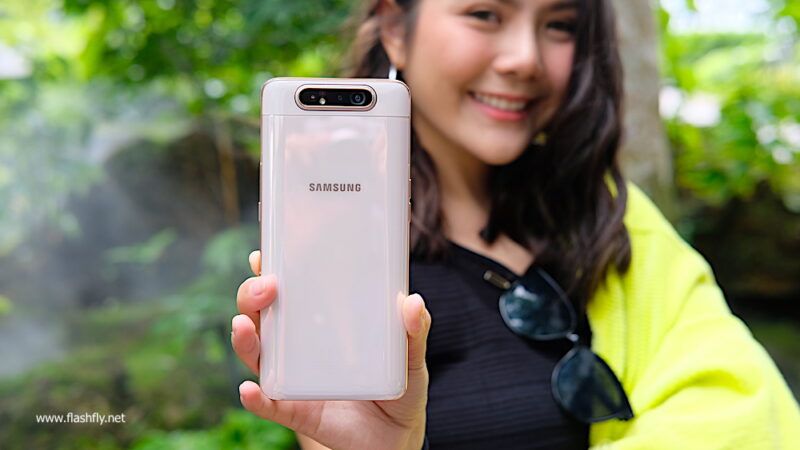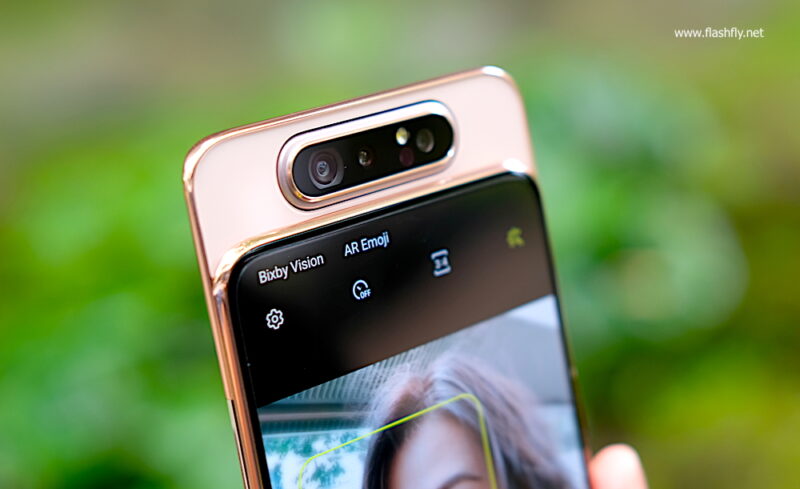 On the back there will be 3 cameras (rotating triple camera) that will automatically scroll up. When switching to front camera mode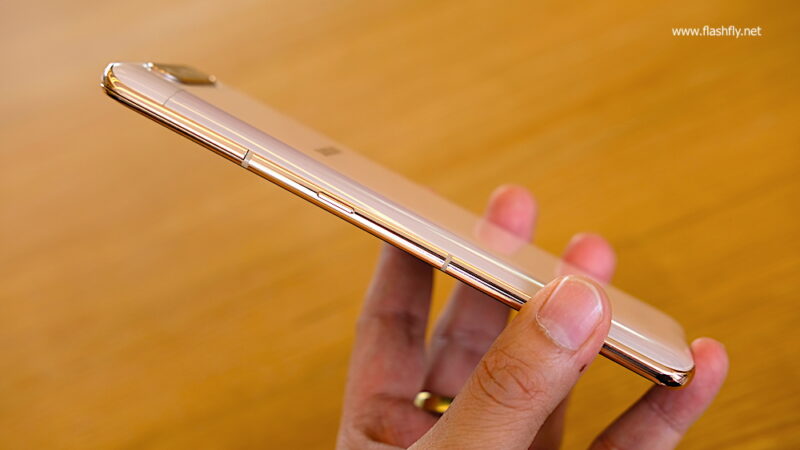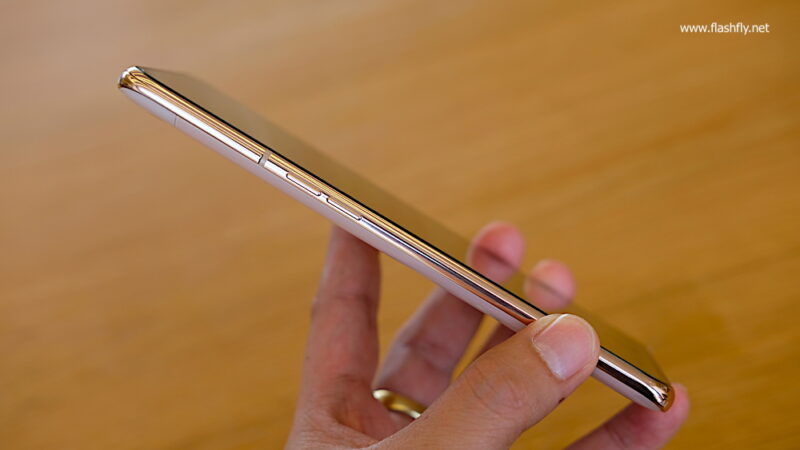 The side is thick 9.3 mm, and the power button is set to the left of the screen. And split the volume buttons on the other side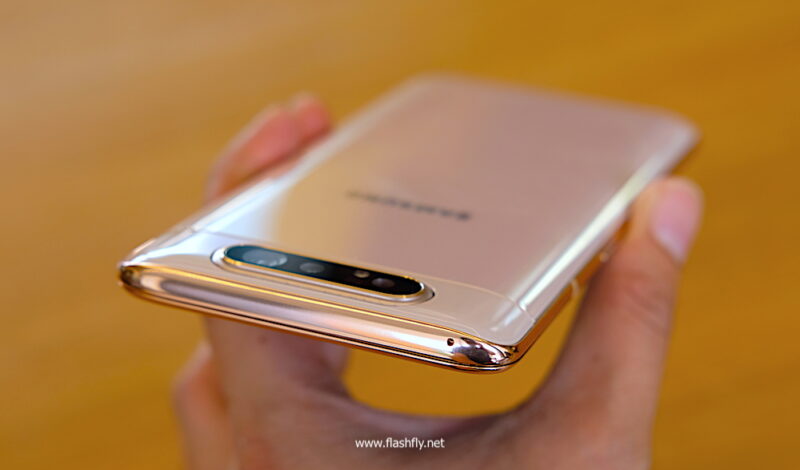 The upper part has a second microphone that is installed to reduce noise. Which is on a rotating triple camera that will move up and rotate by 180 degrees when switching the camera mode to the front camera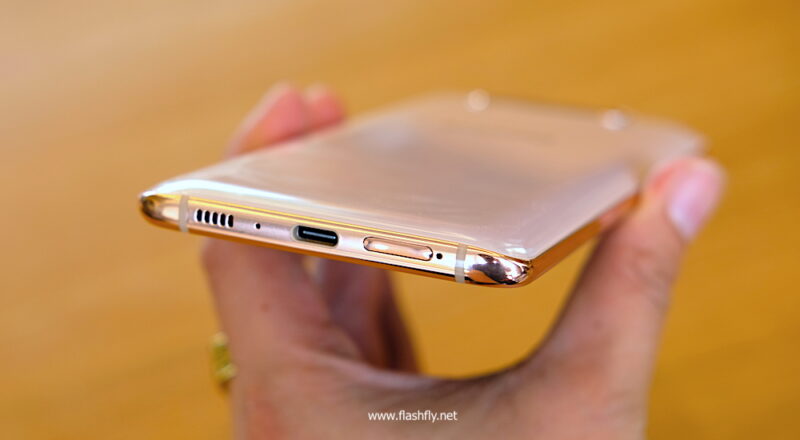 At the bottom there is a nano size SIM card tray, supports 2 SIM cards, and is a central USB Type-C port and main speaker.
The Samsung Galaxy A80 does not have a microSD card slot, but has a 128GB ROM memory and a 3.5 mm headphone jack, but the USB Type-C connector is included in the box and supports Dolby Atmos. 360 degree direction while listening to music via headset or Bluetooth speaker
The Samsung Galaxy A80 has a 3.700mAh battery capacity with a customizable power-saving mode that helps manage power for maximum efficiency. By tracking how the smartphone owners A use A box also comes with a 25-watt fast charging device
The Samsung Galaxy A80 is based on the Android 9.0 Pie operating system, which is covered with one UI using the Qualcomm Snapdragon 730 Octa Core processor (Dual 2.2GHz + Hexa 1.7GHz). Memory up to 8GB. Real use, approximately 108 GB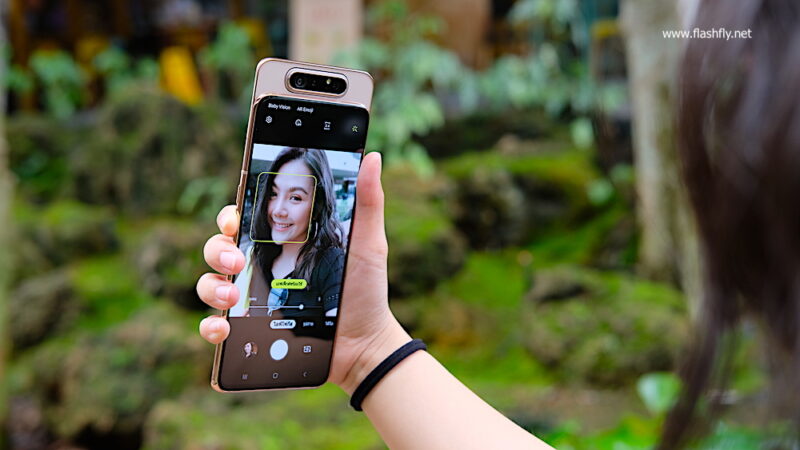 The top of the Samsung Galaxy A80 is an innovative rotating camera Rotating a triple camera can be both the front camera and the rear camera. The advantage of having a self portrait is a clear picture. It has the same camera feature as the back camera How to order the camera to go forward Simply enter the camera application and touch the mode switch button to be the front camera.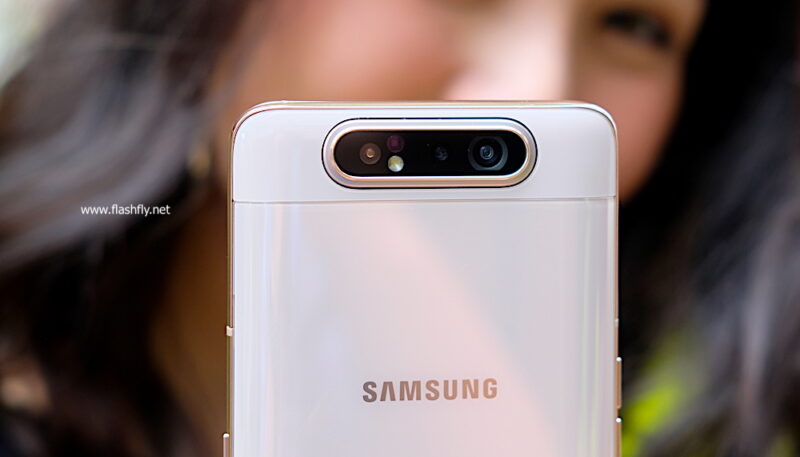 The camera system with a rotating triple camera consists of an ultra wide-angle ultra-wide camera of 8 megapixels (F2.2). It is a 3D depth camera that uses Time of Flight (ToF) technology to recognize distances between objects. With light reflection time Lets you capture in Live Focus mode to accurately separate people from the background and the Galaxy A80 can use the Live Focus shooting mode photos and videos.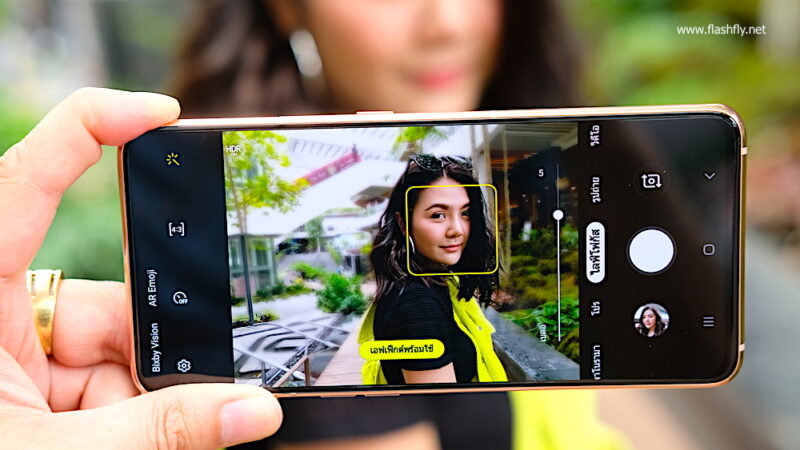 The Samsung Galaxy A80 camera app comes with intelligent Scene Optimizer features. It can set up to 30 scenes or things to be captured, including faces, kids, people, dogs, cats, food, people, beaches, skies, mountains. , Sunset, Sunrise, City, Snow, Waterfall, Waterfront, Landscape, Stage, Vehicles, Drinks, Flowers, Trees, Green Scenes, Animals, Shoes, Backlight, Closed, Text, Clothes And Landscape Response Night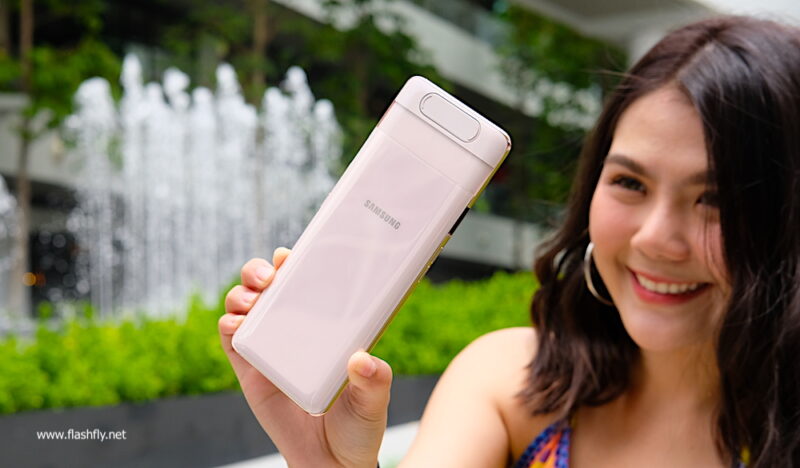 Scene Optimizer is suitable for general users. Without knowledge of camera settings But if someone wants to customize the camera itself, there is also a good way to use it. It can adjust the ISO, white balance and exposure compensation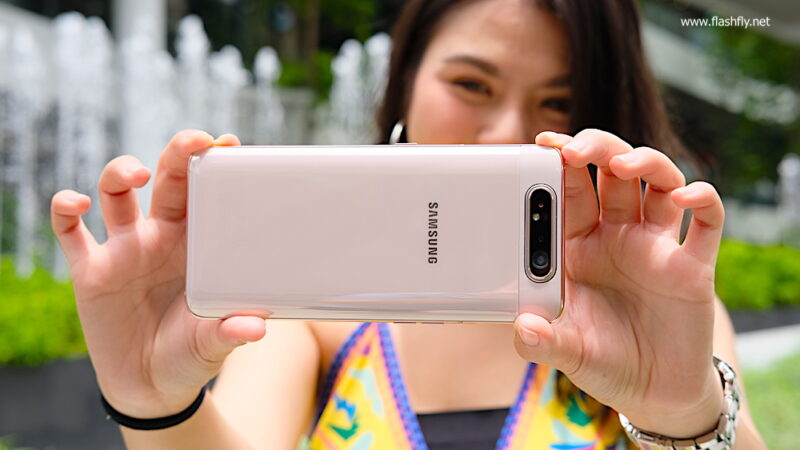 The Samsung Galaxy A80 camera app also features an Admiral's Feature Error detection feature that automatically detects errors before recording. To get the most complete photos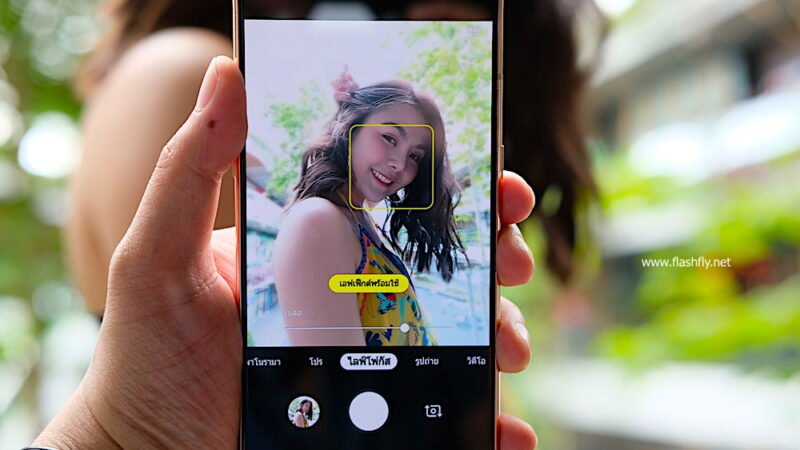 The Samsung Galaxy A80 also has a Live Focus or mug background. It can be used to capture still images and videos, HDR mode, panoramic view, night mode and image mode, and there is also a switch to the Ultra Wide wide-screen camera that captures images wider than the main camera. But sharpness can be reduced
Samsung Galaxy A80 is also featured in video recording as well. It supports up to 4K UHD resolution (3840 x 2160 pixels) at 30 frames per second or Full HD 1080p at 60 frames per second.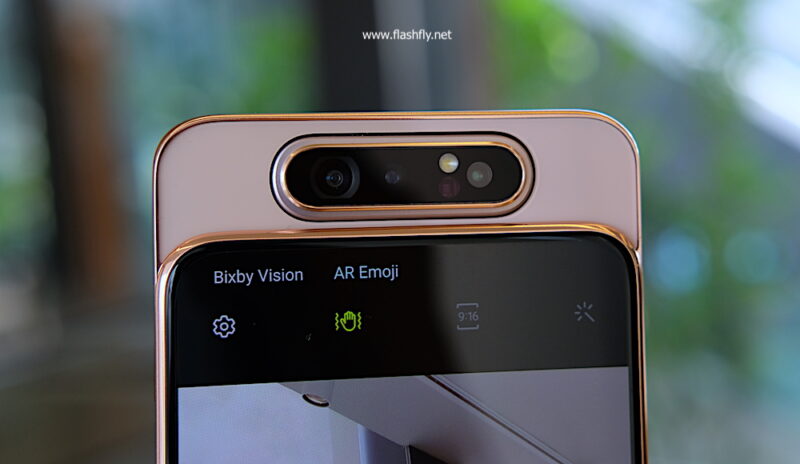 Featuring a powerful mode of Super Steady Vibration Mode that is equivalent to Action Camera and Super Slow Motion mode captures impressive slow-moving detail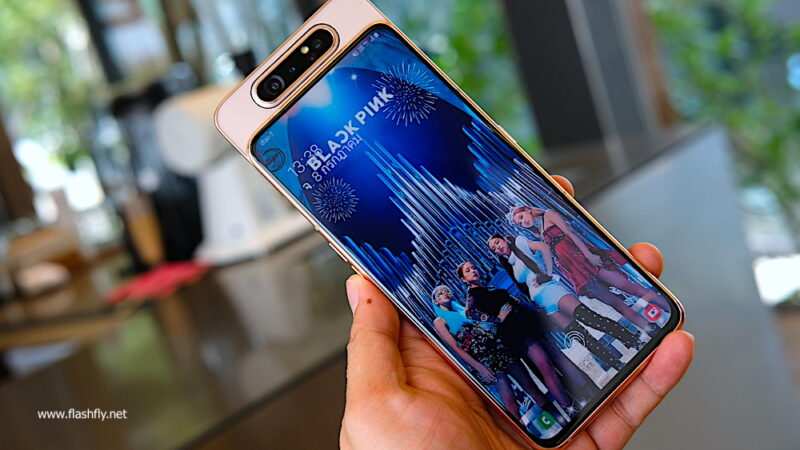 In sum, the Samsung Galaxy A80 is built for those who love new innovations. Especially the system of rotating triple cameras that can be both the rear camera and the selfie camera and still have excellent video. Equipped with a new Infinity Display, 6.7-inch, no frame, big slot, perfect for watching movies or TV on the internet , surfing web pages and playing games with 2.2GHz (2-core) + 1.8GHz chip (6-core) with 8GB RAM
The Samsung Galaxy A80 is open for bookings from now until July 14, 2019, with a launch price of 21,990 items, and you can choose from 3 colors: Gold, Angel Pink (Pink Pink Tone), Ghost White and Black. Phantom Black for those who order it in advance They will get products from 18 to 20 July 2019
Samsung also made a promotion with AIS, Dtac and TrueMove H when ordering the Galaxy A80 with both service providers on July 5 – 14, 2019 to get a discount of up to 60% or a discount. Up to 13,100 bahta, which means that the Galaxy A80 starts with only 8,890 blahs but has to buy and apply for a bundle. And pay the service fee in advance Under the terms set by the company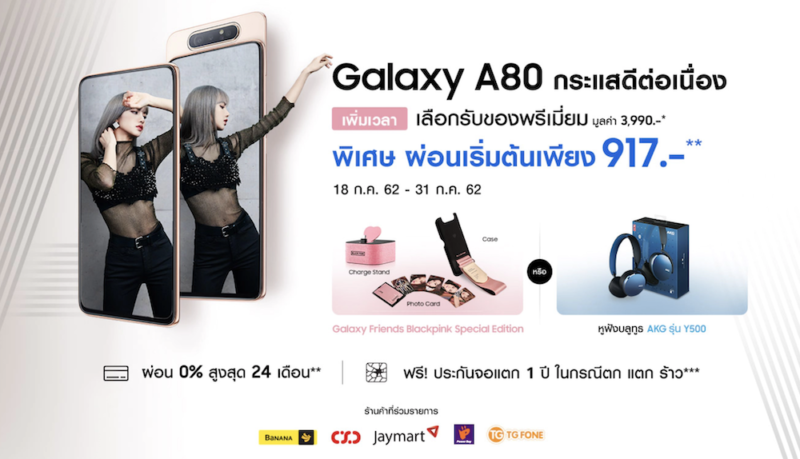 For those who order the Samsung Galaxy A80 for an empty device at a cost of 21,990 pounds (without obligation with the service provider), the Blackpink Boxset Special Edition will be worth 3,990 pounds.
1. Galaxy A80 case with the signature of four Blackpink girls
2. USB-C Special Edition Charger with Exclusive Blackpink Theme Regardless of the background, screen saver, screen lock
Exclusive photos of four Blackpink girls in the box right away
Or if you prefer to listen to music You can choose to receive the AKG Blue Y500 Bluetooth handset, worth 3,990 bahts, as a gift instead of the Blackpink Boxset Special Edition as well as July 31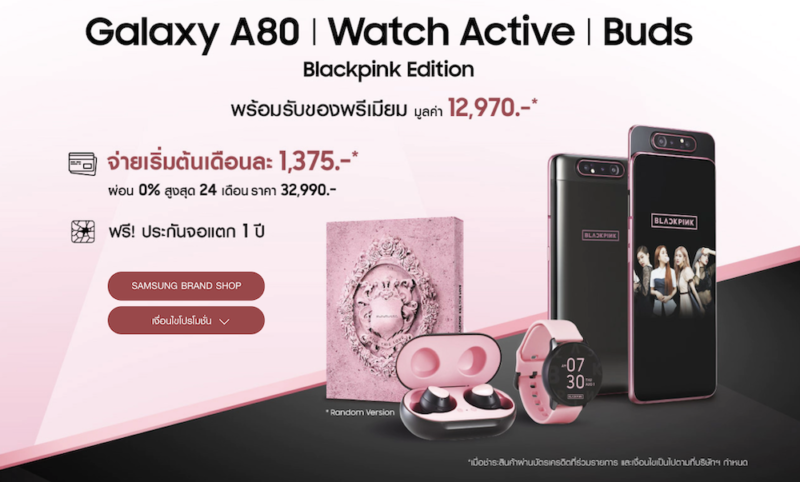 In addition, the Samsung Galaxy A80 has a special version of the Blackpink Exclusive Set with a black-and-pink body attached to the Blackpink logo on the back, plus blackpink headphones, an advanced digital clock, Blackpink Watch Active in the same tone and Blackpink Mini Album. Fan Model