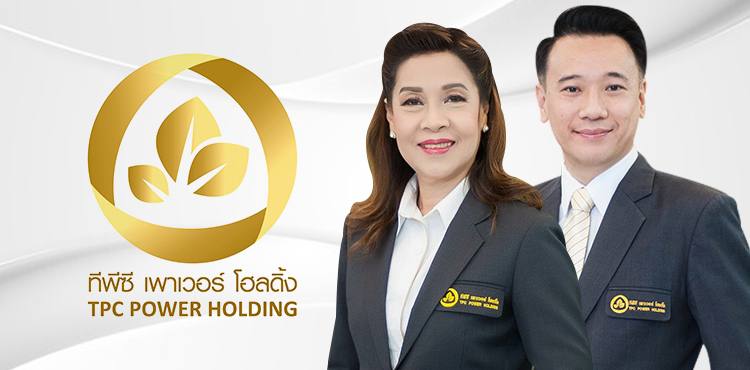 Mrs. Kanokthip Chanpalangsri Chairman of the Executive Board Public company TPC Power Holding Limited or TPCH It was discovered that the performance in 2020 is satisfactory. Despite the new COVID-19 epidemic, the company managed it very well and recently sold electricity to the commercial system (COD) to the Provincial Electricity Administration (PEA). with a capacity of 9.9 megawatts, with a capacity of 9.2 megawatts, located in Tambon Budee, Amphur Muang, Yala Province. The company is already preparing a COD for additional power plants this year to achieve a total production capacity of 125 MW as planned in 2021.
"The company's operating results for 2020 (ended 31 December 2020) had a total revenue of 1,777.37 million baht and a net profit of 250.95 million baht, which was the result of the recognition of revenue from both power plant projects. with a total capacity of 99 MW that has already supplied the system with electricity are biomass power plants CRB, MWE, MGP, TSG, PGP, SGP, PTG, TPCH 5 and TPCH 1. "
page Mr. Cherdsak Wattanawitkul The President of TPCH said that on February 18, 2021, at the meeting of the Board of Directors of the Company no. 1/2021, the Board of Directors of the Company decided to propose to the Annual General Meeting to consider and approve the payment of dividends for 2020 at the rate of 0.198 baht per share, which amounted to 79.44 million baht. The dividend for that year included a temporary dividend at a rate of 0.088 baht per share, in the amount of 35.31 million baht, paid by the company on September 3, 2020. At a rate of 0.110 baht per share, or 44.13 million baht, with a record date of shareholders entitled to receive a dividend (record date) on May 7, 2021, and a dividend payment is scheduled for May 20, 2021. It is subject to approval by the General Meeting of Shareholders on April 22, 2021.
The company maintains its goal of having a license to sell electricity (PPA) for both biomass power plants and for waste power plants up to a complete 250 MW, divided into a 200 MW biomass power plant and a 50 MW waste power plant. Watt by 2022 to help support the company's performance. For sustainable and stable growth
For the Company's business results for 2020 (ending 31 December 2020), the total revenue amounted to 1,777.37 million baht, which is an increase of 135.35 million baht or 8.2% compared to 2019, with total revenue of 1,642.02 million baht while net profit was 250.95. A million baht
Source link