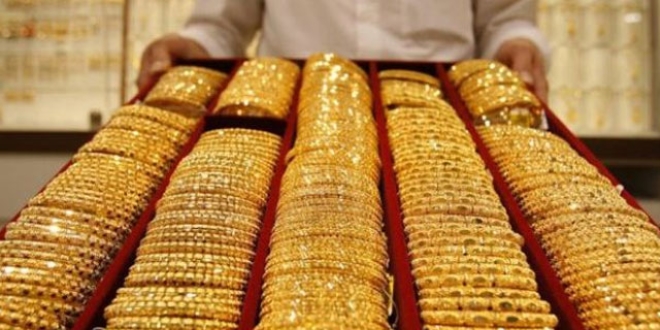 Due to geopolitical risks and falling dollar, ounce gold gained 10 percent in the first half of the year.
The tension between the US and Iran, the European Central Bank (ECB) and the US Federal Reserve (Fed) signaled a fall in interest rates, and the price of gold ounce, which gained value due to trade negotiations between China and China, grew from 1.438,80 dollar in May 2013. t has reached the highest level of.
Value gains 2 consecutive months bear the price of an ounce of gold, June, 8 percent of $ 1,411 ended with a premium. Gold plummet, investor since the beginning of the year earned 10 percent.
Vahap Taştan, deputy director of Yatırım Finansman Securities Investment Consultancy, said that the ounce of gold settled more than $ 1,365 after the Fed decided on the interest rate and initiated a $ 1,400 move and then over $ 1,400 with geopolitical development.
Stating that the recent rise in ounce owes to the expansionist rhetoric coming from the central banks of developed countries, Taştan said:
Specifically, the fact that the expected rate of reduction expected from the FED was the main factor in that swing. Speeches by FOMC members have prepared markets for lower interest rates, and gold is fueled by falling US bonds and falling dollar indices.
Saying that the correction below $ 1,400 in the short term would not be surprising at the price of six ounces in the upcoming period, Taştan said they are not currently expecting a new flow of news in US-Iranian tensions but that the move will go over 1,400 dollars in the second half of the year .
GCM investment economist Enver Erkan said that, in addition to Fed's expectations of interest rate cuts, poor tensions in US-Iran relations remain a dynamics that supports gold prices.
Saying that the continuation of the US-Iran conflict is one of the greatest risks to market stability, Erkan said:
"After the Fed's meeting, dollar pressure and rising interest rate expectations increase the attractiveness of gold, followed by a 10-year interest rate for risk perception, and a possible 2-percent floating rate of interest at 2 percent can cause negative market perceptions. investors can support the rise in gold prices. "
Erkan, technically below $ 1,400 an ounce is important, "noble metals want to create price behavior in line with current trend expectations, should continue the course at a relevant level, but $ 1,423 and $ 1,429 and 1,436 dollars as well as the theoretical prospects for resistance as a trend toward $ 1.456.