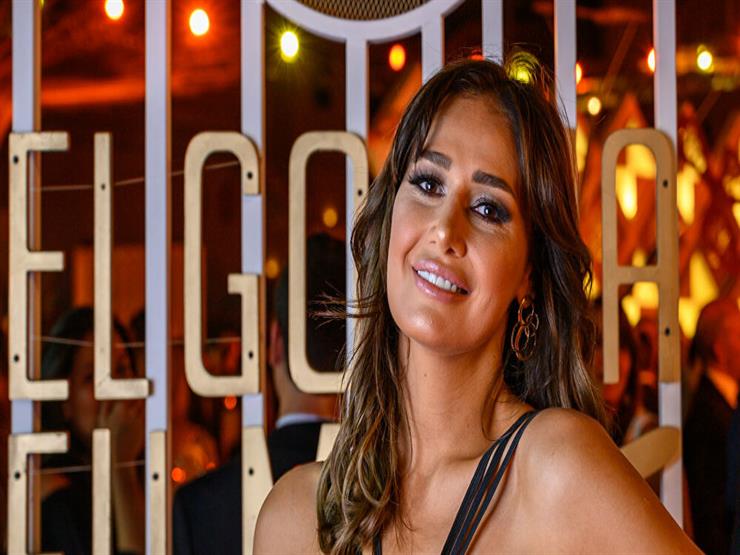 09:00


Tuesday, February 23, 2021

Books – Hani Saber:
Today, Tuesday, February 23, artist Hala Shiha celebrates her 42nd birthday since she was born in 1979, and the first series with artist Hussein Fahmy is titled "Kalimat," while "Why Did You Make Me Love You?" her first film, then "Ladder and Snake," and then Al-Lambi, Aris from a Security Perspective, and Descriptions of Camels.
We provide you with stories about Hala Shihi in the following report:
Her marriages
Her first marriage .. The wedding of artist Hala Shiha and artist Hani Adel was canceled two days in 2006, when the divorce took place two days before the wedding, and "Hala" was silent because she did not like to shed light on her personal life, and at that time Hani Adel commented that the divorce happened without his will to end the story of Getting Married Before It Begins.
Her second marriage .. Hala Shiha separated from her Canadian husband Steve Mark, after retiring from the arts and marrying for 11 years, during which she traveled and lived outside of Egypt.
The divorce was issued from a real estate registry in Alexandria, in the Mansheya area, and by her husband, Canadian Steve Mark, she has four children.
Her third marriage .. The love story between Hale Shiha and her husband, preacher Moez Masoud began on June 13 when the latter posted a picture of him with a guitar via his Instagram account and commented on "Hala" to it: "Hi Moez .. who took a picture ", to answer" Moez "On it:" Oi important person. "
After that, there was an emotional connection between Hale and Masoud, and neither of them came out to confirm or deny it. On December 2, Moez Masoud rekindled controversy about his relationship with Hala Shih through his Instagram account, where he gave her a song with his voice called "The Fighter." He commented: "I recorded my song I wrote 2007 and a gift to you, girl … Our journey is now far from everyone. "
Hala republished the song and commented: "I feel every word in your song .. Yes, our trip is one and I am proud that you dedicated it to me .. You have a lot to offer .. I can't wait to see it all. "The matter ended with the announcement of their marriage contract on February 8, 2021 in one of the famous hotels overlooking the Nile.
Her father's will
Artist Ahmed Shiha recommended in a telephone interview to her daughter, artist Hali Shiha, in the program "The Last Word" broadcast on the "ON" channel, that she stand by her husband, preserve her art and present only roles of artistic value to be a role model to Egyptian girls.
Veil
Artist Hala Shiha talked about wearing and removing the veil in the "Ninth" program with Wael Al-Ibrashi, saying, "People healed me. She wore a veil. She stayed like that. I wore a hijab. She stays like that and everyone. Everyone has freedom. choose what he likes, as long as no one is hurt .. Religion Not form, but essence, behavior, honesty, loyalty and truthfulness .. Some people who cursed me on social media because I took off the veil, so that's what religion says .. And among the attributes of our Lord is beauty and kindness and we miss them and do not apply them .. and the fact that I had a need and then I came back from it, a need that concerns me and it is possible On the day I return to her … I don't know, people kept coming into their intentions, questioning them and distrusting them. "
Plastic surgery
Artist Hala Shiha revealed on the show "Ninth" with journalist Wael Al-Ibrashi: "I once had a simple plastic surgery and it was my mistake and it was a crazy moment. I try and see how I look different, so I got a double cheek, "and when I did, I was upset and I won't do it again."
Accused of racism
The artist, Hala Shiha, has been charged with racism, over accusations leveled against her for racism in the background of her speech about a domestic worker, in the background of a post on her Instagram account, in which she said: "Dear our nanny Rachel, you are not a nanny, you are a member of our family. Happy birthday and thank you for everything and our care .. This wonderful Kenyan from Africa is really like a sister to me .. I give love and attention to a nanny in my home with a heart and make sure they will give you the same feeling .. Thanks Rachel and I want you on your birthday all the best, my Kenyan, and it doesn't matter if you are white or black. "
Hala responded to these accusations during an interview for the "ninth" program: "I wanted to surprise her on her birthday … I saw in her eyes the joy in her gratitude for celebrating her … I didn't mean any racism when I talked about the color of her skin..I didn't say anything that affects the worker.If I had spoken specifically about her skin, she would have remained racist … and by the way she is proud to be black and proud of this ".
Her return
Actress Hala Shiha has returned to acting after a 12-year absence from the 2019 "Earthquake" series, as she had her last work before the break with the 2006 film "Kamel El-Assef".
After the "earthquake", she presented the series "Betrayal of Ahed" in 2020, and returns to the cinema with the film "Not Me" in front of the artist Tamer Hosni, who is waiting to be released in the cinema in the coming period.

Source link