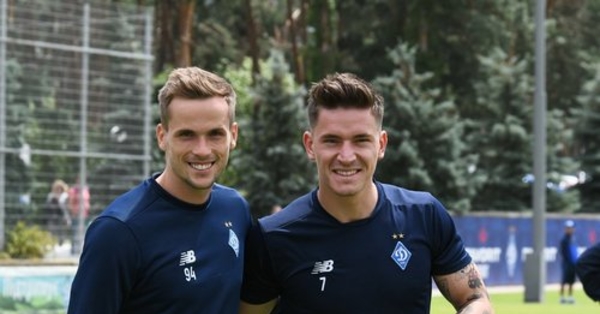 On Sunday morning, June 30, Dinamo Kyiv departs for the mid-summer season, which will traditionally take place in Austria and last until July 14th.
At this stage of preparation for the new season in the team of Aleksandra Khatskevich will be played by 28 football players (4 goalkeepers and 24 players in the field).
The midfielder, Mikkel Duelund, will join Dinamo directly at the training camp, having last week just gone on vacation due to the fact that he has played at the European Championships for up to 21 years as a member of the youth team of Denmark.
In addition, defender Nikita Kravchenko, Brazilian midfielder Sidkley and striker Donetsk Olimpik Matar Dieye, who has been in the white-blue camp last days, will not go to Austria.
So, the list of players who will work on the upcoming Dinamo Round is next.
goalkeepers: Denis Boyko, George Bushchan, Ruslan Nescheret, Vladislav Kucheruk.
defenders: Vitaly Mikolenko, Josip Pivarich, Nikita Burda, Artem Shabanov, Tamas Kadar, Tomash Kendzer, Denis Popov, Ahmed Alibekov.
midfielders: Sergey Sidorchuk, Benyamin Verbich, Vladimir Shepelev, Nikolay Shaparenko, Carlos De Pena, Victor Tsygankov, Alexander Andrievsky, Denis Garmash, Alexander Karavayev, Vitalij Buyalsky, George Tsitaishvili, Mikkel Duelund, Abdul Kadiri.
Forwards: Fran Sol, Artem Besedin, Nazarij Rusin.
At the Austrian "Dinamo" conference will hold five test fights:
July 4. Dinamo – Botosani (Romania)
July 5. Dinamo – Wacker (Austria)
July 8. Dinamo – Olympiacos (Greece)
July 13 Dinamo – Brentford (England)
July 14. Dinamo – Schwaz (Austria)
After the meeting is over, Dinamo will return to Kiev and, at his club base, begin preparing a match for the Supercup of Ukraine against Shakhtar Donetsk, to be held on 28 July in Odessa.
If you find an error, select a fragment of the text and press Ctrl + Enter.