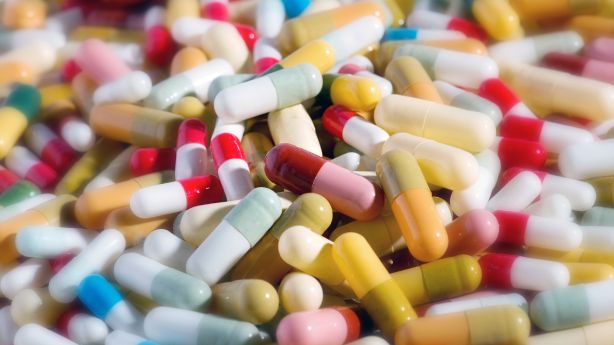 [ad_1]
SALT LAKE CITY – Rising superbakes are threatening to undermine the progress made in modern medicine, health officials say.
And they are the result of overuse of something that should be healed – antibiotics.
That's why Intermountain Healthcare, in collaboration with the University of Utah, on Tuesday announced an initiative to combat antibiotic prescribing in the state of Beehive – and to establish standards. The Centers for Disease Control and Prevention awarded the organizations a nearly $ 2 million contract to run the charge and establish best practices.
"Antibiotics are very unique drugs. They are the only drug the more we use them, the less effective they become, "said Dr. Eddie Stenehjem, medical director of antibiotic management at Intermountain Healthcare.
Last week, the CDC released its 2019 report on the threat of antibiotic resistance, which said antibiotic-resistant bacteria, or superbugs, infect 2.9 million people each year in the US, killing 35,000.
Antibiotic resistance occurs when bacteria develop the ability to "defeat" antibiotics, according to the CDC.
This is because antibiotics kill good bacteria along with bad bacteria, creating a way for new types of bad bacteria to develop in a person, said Dr. Adam Hersh, a professor of pediatric infectious diseases at the University of Utah.
Humans do not become resistant to antibiotics, but bacteria do. And the bacteria are distributed within communities, making antibiotic resistance a problem for everyone, said Dr. Anthony Wallin, medical director of the Intermountain Emergency Care Line.
"For example, if I used antibiotics in my patients in my community, and I use them a lot, then those patients are more likely to have antibiotic-resistant bacteria inside. They can then pass that bacterium on to other family members, other patients, other communities, and then they can also get infected with antibiotic-resistant infections, "Stenehjem explained.
"It's an issue that we need to address, not just nationally and globally, but it's an issue that we need to address locally and regionally here in Salt Lake City," he said.
Proud to be part of the Antibiotic work experience led by Dr. Eddie Stenehjem and his team. Great things are ready for Intermountain and our community in this important work. #antibioticstewardship

Learn more: https://t.co/lohGjPI9aApic.twitter.com/p5hmYodTwO

– Medjugorje (@Intermountain) November 19, 2019
Antibiotic-resistant bacteria can "undermine many, if not all, of health advances. Infections with antibiotic-resistant bacteria lead to more expensive healthcare, increase patient suffering, and increase patient mortality, "he said. It also leads to problems with treating serious illnesses like cancer.
The Intermountain Healthcare contract with the CDC began last October and the initiative was launched in July. Since then, the organization has seen a 20 percent drop in prescribing antibiotics in respiratory conditions, according to Steneh.
"So far, no more than 4,000 antibiotic prescriptions have been given and it's more than 30,000 days when no antibiotic therapy has been given. And that is a big reduction in antibiotics that are entering our community," he said.
Intermountain is also trying to prevent vaccination infections, Stenehjem said, and encouraging safe sexual practices, because sexually transmitted infections are "one of the most common" among antibiotic resistance infections.
When infections develop in communities, Intermountain wants to limit their spread by detecting them quickly through surveillance.
Long-distance officials are also working to reduce and optimize antibiotic use through what is known as "antibiotic management," educating caregivers in their system and their patients about ways and reasons to limit antibiotic use.
Hersh said the initiative focuses on reducing antibiotic prescribing in emergency care settings because between 80% and 90% of antibiotic prescribing occurs in dispensaries such as primary care, retail and emergency services. Among those prescriptions, between one-third and one-half of prescriptions "are completely unnecessary, meaning they should not have been prescribed, and the patient has no use for them," Hersh states.
There are 39 Emergency Centers in the Intermountain system that screen about 700,000 patients annually.
Hersh said there is a lot of variability between clinicians and clinicians. Some prescribe antibiotics "most of the time when they see a patient who has, say, a cough or a cold," he said. Others rarely transcribe them.
The initiative seeks rarely to be consistent with prescribing regulations in the system.
Intermountain also presents information to its doctors so they can see their own prescribing rates as well as those of their colleagues.
"This is very important because doctors, when they see themselves and what they do, are prone to change. They're relatively competitive people, so it turns out that helps a lot, "Wallin said.
He said the challenge was to convince doctors to prescribe less hesitation about the changes. "Every human is resilient, and some of our doctors have been practicing for 30 years, and you change 30 years of habits," Wallin explained.
Do your best to keep yourself and others healthy. If you get sick, remember #antibiotics do not treat viruses, such as those that cause them #colds & #flu, Talk to your doctor about the best treatment and what you can do to relieve your symptoms. https://t.co/5ecmok2s4mpic.twitter.com/cUdaFqfB1A

– CDC (@CDCgov) November 19, 2019
Patients' perceptions also need to change, Stenehjem said.
"And part of our role and that of our clinicians is to help patients understand that antibiotics are not benign drugs. These are medicines that come with risks, and those risks include diarrhea, rashes and the development of the type of diarrhea that can kill you," he said.
Intermountain is trying to change patients' perceptions by talking to them about "awake waiting" and "delayed prescriptions" – letting one's body fight off respiratory ailments before turning to antibiotics – as well as symptomatic therapies that can usually be found at the counter, he said is Wallin,
According to most respiratory conditions, according to Stenehjem, antibiotics will do more harm than good.
But he said antibiotics are still useful for conditions such as urinary tract infection, skin infection, pneumonia, strep throat and a minority of ear and sinus infections.
×
Related stories
[ad_2]
Source link