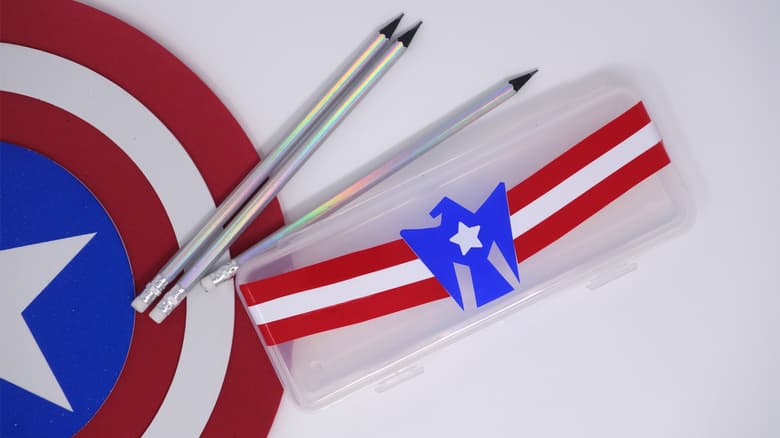 Patriot may have been trained by Captain America, but this does not make him a mate. Create a pencil case that holds the powerful Patriot punch with just a plastic case and an adhesive vinyl paper, and you'll feel like a super soldier every time you take it from your backpack.
What you need
Transparent or white plastic case
One (1) sheet each of royal blue, red and white adhesive vinyl
Patriot model (see below)
Small star punch
Scissors
Pencil
To start!
First step: Start by printing and cropping the Patriot model (download below).
Step two: Trace the pattern on the back of the real blue vinyl and cut out.
Phase three: Cut two long strips of red vinyl and a long strip of white vinyl, about an inch wide. (There should be some guides on the back of the vinyl paper to help you cut).
Step four: Cut the long strips of vinyl in half, giving you four red stripes and two red stripes.
Step five: Without removing the back, lay the strips on the left side of the pencil holder in the order of red, white and red. Repeat on the side of the race. Again, without removing the back, gently place the blue eagle in the center of the pencil holder at the top of the strips.
Source link