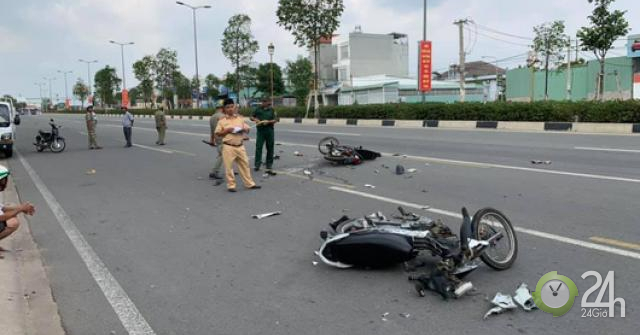 Sunday, April 7, 2019 16:45 (GMT + 7)
2 cartons, 3 dangerous young men. The accident came from 1 of 2 vehicles running in the opposite direction to pick up the dropped helmet.
Police in the town of Thu Dau Mot, Binh Duong Province, clarifies the case of two motorcycles threatening each other on Pham Ngoc Thach Street, Phu My Ward, Thu Dau Mot City.
Initial information, about 14 o'clock on April 7th, BOS: 37H9 1460 motorcycles, led by two young people on Pham Ngoc Thach (from the Binh Duong administrative center to the Binh Duong General Hospital). When he went to Phu My department, the helmet fell , the youth controlled the car to turn, running in the opposite direction to pick up the hat. At this point, the BKS motorcycles: 94N1-7805, driven by a man who could not handle the situation, caused a very collision of both vehicles.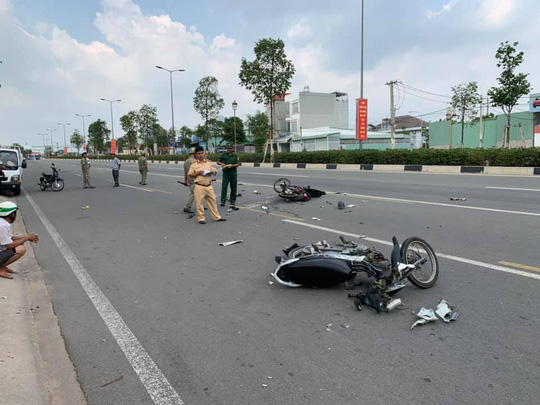 The police checked the scene
The exceptionally strong blows that left all three of them are seriously injured. People screamed at each other to drive 3 people to the side and called for urgent help to bring them to the General Hospital Binh Duong. At the scene of the event, both vehicles are severely damaged.
A couple in the province of Bac Ninh took his three-year-old daughter to a medical examination when a home-made incident was on her way home.