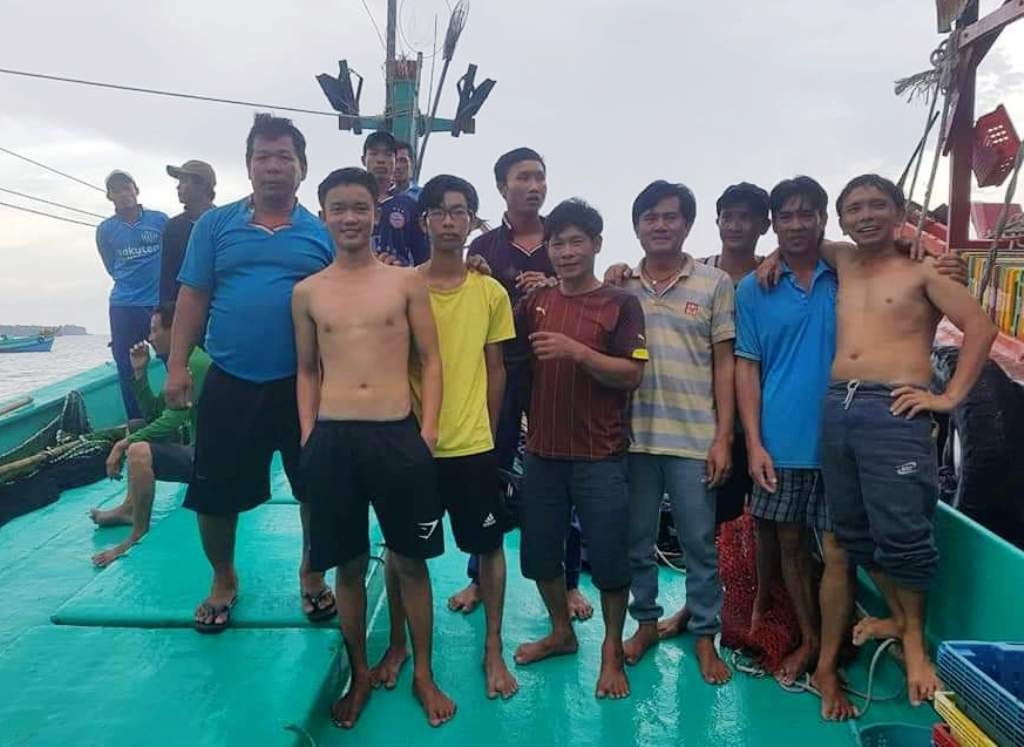 In the afternoon of May 24, Lieutenant Colonel Tran Quoc Hoan, deputy chief of the Tho Chaua border station (Phu Quoc, Kien Giang), said the unit is now filling out the documents to bring 10 fishermen who just got a fishing boat. Phu Quoc rescues while floating on the sea (crew member has returned earlier) to the locality.
According to the first information, these 11 fishermen enter into a contract with the owners of catch vessels in Vietnamese waters with a fee of 13 million VND in 2 months. However, having caught only 20 days, the shipowner asked them to enter Cambodian waters, so the 11 people did not agree because they were afraid of Cambodia's arrests.
11 fishermen jumped into the sea when their fishing boats were caught in the nearby waters of Cambodia in protest of the demands of fishermen.
Mr. Nguyen Van Vu (50, one of the abovementioned fishermen) said he could not stay on board because he would be hungry, even abusive, so the group jumped into the sea at 20:00 on 21 May.
At about 8:30 on May 22, Nguyen Huu Huy (41-year-old living in Phu Quoc), catching 18 nautical miles from Tho Chau Island, found this group of people, so he organized rescue.
Mr. Huy said that these 11 fishermen were divided into three groups, and the groups used links with each other. After picking up a group of fishermen on board, all 11 of them were exhausted and could not say anything.
Shortly thereafter, Mr. Huy gave the fishermen a full meal and brought it to the island of Tho Chau to hand it over to the border guards.
Authorities continue to clarify the testimonies of these fishermen to determine who their owners are, as well as the fact that they were forced into illegal fishing in Cambodian waters.
Nguyen Hanh