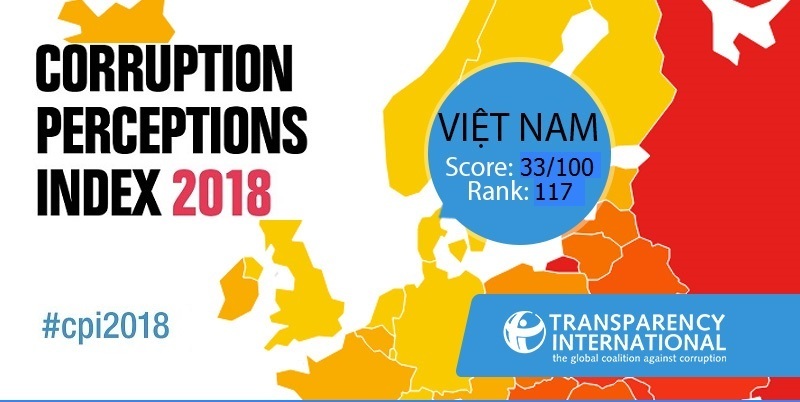 This year, Vietnam has reached 33/100 points, ranking 117/180 globally, which is slightly less by 2 points compared to 2017. The Vietnamese CPI 2018 is calculated based on 8 sources of data that are national surveys. independent.
Statistically speaking, this reduction is considered insignificant. However, with regard to the 0-100 CPI scale, of which 0 is very corrupt, and 100 very pure, public sector corruption in Vietnam is still considered very serious. The same reduction as Vietnam in the Asia-Pacific region also has China, Maldives and Bangladesh.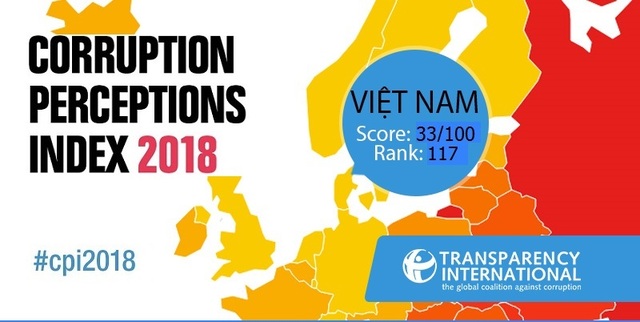 Before that, in 2017, Vietnam reached 35/100 points, ranking 107/180 globally. Thus, in just one year, Vietnam has fallen for 10 grades and has become a country with a corruption perception index that is located at 117 out of 180 countries and shows signs of falling after two years of promotion.

Over the past years, the party and the state of Vietnam have made great efforts to promote anti-corruption work, usually dealing with major corruption cases and completing the legal framework for combating corruption. (In November 2018, the National Assembly adopted a new Anti-Corruption Act).
Yet corruption is still a troublesome problem in Vietnam. To change the situation and feel about that change, time is needed. With the aim of building anti-corruption culture in Vietnam, these efforts, in particular, strict and fair treatment in cases of corruption, must be maintained and promoted the next time. This should be combined with effective anticorruption measures such as strengthening public integrity, effectively enforcing the disclosure and disclosure of property and income of officials and civil servants.
Which solution helps Vietnam to reduce corruption?
The Transparent Organization (TT) has issued a series of recommendations and solutions to reduce the current corruption problem.
First, the state needs to improve the effectiveness of judicial oversight and judicial independence by the National Assembly. In addition, it is necessary to promote anti-corruption efforts in areas where people often face bribery and corruption (police, public health and public education).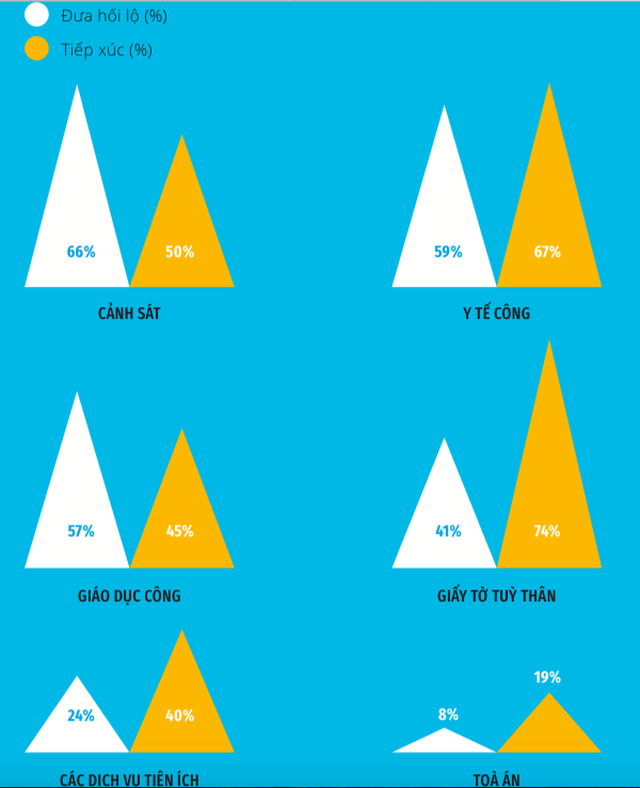 The following is the expansion of the space of civil society, the establishment and strengthening of mechanisms for effective participation of people, newspapers and non-governmental social organizations in participation in decision-making and monitoring processes. supervision of state administration activities.
At the same time, completing the legal basis for protecting the accused from corruption in encouraging people and communities to participate in anti-corruption work.
On the business side, corruption jeopardizes fair company competitiveness. Therefore companies must actively participate in the fight against corruption, build a fair business environment for sustainable enterprise development, enhance their reputation and increase their competitive advantage in the context of international economic integration.
Strengthening internal anti-corruption capacities, especially for state-owned enterprises, including the construction, implementation and publication of anti-corruption programs of companies on the Internet, based on reference data. international standards.
In press, social organizations and people, there is a need for active participation in anti-corruption work by promoting transparency, integrity and responsibility initiatives.
In addition, actively implement integrity, condemn corruption and bribery cases at different levels, first of all by equipping legal knowledge and information, including Anti-Corruption laws.
It is necessary to strengthen the building and strengthening of effective institutions associated with the responsibility and participation of the whole society.
Hung