Friday, 30/11/2018 12:00 (GMT + 7)
Vietnam has close relations with both powers and is located in a unique position on the border with China. In 2018, the market also saw the first step of the factories moving from China to Vietnam and making a significant impact on the industrial property market and Vietnam in general.
Dr. Can Van Luc, chief economist at BIDV, said real estate and retail space would be two potential segments. best development. On industrial property side investors in China and Chinese investors will try to move factories and factories to neighboring countries, including Vietnam.
As far as retail space is concerned, the consumer market in Vietnam grew very well in the first ten months, about 11.4%. Excluding the price factor, it has risen to about 8.8%. This is the highest level in five years. This year, personal spending in Vietnam is about 6-8% of GDP. In the context of a trade war in the United States and China, foreign investors realized that investment change in neighboring countries like China would bring great potential.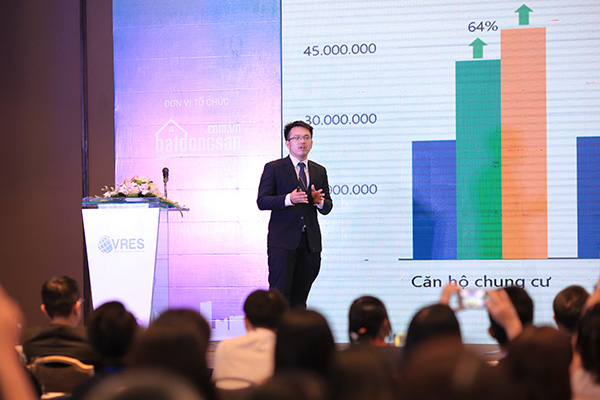 Important information on the real estate market in Vietnam "discovered" at the Vietnam Real Estate Conference – VRES 2017.
According to Dr. Canu Van Luc, residential real estate will also have certain effects, from the luxury segment of aliens to the low-skilled segment for workers, workers outside the province, especially in the Areas are concentrated in many industrial parks.
Taking into account the geographic factors, economist Co Van Luc added, industrial real estate in northern Vietnam suffered a larger fluctuation because North is very close to China, favorable for factory relocation, Some provinces in northern Vietnam such as Hai Phong, Quang Ninh, Bac Ninh , Bac Giang or Hung Yen, will stop that wave. According to information Batdongsan.com.vn, the real estate market in Bac Ninhu and Bac Giang, Ha Nam is also more exciting in the last few months, some projects near industrial zones have the amount of transaction and the sale price has increased by 10% -20%.
In the future, the real estate market in the north will be more active than before and can be concentrated in neighboring Hanoi provinces. The development of industrial parks, industrial real estate will inevitably lead to the development of residential and business real estate in these areas.
According to many forecasts, 2019 is a year that will bring many development opportunities for the real estate industry in Vietnam, especially those who understand the nature of the trade war in the US and China, solving certain oscillations in raising interest rates and false rates.
US trade policy and development capabilities of the Vietnamese real estate market will be one of the topics that will be shared and analyzed by experts, heads of Vietnamese real estate companies within the conference. Vietnam Real Estate – VRES 2018. This is the annual event and prestige of the leading real estate industry in Vietnam with content that is very interested in "Technological Trends in the Real Estate Industry in the Digital Age"; "Creating Asian Megacities: A Story of Five Smart Cities"; "Big Data – how big the data will affect the real estate development. "Additionally, VRES 2018 will also reveal important data that has not yet been disclosed in the" Real Estate Market Report in Vietnam via Batdongsan.com.vn ".
VRES 2018 maintains information channel Batdongsan.com.vn at HCMC. Ho Chi Minh (Sheraton Saigon) on December 6th and in Hanoi (JW Marriott) on December 12th.